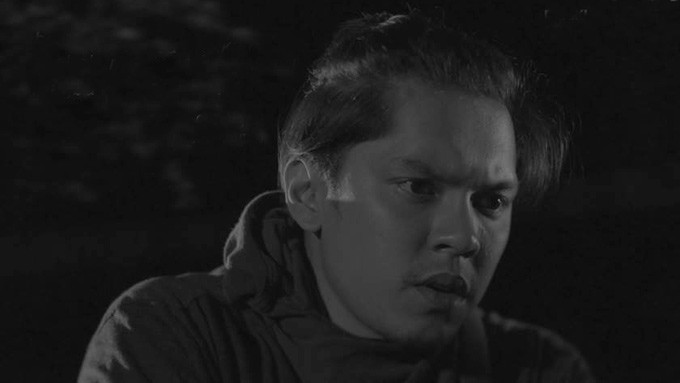 ---

Dyamper has been set up to seem like a documentary (or a mock documentary?) or social realist film.
But it defies one category or genre.
This 2016 Sinag Maynila entry seems more timely considering the recent headline news of El Niño, climate change, drought, hunger, and desperation in the Philippines.

Set in Nueva Vizcaya, it tells the story of three men, a band of "dyampers" who, with agility and bravado, manage to steal a few sacks of rice off the big trucks that make their way up and down the mountainous, perilous highway in the wee hours of the morning.

But, as Direk Mes de Guzman's stories are wont to do, an even bigger challenge is encountered by the characters accidentally.
But before the story unfolds, an interview with a local man establishes that through the years, the roadway (Dalton Pass) has been utilized for various agricultural products between the north and Metro Manila.
Tinoy (played by Alchris Galura) is a man with a hidden past from which he desperately tries to escape. Poknat (played by Tim Mabalot) takes him in and tells him about a "raket" for earning some money.

Both actors play off each other and situations so naturally, best shown in a scene between them after an unexpected and traumatic event from which they need to escape.
Come to think of it, all of the characters in the story are trying to escape from their present situation. Elena (played by Liza Diño-Seguerra) is trying to escape the hardships of taking care of an ailing husband and a baby on her own. She finds some solace and hope in the presence of a person she has never seen—only felt.
ADVERTISEMENT - CONTINUE READING BELOW
Carlo Aquino (Apeng), who rounds up the crew, should have had more screen time, as far as this writer is concerned. The actor has proven in the past his talent, and here, he is subdued at the right moments and never is prone to overacting or hogging the camera.
Kristoffer King (Rios) is sinister but not prone to acting in the same way as all the bad guys in mainstream movies.
The film touches on the mysticism that permeates Philippine life. Even in these very modern times, it is so prevalent and part of our identity, this belief in unseen beings and magical ways. The film is not dour and sullen. There are moments of wit and laughter, fun and whimsy—very Filipino. The mountains of Nueva Vizcaya also play a big role in the film: the mist, the undulating hills, the trees in the forest.
The story's structure is also of note. Primarily a creative writer, Direk Mes challenges our sense of time while acknowledging that each person is motivated by his or her past.
Perhaps since it is appropriate to the situation and location, Direk Mes employs some jarring editing styles in the climax of the movie.
How do you build suspense with three characters whose heads are covered, sitting atop a moving truck? Direk Mes does this in at least three scenes, with the right acting, sound effects, and music.
The exposition of the story of Tinoy in the last three-fourths of the film is very helpful. Some dialogue and a few scenes could have been edited out, though. But overall, this helps reveal his motivations and helps the audience empathize with his character. After all, each of us has a story that motivates us to do the things that we do.
ADVERTISEMENT - CONTINUE READING BELOW
The last scene is worth seeing for the beauty of it visually as well as metaphorically.

In Dyamper, Direk Mes proves that he is an innovative and imaginative filmmaker.
Dyamper is one of the entries of the 2016 Sinag Maynila Film Festival, ongoing until Tuesday, April 26.

Films are being screened at SM Megamall, SM Aura Premier, SM North EDSA, SM Mall of Asia, and SM Manila.



Ed's Note: The 'PEP Review' section carries the views of individual reviewers, and does not necessarily reflect the views of the PEP editorial team.