This Time does not have a new story to tell. It is structured like most chick lit, more specifically, in the mold advocated by Sweet Dreams and similar novels.

The love story that follows Ava (Nadine Lustre) and Coby (James Reid)—childhood sweethearts who only have summers as their rendezvous—plays out predictably. They realize they love each other but circumstances (in this case, distance) hinder them from being together and some miscommunication peppers the story.
That being said, this graded-A movie is every bit the romantic kilig-fest it is touted to be. Even the attendant at the cinema told me as I went inside: "Kikiligin kayo diyan, Ma'am."
And why not? The chemistry between the two lead characters, James and Nadine—or simply, JaDine—is realistic and will sweep you off your feet, even if young love is so far in your history.

Are we caught up in their onscreen romance because we know that they are real-life sweethearts? Or does the reality of their attraction transcend the reel? Who knows? It doesn't matter as long as they make us giggle and give us a thrill with their exchanges of glances and smiles.
The movie runs different parallel love stories: (1) second chance at love, thanks to Nova Villa and Freddie Webb; (2) gay love, courtesy of Ronnie Lazaro and Michael de Mesa; (3) lifetime love, from Candy Pangilinan and Al Tantay.
There are a few minutes wherein Nova Villa (as Ofelia) and Freddie Webb (as Melchor) exchange non-verbal communication, only facial expressions--and the scene is loaded with meaning.

It is interesting to witness Ronnie Lazaro, always excellent, in a gay role as Ate B who continues to pine for the love of his life, Gino. His portrayal is low-key, avoiding falling into the trap of depicting homosexuals with clichés. Ronnie makes us empathize with Ate B—and we hope that he finds his happy ending too. Candy Pangilinan and Al Tantay instigate the most laughs. I suspect much of the dialogue and punchlines were even ad libs.
Aside from the pure chemistry between the romantic leads, the movie is made even more visually appealing by the beautiful cinematography, particularly scenes shot in the Saga prefecture in Japan.

Ava, a Fine Arts student, gets to try such traditional arts as ceramic pottery-making, glass-blowing, and weaving. Nadine is so natural in her reactions to her new environment and experience, her enjoyment is reflected on her face and her laughter is infectious.
A beautiful parallelism is drawn as Ofelia and Melchor dance under cherry blossom trees, as they affirm their love after reuniting; and Ava and Coby, whose love is finally blossoming.
The script goes from having characters spew out trite one-liners to those that are popularly referred to as "hugot lines."
This endearing movie is about love, in its different forms and stages, and it is an ode to loving and making the most of the moments we share with our loved ones.
Director Nuel Naval puts in millennial touches to make the movie very "now." There are the Snapchat elements to which many young fans will relate and the splitscreen and fast editing to tell parts of the story. The sequences involving these snappy scenes are very enjoyable as well.
Direk Nuel captures and, in a way, documents the beautiful love story that unfolds between Ava and Coby--or Nadine and James.

All two hours is worth seeing for these two specimens of youthful vibrancy and you don't even have to be fans of the Jadine loveteam to enjoy it. Whether you are in your teens or hold a senior citizen card, this movie will engage and entertain you.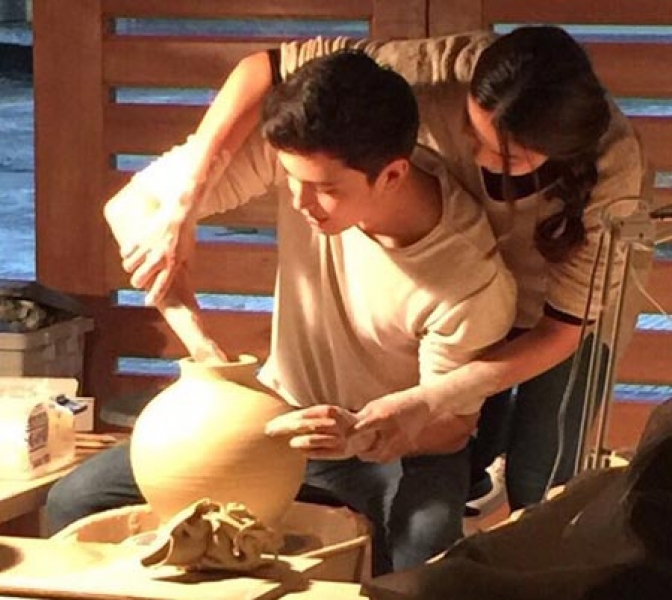 (To view photos from the premiere, click: James Reid and Nadine Lustre joined by Vice Ganda at This Time premiere night)



Ed's Note: The "PEP Review" section carries the views of individual reviewers, and does not necessarily reflect the views of the PEP editorial staff.