Quark Henares' My Candidate braves theatrical release as it goes up against two other rom-coms this May.

The John Lloyd Cruz-Jennylyn Mercado starrer, Just the 3 of Us, and the fifth James Reid-Nadine Lustre movie, This Time, simultaneously debuted in cinemas a week ahead of My Candidate, a film that brings together the unlikely tandem of Derek Ramsay and Shaina Magdayao.
While the Quantum Films-produced flick undertakes such competition, My Candidate enjoys a relevant and timely screening too—defying the "rule" of loveteams and tandems—as it sets its plot in politics and elections. It offers a different atmosphere, all the more highlighting its makers' admirable attempt to change up the romantic comedy genre that Filipinos have become too familiar with.
My Candidate begins with Billie Pono (Shaina Magdayao) preparing the celebrity Jopher (Ketchup Eusebio), a bawdy and exhibitionist character reeling from a sex scandal, for a talk show interview.

Billie is a life coach by profession and a competent, believable one at that. Her talent for "redirecting" and "honing" people to act and move credibly and convincingly in their endeavors in life, is later discovered and sought by Coco Chanel (Nico Antonio), the concerned and determined chief of staff of politician Sonny Suarez (Derek Ramsay).

Sonny is compelled to run in the elections after the death of his politician father and an encouraging pulse survey for a care­er in the Senate. While a genuine public servant who means well to his constituents, the lackluster and uncharismatic Sonny is in dire need to fine-tune his people skills and general appeal to the public in order to win.

He is pitted against his ex-girlfriend Vera Sanchez (Iza Calzado) who is also aspiring to be a senator.
My Candidate banks on its remarkable and often amusing character sketches, powerfully immersing its characters in the spotlight and giving them an opportunity to exhibit their acting chops.

Shaina who plays the wild-spirit, sassy, and world-jaded Billie, reveals a different side to her—amusingly bolder, funnier than you've ever seen, which easily turns out to be one of the film's main strengths.

Derek, meanwhile, manages to portray Sonny's unlikable demeanor and social awkwardness (thanks to his dopey and dreadful hairdo), leaving his telegenic abs and usual dashing self for a while, if only to stay true to his character. As Sonny, he is able to bring out a goodhearted public servant as opposed to a do-gooder, insincere politician, which is something that sticks to you at the end of the film.
Before it is a rom-com, as bluntly introduced by its trailer, My Candidate is decided, foremost, on being a film about a politician undergoing the pressures of a campaign and not allowing it to outweigh nor affect his duty to his constituents. This separates it from a run-of-the-mill chick flick, giving its sentimental and mush-seeking Filipino audience a different take on the genre. Such endeavor is clear and venerable.
What isn't acceptable is the way it conducts its campy overtones (wait, it means to be campy, right?), its bad transitions, and jarring editing.

My Candidate is categorically funny when it really is, but ends up being a poor joke that shouldn't have been delivered when it misses its punch lines. Moreover, the Shaina and Derek tandem just doesn't work for the film, making some scenes cringe-worthy and awkward. A perfect example of this: the final scene where Sonny and Billie dance in slow motion is a turn-off and just pointless, erasing the merits of the preceding scene.
My Candidate is commendable in its attempt to change up the rom-com genre, but the lack of chemistry between its leading actors and its confusing cinematic aesthetics, just drowns out its voice that dares to be different.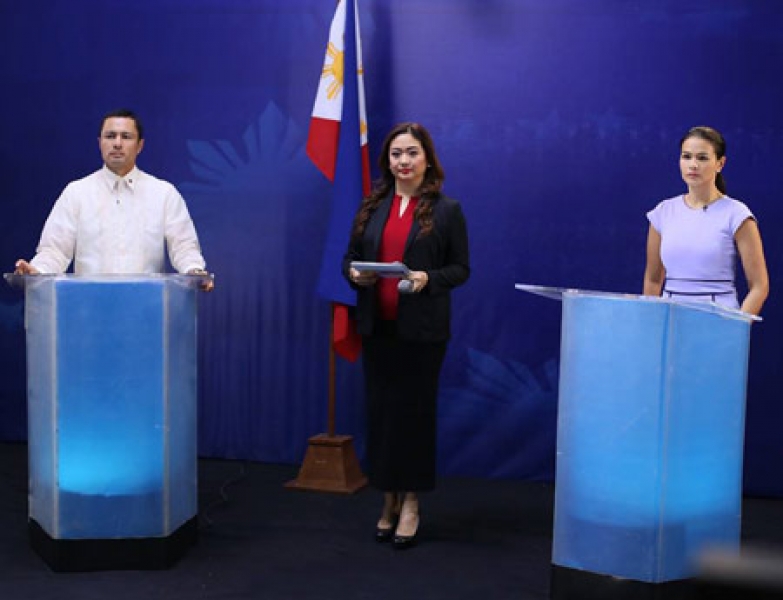 Derek Ramsay as Sonny Suarez and Iza Calzado as Vera Sanchez (right) with Tintin Bersola Babao



Ed's Note: The "PEP Review" section carries the views of individual reviewers, and does not necessarily reflect the views of the PEP editorial staff.