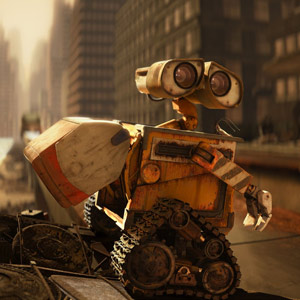 ---
British-born musician Peter Gabriel made his mark as the lead singer of the '70s rock band Genesis before embarking on a solo career that has encompassed best-selling albums, innovative videos and scores for such films as The Last Temptation of Christ and Rabbit Proof Fence. Gabriel's latest endeavor is "Down to Earth," an original song he wrote and performed for WALL•E, the new animated feature from the Disney-Pixar team that's already responsible for such hit films as Toy Story, Finding Nemo, Cars and Ratatouille.
WALL•E is a robot love story set in space and the film's title character-whose name is short for Waste Allocation Load Lifter Earth-Class-is the lonely, slightly rusty robot that humans have left behind to clean up a planet that's been buried under mountains of litter. Gabriel's quirky song, which plays over the film's end credits, combines the witty and thoughtful lyrics and richly diverse musical influences that typify his best work. In the following interview, the musician shares why he hopes WALL•E will be as big a hit as Pixar's previous films.
Q: First of all, have you seen the other Pixar movies and are you a fan of animation?
Peter Gabriel: Yes to both. I think I've seen all of Pixar's films and many, many times because I have a six-year-old in the house and he can't get enough of Finding Nemo and Toy Story in particular. He's also just got into Japanese films like Spirited Away, which is a wonderfully poetic film. For myself, as a kid I was hypnotized by Looney Tunes and Bambi and pretty much anything that Disney put out. I think Bambi was one of the first animated films I saw.

Q: You've been associated with film music before, but WALL•E is the first animated film you have worked on. Why's that?
ADVERTISEMENT - CONTINUE READING BELOW
Gabriel: I do get asked to do quite a lot of stuff, but it's not my full-time job and so I really only get involved with film work when you have a director who really gets music and respects it and a film that's interesting in one way or another. When you have all that it can be a lot of fun, and that was certainly the case here.

Q: And how did your involvement with WALL•E begin?
Gabriel: From knowing [WALL•E director] Andrew Stanton. I went to visit Pixar quite a few years ago when I was working on the idea of an independent theme park. I did what we called a tech tour of America, just trying to talk to people who were doing interesting work, and that led me to Pixar and meeting Andrew. I met him a few more times at concerts and he mentioned WALL•E to me three or four years ago and asked if I'd be interested in contributing something, which ended up as "Down to Earth."

Q: Did Andrew Stanton give you an idea of what he wanted from the song?
Gabriel: He gave me some references in terms of my own songs. "Secret World" was one of them. He wanted something that had some melody and some muscle and still retained some of the quirkiness of the film, which is what I tried to achieve. I mean, that's really the job when you write a song like this: you're trying to help someone else realize their vision, which is sort of the reverse of what I do the rest of the time.
Q: How much of WALL•E were you able to see before you began work and what was your reaction to the film?
Gabriel: It was 30-30-30 of sketches, rough animation and fully realized sections of the film. I thought it was very brave because there isn't much dialogue at the beginning of the film. I also loved the references to films like 2001 and Alien and I liked the humor of the story. I also thought it was quite timely, though it's done with a light touch, so it isn't as if the moral of the story is thrust down your throat. I mean, WALL•E is an environmental film in many ways, but it really doesn't say anything more strident than that looking after the planet is a good idea.
ADVERTISEMENT - CONTINUE READING BELOW

Q: You wrote the lyrics for "Down to Earth," but the music is a collaboration with Thomas Newman, who also composed WALL•E's score. Is that a different sort of process for you?
Gabriel: Yes, because I usually work on my own, but Andrew was very keen that I should try working with Tom because Tom had created this musical world in which the film resided and he thought we ought to at least collaborate on a bridge going from "Thomasworld" to "Peterworld" [laughs]. I was hesitant about it to begin with.
Q: But it worked...
Gabriel: Part of it was that I've always enjoyed Thomas Newman's music, especially what he did on American Beauty and the theme for Six Feet Under. In fact, I nearly wrote to him having heard Six Feet Under because I thought that was the best TV theme I had ever heard: it was very original, very evocative and just a beautiful composition with lovely colors and textures and choice of sounds, and deceptively simple too.
Q: So did the two of you get together in a studio somewhere?
Gabriel: Tom flew over here to England and we sat around and we played around on the keyboards until we came up with something we liked. It was pretty fast. Tom made a couple of visits and we got the basic bones of it done in about two or three days. Then we carried on working on various arrangements and I brought various people into the studio. My friend Tony Levin put on his bass part remotely in America and then the Soweto Gospel Choir from South Africa did some vocals and Tom had some of the musicians he regularly works with do a demo in Los Angeles. So it became a pretty international effort.

Q: We should remind people to stay right to the end of the film to hear the song...
ADVERTISEMENT - CONTINUE READING BELOW
Gabriel: Exactly! Fortunately Pixar credits are generally more entertaining than everyone else's, so people do tend to hang around a little longer.
(Opening across the Philippines on August 13, WALL-E is distributed by Walt Disney Studios Motion Pictures International through Columbia Pictures.)