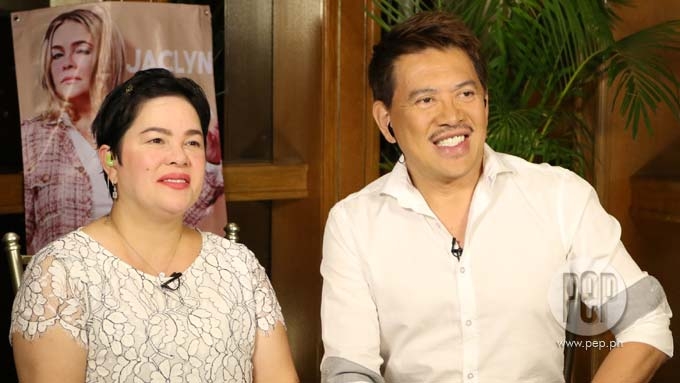 ---

Cannes Best Actress Jaclyn Jose, award-winning director Brillante Mendoza, and the cast and crew of Ma' Rosa will be honored during the 21st French Film Festival.

The red-carpet event will be held on June 8 at Central Square in Bonifacio Global City.
Last year, the festival, which is usually held a few weeks after the prestigious Cannes Film Festival in France, also welcomed Direk Brillante and Nora Aunor after the film Taklub earned a special citation.
"Since 2012, the festival's gala night has been the welcome party for the Filipino filmmakers who have been attending the Cannes Film Festival," said Martin Macalintal, audiovisual attaché of the French Embassy in Manila.
This year, the festival opens with a screening of Mon Roi by French director Maïwenn at the Bonifacio High Street Cinemas. Coincidentally, the lead actress in the film (Emmanuelle Bercot) also received the Best Actress Award at the Cannes Film Festival in 2015.
This year, the French Film Festival offers a line up of 17 French movies released between 2014 to early 2016.

The films will be shown from June 8 to 14 at the Greenbelt 3 Cinemas and the Bonifacio High Street Cinemas. On June 12, Independence Day, the festival will put the spotlight on Filipino films that have also been featured at the international film festivals in France: Lawrence Fajardo's Imbisibol and Carl Joseph Papa's animated film, Manang Biring.
Mr. Laurent Legodec, Deputy Head of Mission of the French Embassy, told the press in an interview that this year's festival affirms relationships and continuity, particularly between France and the Philippines.
"We believe that our two countries don't know enough how much they have in common, but we are also confident that development of this relationship will continue," Mr. Legodec said. "In this case, the French film festival is a good occasion to deepen this understanding."
The festival will be open to the public starting on June 8 at Greenbelt 3 with Les Nouvelles aventures d'Aladin (The New Adventures of Aladin), a comedic retelling of the story of Aladdin.

This will be followed by Bird People, a drama about a computer engineer and a maid who find their lives changed in one fateful day; Grand Central, which tells a forbidden love story that develops at a nuclear power plant; Un + Une, a romantic comedy starring Academy Award winner Jean Dujardin; and romantic comedy film Toute première fois (I Kissed a Girl).
ADVERTISEMENT - CONTINUE READING BELOW
Greenbelt 3 Cinemas and Bonifacio High Street Cinemas will then screen the films simultaneously the next day until June 14, Tuesday.
This year's selection also includes family dramas Encore heureux (Hopefully), Belles Families, La Ritournelle (Paris Follies), and Les Souvenirs (Memories); romance in films like La Belle Saison (Summertime) and Party Girl; a journey of self-discovery in La vie très privée de Monsieur Sim (The Very Private Life of Mr. Sim); a film about selling marijuana in Five and a suspense film about an aspiring author in Un Homme Ideal (A Perfect Man), both starring César Award winner Pierre Niney; the comedy Le Fantôme de Canterville (The Canterville Ghost); and Human, a documentary by French environmentalist Yann Arthus-Bertrand.
Tickets will be sold at P100 each.
The films will also be screened in Cebu from June 22 to 25 and Davao from June 28 to 30.
Here is the schedule of the 2016 French Film Festival in Manila:


Greenbelt 3, Makati

June 8, Wednesday
12:00 - 2:00 Les Nouvelles Aventures d'Aladin
2:30 - 4:30 Bird People
5:00 - 7:00 Grand Central
8:00 - 10:00 Un + Une
10:30 - 12:30 Toute Première Fois
June 9, Thursday
12:00 - 2:00 Toute Première Fois
2:30 - 4:30 Five
5:00 - 7:00 La Belle Saison
8:00 - 10:00 Les Souvenirs
10:30 - 12:30 Grand Central
June 10, Friday
12:00 - 2:00 Le Fantôme de Canterville
2:30 - 4:30 La Ritournelle
5:00 - 7:00 Five
8:00 - 10:00 Un Homme Idéal
10:30 - 12:30 Humans
June 11, Saturday
12:00 - 2:00 Les Souvenirs
2:30 - 4:30 Les Nouvelles Aventures d'Aladin
5:00 - 7:00 Belles Familles
8:00 - 10:00 La vie très privée de Monsieur Sim
10:30 - 12:30 Toute Première Fois
June 12, Sunday
12:00 - 2:00 Belles Familles
2:30 - 4:30 La vie très privée de Monsieur Sim
5:00 - 7:00 Imbisibol
8:00 - 10:00 Manang Biring
10:30 - 12:30 Un Homme Idéal
June 13, Monday
12:00 - 2:00 Le Fantôme de Canterville
2:30 - 4:30 Bird People
5:00 - 7:00 Party Girl
8:00 - 10:00 Encore Heureux
10:30 - 12:30 Grand Central
June 14, Tuesday
12:00 - 2:00 Bird People
2:30 - 4:30 La Belle Saison
5:00 - 7:00 Mon Roi
ADVERTISEMENT - CONTINUE READING BELOW
8:00 - 10:00 La Ritournelle
10:30 - 12:30 Party Girl
Bonifacio High Street Cinemas, BGC

June 9, Thursday
12:30 - 2:30 La Belle Saison
3:00 - 5:00 Les Nouvelles Aventures d'Aladin
5:30 - 7:30 Grand Central
8:00 - 10:00 Un + Une
10:30 - 12:30 Les Souvenirs
June 10, Friday
12:30 - 2:30 Bird People
3:00 - 5:00 Le Fantôme de Canterville
5:30 - 7:30 Un Homme Idéal
8:00 - 10:00 Belles Familles
10:30 - 12:30 La Belle Saison
June 11, Saturday
12:30 - 2:30 Le Fantôme de Canterville
3:00 - 5:00 Un + Une
5:30 - 7:30 La vie très privée de Monsieur Sim
8:00 - 10:00 Five
10:30 - 12:30 Un Homme Idéal
June 12, Sunday
12:30 - 2:30 Mon Roi
3:00 - 5:00 Five
5:30 - 7:30 La Ritournelle
8:00 - 10:00 Encore Heureux
10:30 - 12:30 La vie très privée de Monsieur Sim
June 13, Monday
12:30 - 2:30 Les Nouvelles Aventures d'Aladin
3:00 - 5:00 Les Souvenirs
5:30 - 7:30 Belles Familles
8:00 - 10:00 Bird People
10:30 - 12:30 La Ritournelle
June 14, Tuesday
12:30 - 2:30 Humans
3:00 - 5:00 La Belle Saison
5:30 - 7:30 Encore Heureux
8:00 - 10:00 Les Souvenirs
10:30 - 12:30 Grand Central