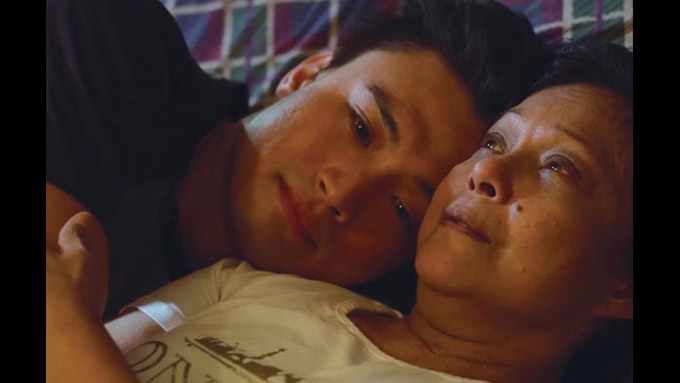 ---

"Pare, Mahal Mo Raw Ako" is indeed a catchy song. It dominated the airwaves for its thoughtful lyrics about unrequited love. If not for its subtle nuance, it could very well be like most mainstream love songs.

Now, the songwriter behind the hit, Joven Tan, has produced a movie based on the song.
Michael Pangilinan, whose interpretation popularized the titular song, makes his big screen debut across fresh-faced Edgar Allan Guzman. They play Red and Mark, respectively, childhood friends now at the cusp of adulthood.

As in the song, Mark (Edgar Allan) has been secretly harboring feelings for Red (Michael), who is unaware of this and of the fact that his best friend is gay.

However, the story is not a direct adaptation of the song. This is important to keep in mind before viewing it. But the spirit of the song remains.
From the first scene, even the first shot, Edgar Allan shows a sensitivity that makes him suited for the role of one who secretly pines for another whom he cannot have. His sad scenes truly tug at the heart, and his winning smile heighten kilig scenes.

Edgar Allan is best remembered for delivering the hugot line "Sa pagmamahal walang forever, pero sa love walang gender."
Beside him, Michael is obviously the less experienced actor. He reacts well to Edgar Allan in confrontation scenes, but for the most part, he still needs to work on showing emotions and not simply delivering the requisite lines.
Trina Legaspi, as the female presence in the barkada, delivers her lines but seems awkward in some scenes. She, too, needs to polish her acting to show emotions appropriate and necessary to the story.
The gems of the ensemble are the secondary characters. Joross Gamboa and Matt Evans are naturally very comfortable as members of the lead characters' barkada. They show very good comic timing that it is only right they were given as many scenes that ended up in the final cut. Their banter, which could have very well been captured reality, had the audience in stitches during the premiere. Thankfully, they worked with their strengths, which is, this movie proves, in comedy.
ADVERTISEMENT - CONTINUE READING BELOW
It would not be accurate to describe Nora Aunor's appearance as a cameo, because she had her fair share of scenes as Mark's estranged mother. La Aunor avoids any hysterics or overacting, and delivers a quiet and very convincing performance.

Ana Capri has very few lines in the movie, yet she has perfected the art of non-verbal communication, and inhabits that wonderful space of subtlety.
This film shows that director Joven Tan is comfortable with subtleties. It permeates his hit song and it shows up in the characterization and the narrative of the movie.

Instead of offering a movie that could have been filled with sexual innuendos and suggestive humor and nothing else, Direk Joven makes a thoughtful film portraying the angst behind unrequited love, made even more painful by the challenges posed by our society on homosexuals.
The movie is not perfect, of course. For a couple of millennials, the characters apparently prefer writing long letters—and in long-hand, at that. There is a scene, a crucial one, that involves Nora Aunor, Ana Capri, and Edgar Allan Guzman at the dining table—it ends up being unintentionally funny.

In terms of camera angles, some scenes show not the faces of the characters, but the backs of their heads or just their profile—maybe due to physical challenges. A confrontation scene seems to have been shot in such a very tight space that the best angles were missed.
However, there are beautiful shots with picturesque views that make the movie visually appealing. Direk Joven shows his partiality to music videos, using this device to move the story along.
Rather than a gay love story, it is more accurate to say that Pare, Mahal Mo Raw Ako is a love story that happens to involve a homosexual man. It is a thoughtful portrayal that sprinkles a dramatic story with light moments, so as to achieve something of a balance.

Pare, Mahal Mo Raw Ako will open in cinemas on June 8, 2016.



Ed's Note: The "PEP Review" section carries the views of individual reviewers, and does not necessarily reflect the views of the PEP editorial staff.


ADVERTISEMENT - CONTINUE READING BELOW