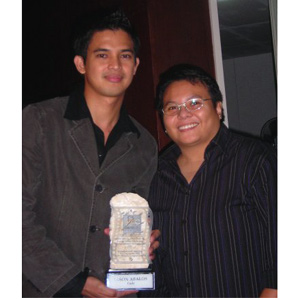 ---

Last August 7, the Film Desk of the Young Critics Circlehonored the winners for the 18th Annual Circle Citations (YCC Awards) forDistinguished Achievement in Film for 2007. The awarding ceremony took place atthe Pulungang Recto of Bulwagang Rizal (Faculty Center Conference Hall) in theUniversity of the Philippines-Diliman.


Established in 1990, YCC is the academe-based critics group with members comingfrom various disciplines. Through the years, they have become attentiveobservers of Philippine cinema constantly bringing into the analysis of film aninterdisciplinary approach.
Among those who attended were filmmakers Brillante"Dante" Mendoza, Jade Castro, and Nick Deocampo. The latter waschosen to give the keynote address-signaling the first time a filmmaker ishandpicked for the pivotal task that has become an annual YCC tradition.
Direk Dante's Foster Child won Best Film and BestScreenplay while ufo Pictures' Endo won Best Editing, Best Sound andAural Orchestration, and Best Performance for Jason Abalos. Death in theLand of Encantos, directed by Lav Diaz, garnered the Best Achievement inCinematography and Visual Design.
Star Magic talent Jason Abalos took the time to attend theawarding ceremony held in UP Diliman.
Here are the winners and nominees for this year's YCC filmawards:
Best Film of the Year
Winner: Foster Child directed by Brillante Mendoza(Seiko Films; Robbie Tan, executive producer)
Nominee: Endo directed by Jade Francis Castro (ufoPictures; Ned Trespeces, Michiko Yamamoto, Emmanuel de la Cruz and Raymond Lee,Producers)
Best Screenplay
Winner: Foster Child (Seiko Films) - Ralston Jover
Nominee: Endo (ufo Pictures) - Jade Francis Castro,Michiko Yamamoto and Raymond Lee
Best Achievement in Cinematography and Visual Design
ADVERTISEMENT - CONTINUE READING BELOW
Winner: Death in the Land of Encantos (Sine Olivia) -Lav Diaz, Director of Photography; Dante Perez, Production Designer
Nominees:
Foster Child (Seiko Films) - Odyssey Flores, Directorof Photography; Ben Padero, Production Designer
Still Life (Sining Ko Ito Productions) - DanVillegas, Director of Photography; Cris Silva, Production Designer
Tirador (Centerstage) - Brillante Mendoza, JuliusVillanueva, Jeffrey de la Cruz, Gary Tria, Directors of Photography; DeansHabal, Harley Alcasid, Production Designers
Best Achievement in Film Editing
Winner: Endo (ufo Pictures) - JD Domingo
Nominee: Tirador (Centerstage) - Charliebebs Gohetia
Best Achievement in Sound and Aural Orchestration
Winner: Endo (ufo Pictures) - Corinne de San JoseCruz and Mark Locsin, Sound Engineers; Owel Alvero, Musical Director
Nominees:
Still Life (Sining Ko Ito Productions) - Joey Santos,Sound Engineer; Wincy Ong, Musical Director
Tirador (Centerstage) - Ditoy Aguila and JunelValencia, Sound Engineers; Tere Barrozo, Musical Director
Best Performance by Male or Female, Adult or Child,Individual or Ensemble in Leading or Supporting Role
Winner: Jason Abalos in Endo (ufo Pictures)
Nominees:

Cherry Pie Picache in Foster Child (Seiko Films)
Eugene Domingo in Foster Child (Seiko Films)
Ron Capinding in Still Life (Sining Ko ItoProductions)