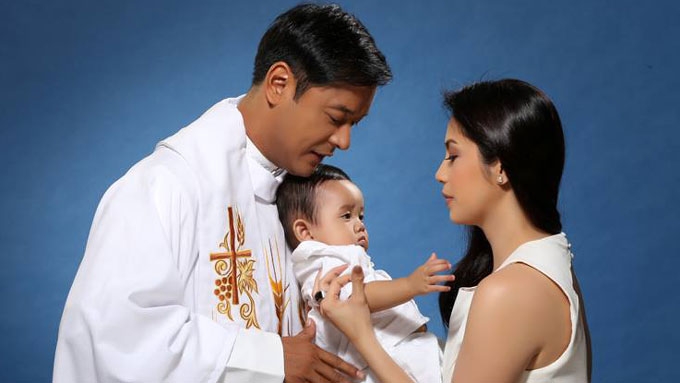 ---

For all their weaknesses, priests--especially in our predominantly Catholic country--are still authority figures.

We welcome them like honored guests in our home. We dutifully listen to their Sunday sermons and kiss their hands after mass.

But though their lives seem wrapped in holiness, priests are human, too. They get hurt and wrestle with personal demons.

Mel Chionglo's Iadya Mo Kami focuses on these vulnerabilities without condemning men of the cloth.

It tells the story of Father Greg (Allen Dizon), who arrives on an assignment as parish priest of a faraway town, where power in the hands of a few is as endemic as the mountain, rough terrain, sheep and goats.

Fr. Greg arrives as a stranger. He doesn't know the dark secrets that shroud the townspeople, headed by its rich residents Julian (Ricky Davao) and his wife Millette (Aiko Melendez, who got a Best Supporting Actress nomination at the 49th Worldfest Houston International Film Festival for the role).


DARK SECRET. Neither do the people know Fr. Greg's dark secret about him fathering a child.

An unexpected turn of events forces it out in the open, and tongues start wagging.

But the secrets slowly unravel, forcing Fr. Greg to make decisions that tear him apart and turn everything he has learned as a man of God upside down.

It's a far cry from the quiet opening scene, where the usual images of the countryside--a thick carpet of tall grass, a broken-down vehicle, friendly townsfolk--make you think this is just another sleepy town miles from the city. The long opening scene that takes you from one field to another may seem boring to Filipinos familiar with such places.

But the scenes are not for their eyes only. Iadya Mo Kami is competing with other films from across the globe in the Filipino New Cinema section of the 3rd World Premieres Film Festival, which is scduled to take place from June 29 to July 10, 2016.

It was shown at the 4th Silk Road Film Festival in Dublin, Ireland, where Allen won best actor for the role.

So local color is a must.


SURPRISES GALORE. Speaking of local, the country folk seem to live up to expectations--on the surface, that is. They're as meek and mild as the flock of sheep Julian cares for in his animal farm. But looks, as always, are deceiving. Little does their powerful boss know that the downcast eyes hide a sinister force that would rock his--and his wife's world--forever.

As they say, silent waters run deep. And you can count on the film's quiet moments to lead to something shattering, cataclysmic even.
Millette strikes you as the dutiful, loving wife. But look into her eyes, and you'll see a different kind of flicker. Listen to her voice, and you sense a force that commands you to obey.

There are surprises galore. Fr. Greg seems to be as placid as the church he's assigned in. But he hides an inner turmoil that can rock the foundations of the Catholic Church.

A shy country lass (Elora Espano) looks so meek she can't hurt a fly, but she strikes when no one is looking and sends shock waves all over town.

Diana Zubiri as Carla remains the only one with a confrontation scene (although why an independent career woman like her had to have one seems out of character). The rest keep up a quiet front, even if you know they're ticking bombs inside.

The subdued acting makes Fr. Greg, Millette, and the country lass' performances even more convincing. You feel Fr. Greg's pain, marvel at Millette's guts, and admire the country lass's courage.

You come away feeling good that the film ended that way, but unhappy that it had to take so much from most everyone in town.


FACES OF CHANGE. Change, after all, comes with a steep price. And while that price could take so much from you, it also gives you so much more in return.

By showing us the two faces of change, Iadya Mo Kami proves once more that life is all about paying the price--however big--to find oneself, and help others do the same. It shows us how one man with courage and conviction can free a town from a padrino system that cripples them. It shows us that change is not easy, but it's worth it.

It's a story of struggle, yes. But it's also a story of hope.


Iadya Mo Kami is one of the films competing in the 2016 World Premieres Film Festival. It will have an invitational gala premiere night on July 3 (Sunday), 8 p.m. at SM Megamall Cinema 6.

Other playdates open to the public are July 3 (Sunday), 3 p.m. at Megamall; July 5 (Tuesday), 7 pm at Megamall; July 7 (Thursday), 5 pm -- SM North EDSA; July 9 (Saturday), 7 p.m. at SM North and July 10 (Sunday), 5 p.m. at SM North.



Ed's Note: The "PEP Review" section carries the views of individual reviewers, and does not necessarily reflect the views of the PEP editorial staff.



ADVERTISEMENT - CONTINUE READING BELOW