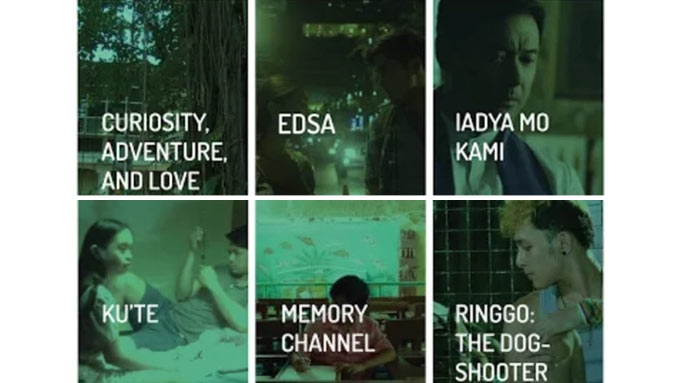 ---


More than 60 films will be featured at the 3rd World Premieres Film Festival that is ongoing until July 10, 2016.

The films are being screened at the following locations: Cinematheque Manila at T.M. Kalaw, SM Megamall and Shang Cineplex in Ortigas, SM North EDSA in Quezon City, Greenbelt 3 in Makati, and Uptown Cinemas at BGC.
The different categories are: Main Competition, Filipino New Cinema, ASEAN Skies, Intercontinental, Country of Honor: Vietnam; special sections are: Out of Competition, Spotlight China, Filipino Classics, French Silent Short Films, and Cine Verde.
According to Quintin Cu-Unjieng, Festival Organizer, the films on showcase were chosen from between 200-300 entries worldwide. The submissions were reviewed by selection committees.

"We always try to do better and we have developed from year to year. We have slowly been getting bigger films from higher profile directors," he said during the press con of the film fest held recently at Cinematheque Manila.
Only finalists for the Filipino New Cinema section received a grant of P50,000 each to contribute to the funding of their projects.
The six contemporary Filipino films will compete for festival awards: Best Picture (1st and 2nd place), Best Director, Best Screenplay, Best Cinematography, Best Editing, Best Musical Score, Best Sound Engineering, Best Production Design, Best Performances, and Best Supporting Roles.
Films in the Main Competition category—including a Filipino film—will vie for the following: Grand Festival Prize and Grand Jury Prize, Best Performance by an Actor, Best Performance by an Actress, Best Artistic Contribution, Technical Grand Prize, and Best Ensemble Performance. All of the films will have their worldwide premiere during the festival.
Under the ASEAN Skies category, films from member states of the Association of Southeast Asian Nations will compete for the "ASEAN Skies Prize for Best Film."
Under the Intercontinental category are all films from countries outside of the Southeast Asian region and will be in the running for the "Intercontinental Prize for Best Film."
ADVERTISEMENT - CONTINUE READING BELOW
All awardees will receive beautiful trophies designed by sculptor Impy Pilapil.
Film Development Council of the Philippines chairperson Briccio Santos observed that this year's festival is exciting, because more continents have been engaged. He promised that this will be "a cinematic showcase unlike any other."
The Main Competition Gala Premieres will take place at the Shang Cineplex, Uptown Cinema, and Greenbelt 3, followed by a Q&A with the Director (free admission).
The Filipino New Cinema Gala Premieres will take place at SM Megamall and SM North Edsa, followed by a Q&A with the Director and Cast (by invitation only).
The Filipino Classics to be screened have been digitally scanned and restored under the auspices of the National Film Archives of the Philippines. This bodes well for the preservation of the Filipino identity as reflected in our art in film.
The Cine Verde section is composed of movies that aim to raise awareness about environmental issues through the power of cinema. This is presented in partnership with Connect4Climate (C4C)-- a global partnership program based at the World Bank--and global campaign, Film4Climate--committed to spreading climate change knowledge through cinema and related creative industries, and to finding ways to mitigate the environmental impact of film production.
Silent French Short Films will be screened at the garden of the Casino Espaol at T.M. Kalaw, Manila. The outdoor screenings will be accompanied by musical accompaniments by some local bands.

Here are the movies featured in World Premieres Film Festival 2016:

Festival tickets are priced at P100 each, unless otherwise indicated.


Filipino New Cinema

Title: "Curiosity, Adventure and Love"
Director: Sunshine Lichauco-de Leon
One woman's journey through a century of love, war, and discovery.
"Curiosity, Adventure & Love" is a documentary that traces the reminiscences of Jessie Lichauco, who, as a young American woman of 18, came to the Philippines and left all security behind to marry her Filipino husband. Thus, beginning an adventure in the Philippines that would witness the birth of a nation, a cruel war, and Occupation and reconstruction. Jessie is a striking personality, somewhere between Scarlett O'Hara and Amelia Earhart, who knew no boundaries and flew far ahead of her times, without regard to sex or society. Her story of a century well-lived is both rich and one that should restore our faith in our own humanity.



ADVERTISEMENT - CONTINUE READING BELOW
Title: "EDSA"
Director: Alvin Yapan

Cast: Kris Bernal, Aljur Abrenica, Joem Bascon, Allen Dizon, Sue Prado, Mara Isabella Lopez Yokohama, Hayden Kho Jr, John Manalo, Simon Ibarra, Lance Raymundo, Upeng Galang Fernandez


Three stories, one day in EDSA. An opportunistic entrepreneur develops a bond with a street kid trying to help him get to his business meeting in Makati, after losing his cellphone to a snatcher. A teacher from the province haggles with a former OFW, turned taxi driver, whether the country should follow world standards in basic education requirements. And a snatcher trying to reform himself with the help of a nurse by trying to return what he stole. Three stories all asking the same thing: what matters most, the collective or the individual gain?


Title: "Iadya Mo Kami"
Director: Mel Chionglo

Cast: Eddie Garcia, Aiko Melendez, Ricky Davao, Diana Zubiri and Allen Dizon
In Iadya Mo Kami, Father Greg (Allen Dizon), a diocesan priest, is reassigned to a parish up in the mountains. He embarks on a mission to help solve the crime, a mission which leads him to the discovery of his own personal salvation.


Title: "Ku'Te"
Director: Ronaldo Bertubin

Cast: Johan Santos, Marielle Therese, Nico Gomez


This story reveals the physical and emotional struggles of LenLen, who has to deal with the challenges of Down syndrome. Yet, her existence intensifies the emotions of those people around her.
"Ku'Te" is a film that highlights the trials of love, sacrifice, and passion. This story presents a new definition of a love story, as each character displays conflicting performance of innocence, power, and mystery.


Title: "Memory Channel"
Director: Raynier Brizuela

Cast: Epy Quizon, Bodjie Pascua, Patrick Patawaran, Michelle Vito, and Gerald Santos
This is the first independent movie of the Prince of Ballad Gerald Santos. It is an edgy film that tackles anxiety/panic attacks triggered by retrograde amnesia in a person desperately seeking and rebuilding a distorted past. He realizes in the end that his future cannot and must not be defined solely by his past. His present is as relevant as his past to his future.


ADVERTISEMENT - CONTINUE READING BELOW
Title: "Ringgo: The Dog-Shooter"
Director: Rahyan Carlos

Cast: Sandino Martin, Janice de Belen, Liza Dio, Bembol Roco, Manuel Chua, Rubi Rubi, Micha Oteyza, and Bodjie Pascua


This is a story of the journey of three souls heading towards healing and redemption. Ringgo is a 16-year old boy who works as a dog-shooter (the one who assists in mating the dogs with breed -- he will see to it that the private parts of the stud and bitch will be locked during the mating and no sperm will be put to waste in the process).
Ringgo works for Bong, a 40-year old lesbian who is a breeder of dogs. One of Bong's dogs is I'nca, who is a troubled Doberman. Things will get complicated when Ringgo, I'nca, and Bong develop a relationship as if they were really mother and child, and get entangled in each other's personal issues and becomes each other's protector and defender.
An invisible umbilical cord of love and sacrifice links the three characters.



Main Competition

Title: "Young Love Lost"
Country: China
Director: Xiang Guoqiang
In the latter part of the last century, Lu Xiaolu has just graduated from technical school and is currently working in a chemical factory. He hasn't a clue about what he will do in the future or how he should lead his life. Lu Xiaolu lacks skills. Moreover, he loves to play games, fight amongst his colleagues and is often found redoing poorly executed tasks. However, Lu Xiaolu is captivated by a beautiful young girl named BaiLan, who he pursues and eventually falls in love with. BaiLan in the end applies for graduate school and abruptly leaves for Shanghai…
Title: "By Accident"
Country: France
Director: Camille Fontaine
Amra and Lyes are two young Algerians who have been living in France for five years. Amra has begun the process to legalize her immigrant status, whereas Lyes is still an illegal immigrant. One evening, as she searches for her cell phone while driving, Amra runs over a pedestrian. She didn't see anything happen. Amra is desperate and doesn't know what to do when a young woman, Angelique, suddenly appears and clears her of any blame, claiming that the pedestrian threw himself under the car. The two young women become friends. But over time, Angelique's behavior grows increasingly strange; indeed, rather disturbing…
ADVERTISEMENT - CONTINUE READING BELOW
Title: "Love Above All Things"
Country: Spain
Director: Chema de la Pea
"Love Above All Things" is a passionate love story that unfolds over the course of five years. In it we witness the trials and tribulations of Teo and Ana: their separations, reunions, euphoria, disappointments and joy. Ana cannot love any man other than Teo, and Teo cannot live without Ana, but they're love affair will not last… that is their destiny. Years pass and their lives continue with their peculiar love story that sometimes enlightens them and sometimes tears them down…
Title: "Redha"
Country: Malaysia
Director: Tunku Mona Riza
Upon the discovery that their only son Danial is autistic, Alina and Razlan's world crumbles as they struggles to confront the harsh realities of raising a child disabled by a condition they hardly knew about. Razlan's inability to accept the truth causes friction within the family, but Alina's perseverance and maternal instinct help wade through the difficult times raising Danial. With her sister and a close friend by her side, they may have found a way to improve Danial's quality of life until a tragic accident causes the family to re-think its strategy
Title: "Daughters of the Three Tailed Banner"
Country: Philippines
Director: Gutierrez Mangansakan III
A family is in ruins after the last male member dies. To salvage their future, the matriarch Kadiguia decides to look for a suitable husband for the eligible Tonina to continue the line of martyrs and warriors. Many miles away in the city, Aida secretly works in a hotel after falling victim to an illegal recruiter. She hides this fact from her family who believes that she is in faraway Kuwait working as a nanny.
Title: "Yen's Life"
Country: Vietnam
Director: Dinh Tuan Vu
According to the marriage arrangement of parent, Yen had to get married when she was only 10 years old. Since then, her life closed to the ups and downs of her husband's family.



ADVERTISEMENT - CONTINUE READING BELOW
ASEAN Skies


Title: "Laut"
Country: Philippines
Director: Louie Ignacio
Shot in Central Luzon, it tells the story of a settlement of the members of the seafaring Philippine ethnic group Samad'Laut. They struggle make ends meet by selling small items, begging, and some are forced into petty thievery. It is a cold, hard look at those in the fringes who are neglected by the state.
Title: "Remittance"
Country: Singapore
Directors: Patrick Daly and Joel Fendelman
"Remittance" tackles the challenges of living away from family to work for a brighter future. It stars real-life Filipina domestic helpers; though the story is fictional, much of it is based on real events.
Title: "Beast"
Country: Philippines
Directors: Tom and Sam McKeith
American expat Rick has great ambitions for his son, and convinces the reluctant Jaime to tamper with his gloves in order to win a match that matters a lot to some nefarious sideliners. The heart of the story is Jaime's struggle to decide if he can still be a good man after having done a bad thing. To redeem himself in his own eyes means breaking away from his father and all he's ever known. It remains uncertain right up until the last moment whether he will pay his price.
Title: "Above It All"
Country: Laos
Director: AnysayKeola
Noy, a male medical graduate who seems to lead a perfect life, is pressured by his parents to marry his beautiful rich girlfriend. When he can no longer deny and hide his sexual preference, he risks the consequences to tell his parents the truth. At the same time, Noy, a Hmong woman from a poor family in Xiengkhouang province, looks forward to celebrating her graduation after a long struggle to support herself in Vientiane. However, her parents' arrival brings not the joy she expected, but the need to decide whether to remain in Vientiane with her musician crush or get married overseas in order to repay her parents' debt.
ADVERTISEMENT - CONTINUE READING BELOW
Title: "I Am Hope"
Country: Indonesia
Director: AdillaDimitri
A young woman's hopes for a bright future in the theater are dashed when she is diagnosed with cancer. The film traces her life and anguish as she deals with her condition.
Title: "Price of Love"
Country: Cambodia
Director: Matthew Robinson
A love story that promises to send hearts a-flutter.
Title: "Surat Cinta Untuk Kartini" ("Love Letters to Kartini")
Country: Indonesia
Director: Azhar'Kinoi'Lubis
Kartini Day is a national Indonesian holiday forRadenAjengKartini, a hero of Indonesian women who fought for education during the Dutch colonial period. It is a fictional story set against a historical backdrop.
Title: "7 Letters"
Country: Singapore
Directors: Eric Khoo, Jack Neo, Royston Tan, K. Rajogopal, Tan Pin Pin, Kelvin Tong and Boo Junfeng
Singapore's seven most illustrious directors have gathered their creative storytelling and filmmaking talents in a one-of-a-kind project celebrating Singapore's 50th year. "7 Letters" represents seven heartfelt 'love letters' to Singapore, capturing each of the directors' personal and poignant connections with the place they call home.



Intercontinental
Title: "3 Bellezas" ("3 Beauties")
Country: Venezuela
Director: Carlos Caridad Montero
Perla is obsessed with having a beauty queen in the family and she is willing to do whatever it takes to make her dream come true.
Title: "Dalisay"
Country: Italy
Director: Maurizio Baldini
A young woman namedDalisay, known as Daly, lives in a small hamlet in the Filipino countryside. She's an observant, smart and intelligent girl who through an unfortunate accident lost both her father and mother. Her older sister Anne works in a nearby city as a waitress in a restaurant. Her modest income allows for both of them to live sparingly. Every day Daly passes in front of the Sari Sari or general store owned by Nida, a woman that lives not far from her. Nida is an artist, and a solitary never-been-married artist. Daly, hungry for knowledge, often spends time with Nida, the older woman feeding the natural curiosity of the girl. Nida ultimately teaches Daly what higher love is and how the rhythm of nature affects each of our souls.
ADVERTISEMENT - CONTINUE READING BELOW
Title: "Damn New York"
Country: Spain
Director: Arturo Prins
"Damn New York" is a film based on the travel diaries of a painter during his stay in the city in 2012. It demystifies all the ideals that we have seen and heard about New York and shows it as a city that exhausts and devours its inhabitants.
Title: "Home Guards"
Country: Hungary
Director:KrisztinaGoda
Home Guards is a powerful drama about two brothers - Mt and Joci - who live in a small Eastern European town. They are recruited by a charismatic leader to join the Home Guards and take a stand against crime. The boys are happy because, for the very first time in their lives, they feel a sense of real belonging. But things get slowly out of hand as the Guards become an uncontrollable political force. When Mt refuses to cover up a racist crime, he finds himself classed as an enemy of the Guards and at loggerheads with his own brother.
Title: "Mom and Other Loonies in the Family"
Country: Hungary
Director:IbolyaFekete
The story of an odd family down four generations is traced by the character of Mum who lived 94 years and moved 27 times in her life. Mum tells the story of the life of the "crazies" in her family.
Title: "Mossie"
Country: South Africa
Director:Darrell Roodt
Mossie van Wyk is an enigmatic, open-minded and insightful wanderer. However, one cannot tell Mossie's story without AdriaanPrinsloo, the eternal boy next door. A love triangle riddled with the highs and lows of adolescence and loss, Mossie's story is about how she learns to fly.
Title: "Parasol"
Country: Belgium
Director: Valery Rosier
A holiday hotspot a Mediterranean island.Three solitary persons wandering; European summer ending. A handful of lonely souls fiercely determined not to stay that way. Nostalgic for a past that never was.
ADVERTISEMENT - CONTINUE READING BELOW
Title: "Paula"
Country: Argentina
Director: Eugenio Canevari
Young Paula lives and works at the pile of a middle-class family caring for their children. Her life takes an unexpected turn on discovering that she's pregnant by a young man who refuses to accept his fatherhood.
Title: "Pleasure. Love."
Country: China
Director: Yao Huang
"Pleasure. Love." Tells the story of two couples and their intense relationships. The first part, Pleasure, involves Jiang Nan, a struggling writer, who falls in love with older businesswoman Hu Yajie. Part two, Love, involves an older man also named Jiang Nan, a successful businessman who meets a young girl, who is also named Hu Yajie.
Title: "Sis for Stanley"
Country: Italy
Director: Alex Infascelli
"S is for Stanley" tells the story of Emilio D'Alessandro, an Italian immigrant who went from being an unknown taxi driver and aspiring Formula 1 racer to legendary director Stanley Kubrick's chauffeur and guy Friday for nearly thirty years. It is an interesting examination of the life of the auteur away from the klieg lights.
Title: "The Storm Inside"
Country: France
Director:FabriceCamoin
Adapted from Marguerite Duras's novel "Dix heuresetdemie du soir en ete" ("Ten-Thirty on a Summer Night"), the film tackles middle-age malaise and the search for something greater. A group's summer holiday is interrupted by a violent storm that closes the roads between France and Spain. Self-destructive alcoholic Maria, her husband Pierre, their daughter Judith, and family friend Louise are in the middle of a drama about conflicting desires and fears and their search for redemption.


Country of Honor: Vietnam


Title: "The Prophecy"
Director: NsutVurongDurc
When Uncle Ho stayed at Viet Bac war zone, he predicted victory in 1954. Reality reflected the accuracy of his genius analysis. On Oct. 10, 1954, soldiers liberated the capital after the Dien Bien Phu victory.
ADVERTISEMENT - CONTINUE READING BELOW
Country: "Jackpot"
Director: Dustin Nguyen
"Jackpot" is based on the real-life story of a poor, southern Vietnamese lottery ticket seller named Lanh. One day in 2011, Lanh made a verbal agreement to sell some tickets to a deliveryman who promised to pay and pick them up later. Lanh later learns that one of the tickets she had set aside for the driver, for which he hadnot yet paid, was the winner of $300,000. Instead of cashing it in herself, she took pains to find the driver and inform him of his good fortune. Vietnam's entry to the Foreign Language category of the Academy Awards.
Title: "Zodiac 12: Five Steps of Love"
Director: Vu Ngoc Phuong
A perfectly light, warmly funny, and captivating romantic comedy. It tells the story of love and friendship among young people with different zodiac signs and personalities. So…do you believe in Zodiac signs?
Title: "Yellow Flowers on the Green Grass"
Director: Victor V?
A Vietnamese film on childhood that won Best Film at the TFF Kids International Film Festival 2016--part of the prestigious Toronto International Film Festival.It also won the same distinction at the second Silk Road International Film Festival; and the Golden Kite at the Viet Nam Film Festival 2015.
Title: "2030"
Director: Nguyen-Vo Nghiem-Minh
A science fiction romance drama set in post-climate change affected earth, involving a woman, her murdered husband, and her former lover suspected of the crime.
Title: "Beautiful Women"
Director: Dinh Thai Thuy
Title: "On The Peaceful Peak"
Director: Nsut Nguyen HuuMuroi
"On The Peaceful Peak" tells the story of the Cham people in a pottery village in south-central Vietnam.
Title: "The Children of the Village"
Director: Nguyen Duc Viet
In a post-war village in the center of Viet Nam, Thap, a former guerrilla leader who survived a massacre, cannot forget the pain of war. As head of the village, he constantly reminds his fellow villagers of the importance of revenge.


ADVERTISEMENT - CONTINUE READING BELOW
Spotlight: China


Title: "Let's Get Married"
Director: Jiang Liu
As the manager of a bridal shop, Ye has been eager to find her Mr. Right. But because of her entangled relationship with her ex, she almost misses her real Mr. Right. Violinist Wen falls in love with a mysterious man, Li, in a foreign country just weeks before her wedding to her boyfriend of seven years and she has to choose between them. Airport security agent Gu has been trying to make her pilot boyfriend stop running away from the commitment. And finally, hotel manager Tian finds out she is pregnant in the midst of a company promotion, and whether or not to keep the child has become the toughest choice for Tian and her seemingly obedient husband.
Title: "Miss Granny (20, Once Again)"
Director: Leste Chen
A remake of the Korean hit, it takes the story of an old woman trapped in the body of a young lady into Chinese society.
Title: "Roco Kingdom 4: Go! Giant Valley"
Director: Hugues Martel
Far far away from the Roco Kingdom, there is a mystic land with no records in Roco Library. It is called Giant Valley. Legend has it, a powerful guardian elf sleeps on top of a white tree protecting the Giant Valley. One day, the elf was taken away by Balon, and suddenly, the giants are awakened…
Title: "The Galaxy on Earth"
Director: Ning Haiqiang
Chinese drama.
Title: "When A Peking Family Meets Aupair"
Director: Chen Gang
The story depicts what happens when a Chinese family encounters a Colombian exchange student. What results is a comedy of cultural clashes and insights into human nature.
Title: "Wolf Totem"
Director: Jean-Jacques Annaud
Based on the semi-autobiographical novel by Lu Jiamin of the same name, it is the story of a Chinese student sent to Inner Mongolia to teach shephers. Instead, he learns of a wolf population under threat.


ADVERTISEMENT - CONTINUE READING BELOW
Filipino Classics


Title: "Batang West Side"
Director: Lav Diaz
Diaz's first major work, the story is set in New Jersey, where a Filipino youth is murdered. It makes a commentary on the Filipino diaspora.
Title: "Damortis"
Director: Briccio Santos
The first in-house restoration project of the NFAP, the story revolves around a faith healer who struggles to pass down his power and empire to his successor. It tackles the exploitation of power.
Title: "Ginauhaw Ako, Ginagutom Ako (I am Thirsty, I am Hungry)"
Director: Quin Baterna
The first full-length Hiligaynon film tells the story of an orphan from the slums who, though given a chance at a better life, is unable to escape the throes of misfortune and poverty.
Title: "Pagdating Sa Dulo"
Director: Ishmael Bernal
Bernal's first film established the director as a visionary. It was the Best Film of the Decade (1970-1979 at the GawadUrian Awards. Starring Rita Gomez, Eddie Garcia, Vic Vargas, and Zenaida Amador, the film examines the follies behind the glitz of showbusiness and human nature.
Title: "Noli Me Tangere"
Director: Gerardo De Leon
The film adaptation of national hero Jose Rizal's classic is admirable in its cinematography and editing. De Leon's innovative lighting and camera angles continue to awe and inspire today.
Title: "Turumba"
Director: Kidlat Tahimik
"Turumba" tells the story of commercialization of art and tradition, as a rural town uses its artisans to mass producepapiermache for the 1972 Munich Olympics.
Title: "White Slavery"
Director: Lino Brocka
Starring recent Cannes Film Festival Best Actress Jaclyn Jose in an early role, the movie tells the story of desperation that forces a group of women to be recruited into white slavery in the big city.


Out of Competition


Title: "Galloping Mind"
Country: Belgium
Director: WimVandekeybus
Title: "One Kiss"
Country: Italy
Director: Ivan Controneo
ADVERTISEMENT - CONTINUE READING BELOW
Title: "The Forest"
Country: Thailand
Director: Paul Spurrier



Silent French Short Films


Director: Gaston Velle
"L'ecrin Du Rajah"
"L'albumMerveilleux"
"La Fee Aux Pigeons"
Director: Louis Feuillade
"La Fee Des Greves"
Director: Albert Capellani
"Le Pied De Mouton"
Director: De Marius O'Galop Productions
"Le Petit Poucet"


Cine Verde


Title: "Chloe & Theo"
Director: Ezna Sands
Title: "Racing Extinction"
Director: Louie Psihoyos
Title: Rafea: "Solar Mama"
Director: Mona Edlaif
Title: "Ever The Land"
Director: Sarah Grohnert
SIDELIGHTS


During the Festival, there will also be a few supplementary activities


INTERNATIONAL FILM CONFERENCE (IFC)
July 1, 11 am
Casino Espaol de Manila at T.M. Kalaw in Manila
Free and open to the public.
This year's IFC theme is "Behind the Scenes: a 360 degree view of the film industry." The roster of speakers is composed of top-tier film industry leaders from around the world.
Katharina Bttinger, manager in the Sales and Technical Department of the European Film Market (EFM), one of the most prestigious film markets in the world and the business center of the Berlin International Film Festival.
She will discuss the role and importance of the EFM, and why it is essential for film industry players to attend the EFM in Berlin every year.
Edgar Tejerero, President of SM Lifestyle Entertainment Inc.
He will discuss the current state of film exhibition and venue theater development in the Philippines.
Ted Roper, partner lawyer of Freeman Freeman & Smiley, LLP, based in Los Angeles, focuses on contract, corporate, and commercial law and serves as a counsel to a number of Japanese corporations.
He will discuss copyright laws and the legal dynamics of film within the industry.
Jonathan Hyong-Joon Kim, a veteran producer who has had a prolific career in the Korean film industry for nearly three decades.
He will discuss international film co-productions with Korea.
ADVERTISEMENT - CONTINUE READING BELOW
The IFC aims to impart global film industry perspectives to everyone from those in the Filipino film industry, to students alike.

MINI INTERNATIONAL FILM EXPO
July 1, 11 am
Cinematheque Manila, at T.M. Kalaw in Manila
Free and open to the public.
The Mini IFX isa cool and compact fair of the film industry's newest technology. Select exhibitors include: RSVP Film Studios, CMB Film Services, Arrays Technology, and Black Magic.
DIRECTOR ROUNDTABLES AND Q&A PANELS
July 2, 2 pm
Cinematheque Manila (ASEAN Library)
A Vietnamese filmmaker will have panel discussion at 2 p.m.; A Main Competition filmmaker will have director round table discussion at 3 p.m.


OUTDOOR SCREENINGS
The outdoor courtyard within the Cinematheque complex will be the site for cinema lovers to sit down and watch some of the festival films.
Films to be shown include: French Silent films, environmental films in the parallel Cine Verde film section, and Filipino Classics.
After the festival, the different Cinematheque locations in other parts of the Philippines will also host some of the films from this year's WPFF.
For more information, visit: www.wpff.ph, email: info@wpff.ph, or check the official Facebook page: www.facebook.com/worldpremieresfilmfestival