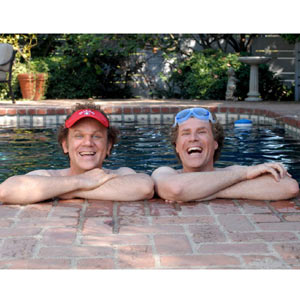 ---

Will Ferrell (Stranger Than Fiction, The Producers)and John Reilly (Chicago), star in Columbia Pictures' new, irreverentcomedy Step Brothers, which will be shown soon exclusively at AyalaMalls Cinemas (Glorietta 4 & Greenbelt 3).
In Step Brothers, Ferrell plays Brennan Huff, asporadically employed thirty-nine-year-old who lives with his mother, Nancy(Mary Steenburgen). Reilly plays Dale Doback, a terminally unemployedforty-year-old who lives with his father, Robert (Richard Jenkins). When Robertand Nancy marry and move in together, Brennan and Dale are forced to live witheach other as step brothers. As their narcissism and downright laziness threatento tear the "new" family apart, these two middle-aged, immature, overgrown boyswill orchestrate an insane, elaborate plan to bring their parents backtogether. To pull it off, they must form an unlikely bond that maybe, justmaybe, will finally get them out of the house.
Ferrell sums up the central characters by describing twogrown men in a state of arrested development. "Dale and Brennan never outgrewtheir adolescent ideas about what's cool, how they'd spend their time when theygrew up, what they found entertaining. It was a lot of fun to explore that,thinking, 'What if you actually became, at 40, the guy you thought you'd bewhen you were 13?'"
Producer Judd Apatow poses a different question, "What doyou do if your kids are a mess? Richard Jenkins and Mary Steenburgen play theparents, and what's funny about their fights in the movie is that they reallyjust don't know what to do," Apatow says. "Interestingly, it's a pretty commonproblem: how do you get your kids out of the house?"
"Brennan and Dale are very leery of each other. Neither ofthem likes the new situation at all," Ferrell says. "All that changes when Dalemeets Brennan's younger brother Derek, who comes to dinner one night with hisfamily. Derek is the complete opposite of Brennan. He's successful, handsome,and has everything going for him. He's also tormented Brennan his entire life.Dale comes to Brennan's defense by sucker-punching Derek, and from that momenton, Dale and Brennan are best friends."
ADVERTISEMENT - CONTINUE READING BELOW
"John and Will have incredible chemistry," says Apatow. "Idon't know where it comes from, but they're really fun to watch together andthere's something about their comedic styles that really balance each otherout. They're like a great comedy team."
Step Brothers is distributed by Columbia Pictures,local office of Sony Pictures Releasing International.