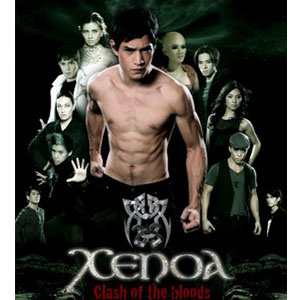 ---

Star Magic talent Victor Basa joins the cast of Xenoa 2:The Clash of the Bloods, the second of a sci-fi trilogy about aliens from Xenoa and itsrival planet Zephyr.
Actress Isabel Granada informed PEP (PhilippineEntertainment Portal) about the continuing saga of the alien siblings who cameto Earth portrayed in the first film by her, Paolo Ballesteros, and RafaelNanquil.
In Xenoa 2, Victor Basa plays the role of Clyde, ahybrid Xenoan/Zephyrus. He is the son of Drix (Rey Talosig), a Xenoan royal,and Amanda (Elle Velasco), the Zephyrus princess. In the first film, Drix wasportrayed by model Rafael Nanquil but the part now goes to Rey Talosig of theShowboys, the all-male group of GMA-7's SOP.
Isabel, who plays an orphan named Eli in this film, says that thisis her first time to work with Victor. "We find him very impressive with hisactions, despite the rumors that he's not good in acting, well, he proved itwrong. His character really fits the role," says the former star of That'sEntertainment.


In the trailer of Xenoa 2, Isabel's character isdemanding the return on an object. She explains the significance of this objectin the plot. "It is the Xenoan trinity, it is the object that gives full powerto whoever has it. This is where the conflict started—a battle of power betweentwo races. In this trilogy, the Xenoan trinity signifies the true power ofunity for the greater good."
Viewers can look forward to the premiere night of Xenoa 2on November 5. The regular run of Xenoa 2: The Clash of the Bloods willtake place at all SM digital cinemas starting November 12, 2008.
SYNOPSIS. It has been 18 years since the royalsiblings have successfully won over their lifelong battle with their enemyZephyrus and safely returned to their home planet Xenoa. On Planet Earth, anunexpected child named Klyde was given birth by Amanda, who happens to be aZephyrus royalty. He is the son of Drix, the brother of Xenoans Eli and Zeus.


This hybrid mixture of the twobloods has been experiencing a "dual personality turmoil" that leads to seriesof unfortunate events. Torn between the Xenoan and Zephyrus race, Klydeultimately turns his back on the Xenoans, thus begins his journey of evolution of the human kind. When the Xenoan clan finds out about thisconflict, Drix immediately clashes with his hybrid son. The battle lines arenow drawn for mankind.
ADVERTISEMENT - CONTINUE READING BELOW
Xenoa 2: The Clash of the Bloods (2008)

Produced and Directed by: Sean Lim
Cast:

Victor Basa, Paolo Ballesteros, Rey Talosig, Lance Raymundo, Roxanne Barcelo,Elle Velasco, Vivo Ouano, Valerie Bariou, Ning Corteza, Reggie Jukes, RJSevilla, Renz San Diego, Xeno Angeles
And
Isabel Granada
Introducing
JR De Guzman