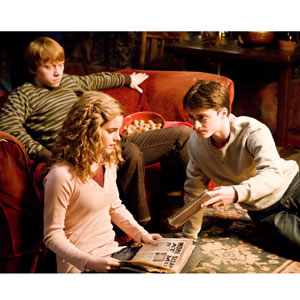 ---

The highly anticipated first trailer for Warner Bros.' HarryPotter and the Half-Blood Prince makes its debut in Philippine theaters onWednesday, August 20, as an added attraction to the computer-animatedadventure, Star Wars: The Clone Wars.
The big reveal in the trailer is a glimpse of the young TomRiddle, who grows up to become the wizarding world's most malevolent force,Lord Voldemort.
Producer David Heyman said, "I am really excited thatdirector David Yates and all our cast are back for the sixth film and welcomesome wonderful new additions to our ensemble. We all share a commitment to J.K. Rowling and to Harry Potter fansaround the world to keep making these films the best they can be and, as wehead into the final installments, I can promise that this level of commitmentwill not waver."
In Harry Potter and the Half-Blood Prince, LordVoldemort is tightening his grip on both the Muggle and Wizard worlds andHogwarts is no longer the safe haven it once was. Harry suspects that dangers may even lie within the castle, butDumbledore is more intent upon preparing him for the final battle that he knowsis fast approaching.
Once again heading the cast, Daniel Radcliffe, Rupert Grintand Emma Watson reprise their roles as young wizards Harry Potter, RonWeasley and Hermione Granger, who are facing new challenges and dangers in thewake of Lord Voldemort's return. Theywill be reunited with returning Harry Potter cast members, includingHelena Bonham Carter, David Bradley, Robbie Coltrane, Warwick Davis, TomFelton, Michael Gambon, Alan Rickman, Maggie Smith, Natalia Tena, Julie Waltersand David Thewlis, as well as Evanna Lynch, Matthew Lewis, and Bonnie Wright.
Two award-winning actors are joining the film's all-starcast in their first Harry Potter film. Academy Award winner Jim Broadbent has been set to play PotionsProfessor Horace Slughorn, who gives Harry an old Potions textbook that hadonce belonged to the Half-Blood Prince, which proves invaluable to the youngwizard. Award-winning actress HelenMcCrory will play Narcissa Malfoy, mother to Draco Malfoy and sister to theevil Bellatrix Lestrange.
ADVERTISEMENT - CONTINUE READING BELOW
Additionally, several young newcomers will be making theirfeature film debuts: Jessie Cave has won the role of Lavender Brown, who haseyes for Ron Weasley. Nine-year-oldHero Fiennes Tiffin is playing the role of the young Tom Riddle at age 11,while 16-year-old Frank Dillane is playing the teenage Riddle, who is already onthe path to becoming the evil Lord Voldemort.
Opening across the Philippines this November, HarryPotter and the Half-Blood Prince will be distributed by Warner Bros.Pictures, a Warner Bros. Entertainment Company.