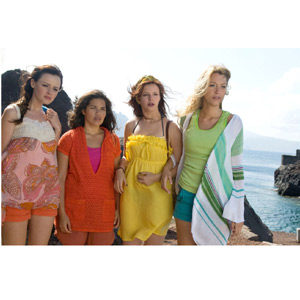 ---

Amber Tamblyn, America Ferrera, Blake Lively, and AlexisBledel reunite onscreen in Warner Bros.' endearing drama The Sisterhood ofthe Traveling Pants 2 as the lifelong best friends that audiences fell inlove with three years ago.
Based on Ann Brashares' best-selling series of novels aboutfour young women who share an unbreakable bond through the unpredictable eventsof their lives, the sequel catches up with Tibby, Carmen, Bridget and Lena inthe months following their first year of college.
Having been apart all year, their plans for the summer willtake them even further along separate paths as each experiences the freedom,love, choices and challenging life lessons that mark their individual journeystoward adulthood. Now it will take morethan a hurried note...or even a treasured pair of pants passed back and forthamong them to keep their lives connected.
Feeling displaced at home with her mother expecting a newbaby, and disappointed that her friends opted to spend the summer away, Carmen(Ferrera) accepts a chance invitation to work backstage at a theater festivalin Vermont. There, she surprisinglyfinds herself thrust into the spotlight for the very first time and simultaneouslybecomes the focus of the play's handsome young leading man.
Tibby (Tamblyn), meanwhile, remains in New York City to wrapan NYU film project while cautiously taking her relationship with Brian McBrian(Leonardo Nam) to the next level. Whenan unexpected crisis complicates everything, she must finally face her fear ofgetting close if she wants to let love in.
Bridget (Lively), still struggling with the loss of hermother and with questions about her past, travels to Turkey for an archeological digbefore realizing that the truths she needs to uncover are buried closer tohome.
And Lena (Bledel), separated from first love Kostos (MichaelRady) and studying at the Rhode Island School of Design, meets a free-spiritedfellow art student (Jesse Williams) who forces her to choose between holding onto her memories or mending her heart and pursuing an exciting new love.
ADVERTISEMENT - CONTINUE READING BELOW
For Tibby, Carmen, Bridget and Lena, communication wasalways as easy as breathing. Now, newpriorities and rapid changes make it harder for them to keep in touch. Messages are sometimes missed...ormisunderstood. But when it mattersmost, they will still reach out to those who know them best.
Finding a way to share their experiences as they alwayshave, with heart and humor, they will come to value more than ever theimmeasurable power of their friendship.
Opening soon across the Philippines,
The Sisterhoodof the Traveling Pants 2
will be released worldwide by Warner Bros.Pictures, a Warner Bros. Entertainment Company.