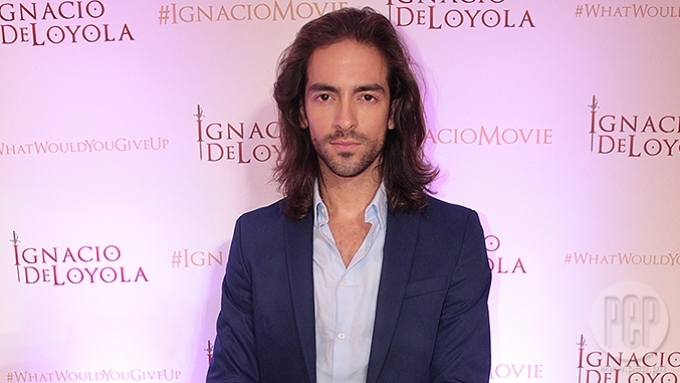 IMAGE Nikko Tuazon
---

Spanish actor Andreas Muoz is currently in the Philippines to promote his latest project, a Filipino-produced historical biopic titled titled Ignacio De Loyola.
The film directed by Paolo Dy features an all-Spanish cast which includes Javier Godino, Isabel Garcia Lorca, Pepe Ocio, and Julio Perillan.
The film is produced by the Jesuit Communication Foundation (JesCom), the media arm of the Philippine Jesuit Province, and is co-presented by the Jesuit Conference of Asia Pacific and One Meralco Foundation.
Andreas and the film's Filipino production crew members were present during its press conference at KKK Restaurant in SM North EDSA on Wednesday afternoon, July 20.
The 26-year-old actor will play the title role of St. Ignatius of Loyola, also known as Inigo Lopez de Loyola. St. Ignatius was a Spanish knight back in early 1500s who eventually gave up his military life and became a priest, theologian, and later established the Society of Jesus (Jesuits).
PREPARATIONS. To prepare for his role, Andreas held consultations with the director and conducted research for his character.
"Once I've received the script, obviously, I asked Paolo different layers of the character and what he wanted to say with that character," said the actor who hails from Madrid, Spain.
"We decided to work back-and-forth all the time through Skype because I was in London and he was here so it could not be possible [to meet in person]. And by myself, I was reading what they sent me—the biography of Ignacio De Loyola."
He added, "I visited museums, paintings, reading a lot, talking to Jesuits, as well, and talking with Paolo with what he wanted to say so that was [my] preparation for the character."
Members of the press went on to ask his favorite scenes from the film. The Spanish actor answered, "I was really looking forward to do the battle scene because I think it's something that you want to do as a child, you know, the fight with swords. I was really looking forward to that. That was one of my favorite scenes but it was hard to do.
ADVERTISEMENT - CONTINUE READING BELOW
"The heat, it was so high. It was 42 degrees or something like that and we're in this costume and the armor, surrounded by fire, blood. It was hard but I enjoyed it a lot."
Andreas also considers his scene in a cave at Manresa, Spain as one of his favorites. He told the press, "It's a cave scene and that was completely the other way, that was really calm scene and that was hard to do as well but it's one of my favorites."
Andreas admitted he learned a lot while portraying the character of St. Ignatius of Loyola. "I've got a lot to be honest but probably one of them is silence and patience. That's what I learned the most from this character, silence and patience," he told the Philippine press.
AUDITION. Andreas recalled a series of misfortunes before finally getting the character. He said his friend told him to try and audition for the role but Andreas admitted that he didn't know the character too well.
The role almost slipped through the hands of Andreas after missing the first audition in Madrid because of a prior commitment. This didn't stop the Spanish actor from pursuinh the character. Instead, he sent his younger brother Omar Munoz to cover for him.
The Spanish actor recounted, "The first thing, when I went to audition for that character, I didn't know anything about him. I knew he was a soldier and I got the description of a soldier but my friend sent it to me. He sent me a message like saying, 'Andreas, I think you are this character.'
"So I hoped to audition for that but I couldn't because I was getting ready for Hamlet in the UK. So I sent my brother, Omar, to audition. I told him, 'Give my story, give my CD, please talk about me because I really want that character.'"
ADVERTISEMENT - CONTINUE READING BELOW
Direk Paolo also shared an anecdote about Andreas' audition for the character.
"When Omar came to the audition, I remembered this later on. Andreas was like, 'Omar, you give them my show reel but don't steal my role.' Fortunately, the real Ignatius was not as tall as Omar," said the film and TVC director.
Andreas received a monologue from the film that inspired him even more to pursue the role. "That got me, that was the thing that got me. The way that it was written, it was fantastic."
This inspired him to attend the final casting auditions at Barcelona. However, Andreas faced another problem after losing his plane ticket back to Spain.
Andreas told the press, "For the first time in my life, I lost my plane [ticket] from London to Barcelona. And went to my family, I said, 'What am I gonna do?' And they bought me the ticket to go there."
Still, Andreas made it to the auditions and eventually bagged the role.
Paolo and other members of the casting crew were impressed by the way Andreas delivered his lines, making him an easy shoo-in for the lead character.
The film director explained, "When Andreas came over to Barcelona and did the final reading to us, we had some part of the script already and he came in and you know what, first take, he nailed it completely. From there, it was already decided that he was gonna be Ignatius."
FILIPINO EXPERIENCE. This is the first time Andreas worked with a Filipino crew for a project and the Spanish talent only had good words to describe them.
He remarked, "It was my first experience to work with a Filipino crew and a Filipino writer. It was wonderful to be honest, to be honest, it was wonderful."
ADVERTISEMENT - CONTINUE READING BELOW
Although adjustments were made between members of the Filipino production team and their Spanish counterparts, the passion for filmmaking helped the whole team to finish the film.
"We have to adapt, themselves, you know, because they came to Spain. There were some revelations in Spain that are different to the Philippines so they had to adapt," Andreas explained.
"We have to adapt ourselves [like] to the lunch time, as well. The lunch break is like 12 to 1-ish [p.m.] and ours is like 2 to 3 [p.m.] but you know, you get on really good. It was amazing that… everyone here gave hard work. The Spanish crew, the Filipino crew, everyone was like hand-in-hand, working hard. So it's been wonderful," he added.
When asked about his stay in the Philippines, Andreas said, "It's my third time to be here. It's been lovely, to be honest."
The Spanish actor has tried a lot of Filipino food introduced to him by the production team. He names sisig as his favorite Filipino dish.
Andreas narrated, "I've been eating a lot of food. My favorite one is sisig, lechon, as well. I'll go to Cebu [one day] and try the real lechon in Cebu, and pancit. And well, to be honest with you, all you guys are amazing. You always have a smile in your face and that's really welcoming and that's something to be grateful."
He ended his answer saying, "I love, love the Philippines and I know, it's more fun in the Philippines!"
Ignacio de Loyola will be screened in selected Philippine cinemas nationwide on July 27, 2016.