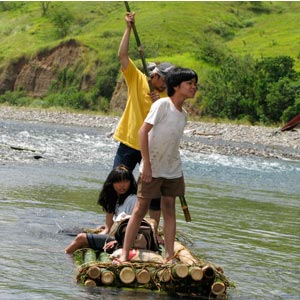 ---

Cinemalaya 2008's winner of the Special Jury prize in the FullLength Feature category, Brutus: Ang Paglalakbay by Tara Illenberger hasbeen selected to compete at the 35th Brussels International Independent FilmFestival this November 4-10, 2008.
Brutus tells the tale of two Mangyan children hiredby illegal loggers to smuggle wood from the mountains to the lowlands. In theprocess, they discover a world run by the greed of men, a world governed byideologies that bring about the armed conflict in the Mindoro highlands. In Brutus, Adag(Tim Mabalot) and Payang (Rhea Medina) travel the Lisap River in OrientalMindoro with their newfound friend Carlito (played by Yul Servo).
Robert Malengreau, general director of the Festival,personally met up with the director and Brutus producer Fiona Borres to invite their filminto the competition. A strong supporter of Filipino films, Mr. Malengreau hasbeen bringing Filipino movies to his native country, Belgium, since 1987—fromalternative films by Nick Deocampo, Raya Martin and Raymond Red to moremainstream fare from Joel Lamangan and Chito Roño.
For this year's competition, Mr. Malengreau chose only twofilms from the Philippines, the other being Torotot, directed by MaryoJ. Delos Reyes, and starring Baron Geisler, Yul Servo, Maui Taylor, andPrecious Adona.
Produced by Bonfire Productions and Cinemalaya Foundation,with the support of the Philippine Tropical Forest Conservation Foundation(PTFCF), Brutus garnered three other awards—Best Music for Mr. JoeyAyala, Best Supporting Actor for Yul Servo and Best Cinematography for Emilio "Jay" Abello.
Brutus
director Tara Illenberger will be presenting her film with leadactors Mr. Ronnie Lazaro and Manila District Councilor Yul Servo at thefestival.