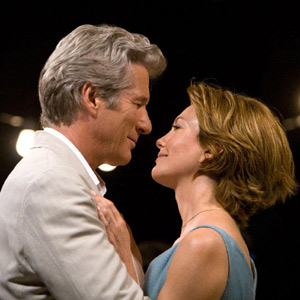 ---

Warner Bros. Pictures reunites the combustible Unfaithfultandem of Richard Gere and Diane Lane in the romantic drama Nights inRodanthe.
Based on the Nicholas Sparks best-selling novel, Nightsin Rodanthe casts Lane as Adrienne Willis, a woman with her life in chaos,who retreats to the tiny coastal town of Rodanthe, in the Outer Banks of NorthCarolina, to tend to a friend's inn for the weekend. Here she hopes to find the tranquility she so desperately needs torethink the conflicts surrounding her—a wayward husband who has asked to comehome, and a teenaged daughter who resents her every decision.
Almost as soon as Adrienne gets to Rodanthe, a major stormis forecast and Dr. Paul Flanner (Gere) arrives. The only guest at the inn, Dr.Flanner is not on a weekend escape but rather is there to face his own crisisof conscience.
Now, with the storm closing in, the two turn to each otherfor comfort and, in one magical weekend, set in motion a life-changing romancethat will resonate throughout the rest of their lives.
The film also stars Scott Glenn as Robert Torrelson, the manbehind Paul's trip to the island; James Franco as Paul's estranged son, Mark;Christopher Meloni as Adrienne's husband, Jack; Viola Davis is Adrienne'sfriend Jean, who runs the inn; Mae Whitman as Adrienne's daughter, Amanda; andPablo Schreiber as Robert's son, Charlie Torrelson.
Directed by George Wolfe from a screenplay by Ann Peacockand John Romano, the film is produced by Denise Di Novi.
Opening soon across the Philippines, Nights in Rodanthewill be distributed worldwide by Warner Bros. Pictures, a Warner Bros.Entertainment Company.