The value for education is embedded in the Filipino psyche, so much so that many parents will work relentlessly to provide access to their children's education.

We are familiar with the saying "edukasyon lang ang maipapamana ko sa iyo" (The only inheritance I can give you is education), that many parents tell their children. The elders only ask that their children work hard to learn and finish their schooling.
In the Cinemalaya 2016 entry Lando at Bugoy, Allen Dizon plays Lando, a middle-aged widower who works as a gravestone (lapida) maker and Gold Azeron plays Bugoy, his teenaged delinquent son.

Lando is a high school dropout and so, is not a source of inspiration for his son, who would rather cut class and spend time smoking and drinking with his friends, who are out-of-school youth. In an effort to watch his son like a hawk as well as break down barriers, the 40-year-old father enlists to go back to school, befriending his son's classmates in the process.
The setting is a beautiful seaside town in Camiguin. For this film, writer-director Victor Acedillo Jr. utilized a mostly local cast, some of them, obviously amateur. This results in uneven acting turns from the actors, with some gems who stand out.

Allen captures the sentiments of a father who tries to come to terms with the death of his wife and is left unsure how to deal with his teenaged son. Gold Azeron essays the role of delinquent student with a thoughtfulness that shows great potential.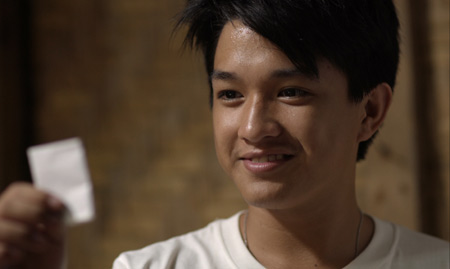 Gold Azeron as Bugoy



Roger Gonzales, who plays the grandfather, is delightful and comes off as a natural.
The girl who plays Bugoy's love interest, Ruth, and the boys who play his best friend, friend, and rival perform admirably. Even the supporting cast that makes up the teenaged barkada, as it were, of Lando, is a treasure trove of local actors with a lot of potential.
The film is a mix of drama and light comedy, mostly anecdotal. It benefits from a good premise, but the structure is lopsided. The grandfather only becomes more visible in the last third of the movie. There are some details that seem to have been added only as an afterthought to the script toward the end of the movie. And an attempt at hinting at something tragic that occurred but actually does not is delivered with minimal success. The movie is slow-starting, but toward the second half, scenes that elicit laughter come in succession.
The fact that the story is inspired by true events is inspirational in these modern times.

Lando at Bugoy is one of nine full-length entries competing in the 12th edition of the Cinemalaya Philippine Independent Film Festival that will run from August 5-14, 2016.

(To learn more about this year's entries, read: Cinemalaya 2016 loses one entry; Nora Aunor, Judy Ann Santos among stars featured in 12th edition)



Ed's Note: The "PEP Review" section carries the views of individual reviewers, and does not necessarily reflect the views of the PEP editorial staff.