Recently, fans have been clamoring for Donna Cruz, Regine Velasquez, and Mikee Cojuangco to have a reunion movie and do a sequel of their 1996 hit comedy musical movie DoReMi.
In fact, a fanmade poster of DoReMi Part 2 became viral online. However, writer Mel Mendoza-del Rosario clarified that there are no plans yet to do a sequel of the movie.


Read: Will there be a sequel of Donna-Regine-Mikee movie DoReMi?
Wouldn't it be exciting to see what happened to the friendship of Donette (Donna), Reggie (Regine), and Mikki (Mikee) twenty years after their story was first shown on the big screen?
PEP lists down 15 things that we miss seeing from our favorite singing trio and why a sequel needs to happen very soon!


1. Donna, Regine, and Mikee sing and dance to the tune of "Stop! In The Name of Love."
Remember that scene in the bathroom?



2. Donette, Reggie, and Mikki have cute arguments.

The trio candidly discuss their dance steps while preparing for their song "Sharing The Same Dreams."


Reggie would tell Mikki, "Start counting…" just to prevent her from unleashing her bad temper!


3. Donette and Mikki have hilarious ways of consoling Reggie when she cries over heartbreak.




But in the end, they remained steadfast in achieving their goal: stardom!



4. Reggie has a unique way of convincing her friends, just like applying as singers in Japan.


It looks like it worked for Donette!


5. Mikki has "sanggano" moves that save them in times of need.

See what she did when someone tried to jump the line ahead of them...


...or when someone tried to make them fall in line again.


6. Reggie shares words of wisdom from her grandmother like "When God closes a door, he opens a window."
However, it's not helpful all the time!
7. It's hilarious to see Donette's constant bathroom breaks manage to put their lives in danger!


Thank God, her friends are there to save her.
8. Reggie and Mikki engage in playful antics against Donette.
Remember what they did to Donette's ring when they needed to buy a car?

9. Hairspray was a big deal and big hair was the "in" thing during that time.


10. Remember when they wore Japanese costumes just to pretend that they made it to Japan?


11. But no matter what hurdles they face, the friendship of Donette, Reggie, and Mikki always remained strong.
Just like when their restaurant business didn't perform well on its first day.


Mikki reminded her friends, "Sama-sama tayo, malalampasin natin 'to."
Reggie shared advice from her grandma, "Pagkatapos ng ulan, sisikat ang araw."


12. Of course, who could forget Do-Re-Mi's song numbers?
Whether they wore their black costumes for "Sharing The Same Dreams…"


Or served drinks while singing "A Little Love Goes A Long Way…"
Or just wore plain blue blouses while singing "I Can…"
…they made sure to give their best and entertain audiences with their numbers!


13. Even though they are committed to fulfilling their dreams, Donette, Reggie, and Mikki still know how to have fun!


14. Donette, Reggie, and Mikki also showed that even the best of friends can face conflicts.

This was especially hard when they had a disagreement regarding the recording contract and had a falling out.
15. After years of not talking and seeing each other, just one accidental reunion proved that friendship prevails over all their trials.
Who could forget their riveting, touching last performance of "I Can?"




Twenty years later, Donna, Regine and Mikee still manage to bring a smile to fans who are still hoping to see them reunite on the big screen.

Whether or not the sequel will happen, they can be assured that they have fans who will tell them: "I can love you until the end…"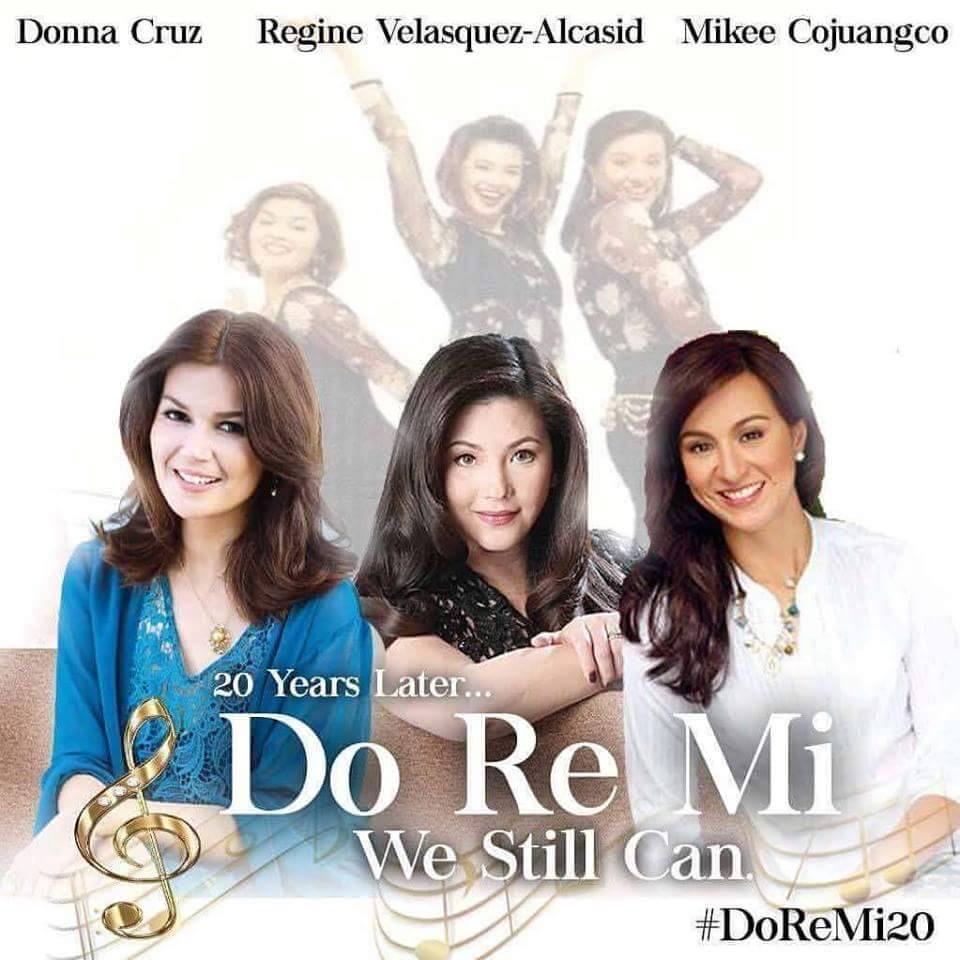 PEPsters, what is the most unforgettable part of DoReMi for you?
Share your thoughts in the comments section below.