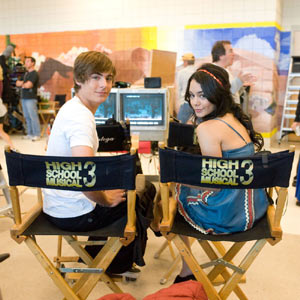 ---

The all-singing, all-dancing exploits of the clean-cutcaptain of the Wildcats, Troy Bolton (Zac Efron), beautiful brainiac GabriellaMontez (Vanessa Hudgens) and scheming rich girl Sharpay Evans (Ashley Tisdale)are brought to the big screen with the theatrical release of Walt DisneyPictures' High School Musical 3: Senior Year.
Efron, Hudgens and Tisdale join Lucas Grabeel, Corbin Bleuand Monique Coleman as they all return to the roles they created in theinternational smash hit High School Musical and the record-breaking HighSchool Musical 2. Kenny Ortega, who helmed the first two films for DisneyChannel, once again directs, adding new duties as executive producer.
High School Musical 3: Senior Year finds high schoolseniors Troy and Gabriella facing the prospect of separation as they head offto different colleges. Joined by therest of the Wildcats, they stage an elaborate spring musical reflecting theirexperiences, hopes and fears about the future. With incredible new music and exciting dance numbers designed to takemaximum advantage of the big screen, this motion picture extravaganza deliversplenty of high-energy entertainment from East High's talented ensemble.
"The first time I read the script, my immediate reaction wasthat it would be a great legacy for the Wildcats to leave behind," says ZacEfron. "It sums up a lot of storylines and all the characters really grow.There are also a lot of great songs and every different kind of music, fromrock to R&B; pop and solo and group numbers and romantic duets."
Asked what how different Senior Year will be from thefirst two High School Musicals, director Kenny Ortega says, "We havemore money and a little bit more time, so this film is going to be bigger andmore dimensional. You'll see that especially in the dance numbers. We've got anumber on the basketball court, up on a rooftop, in a junkyard, in a treehouse, and there's a great range of styles, which has been great fun for me.There's a little bit of Broadway in there, a little bit of funk and hip-hop, aswell as ballet and ballroom. It's been much more challenging for the wholecast."
ADVERTISEMENT - CONTINUE READING BELOW
Opening soon across the Philippines, High School Musical3: Senior Year is distributed by Walt Disney Studios Motion PicturesInternational through Columbia Pictures.