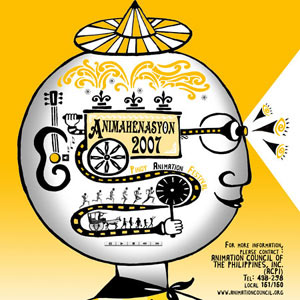 ---

Animahenasyon Festival Programmer Ricky Orellana is invitingprofessional and amateur/student Filipino animators to join the 2nd Animahenasyon2008: Pinoy Animation Festival. The event, which is spearheaded by theAnimation Council of the Philippines, Inc., is now on its second year and theorganizers are promising to give local animation enthusiasts a broader andbetter program.

Orellana points out, "We want to give festival-goers a larger view of whatPhilippine animation by screening earliest works done by animation masters."According to organizers, last year's festival saw a lot of professionalanimators asking for advanced workshops. This year's edition will also featuremaster classes for professionals and enthusiasts. There will also be classes onvisual storytelling, film language, production design, Asian and Japaneseanimation, and visual effects, he said. Last year's festival screened over 150original Filipino animation works and featured a two-day conference withFilipino U.S.-based animator Ronnie del Carmen of Pixar animation as guest ofhonor/keynote speaker. The festival also honored the late Larry Alcala with aLifetime Achievement Award.


"The support [last year] was overwhelming," says Orellana."We are thankful to the animators who submitted very accomplished works as wellas to the movie-goers who went out of their way to watch the screenings. Infact, the week-long event was even extended for a longer run at the IndieSineRobinsons Galleria.

Mr. del Carmen of Pixar adds: "I thought that it was a very successfulfestival. I was very impressed with the animators. They were undaunted andcourageous in pursuing their passion." In fact, so impressed was Del Carmen thathe even agreed to give a talk in Naga for the regional extension of thefestival. "We have very accomplished animators," he said. "These animators havecontributed over the years to animated content the world over on very popularproperties. If that isn't about being world-class, I don't know what is. We areknown to be reliable and versatile, able to tackle the work and meld into whatthe project needs and get the job done."
ADVERTISEMENT - CONTINUE READING BELOW
Just like last year, the second edition of Animahenasyonwill feature 10 categories: one minute up to five minutes; 6 minutes up to 20minutes; 21 minutes up to 40 minutes; Full-animated feature (more than 40minutes); music video; OBBs, TVCs, infomercials, demo reels; and TV series. Allof them are open for professional and amateur/student animators.

Some of the award-winning animation entries last year were Jeff Capili's Malaya(Best Animated Short, professional division), RJ Mabilin's WWII (AnimatedMusic Video, professional division), Valroman Francisco's Pop (AnimatedMusic Video, amateur division), and Anna Katrina Bigornia's My Pet (Viewers'Choice Award). Incidentally, the seven-minute animation My Pet joinedthe short film category of Cinemalaya 2008 and was awarded the Special JuryPrize.

The deadline for the submission of entries is on October 8, 2008. Forinquiries, call: 8172727 loc. 108 or send an email toanimationcouncil@gmail.com or visit ACPI's website www.animationcouncil.org.