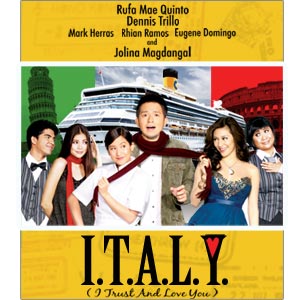 ---

Destiny. Is it beyond our control? Or do we make our own? These questions and other musings about thepast and the future set the tone as GMA Films sets sail with a sidesplittingcomedy about life on the high seas.

In the movie I.T.A.L.Y. (I Trust and Love You), six people arebrought together on a seven-day cruise that will change their lives forever.
A hopeless romantic (Jolina Magdangal)searches for the right man for her, while dreaming of becoming a singer. Destiny "Des"Pinlac believes that Paolo Guzman (Dennis Trillo) fits the three signs that shehas been asking for but she is surprised by what fate has in store for her.
A successful businessman named Paolo(Dennis) is searching for the truth about an Italian woman from his past. Aseries of letters will finally reveal what happened to his former girlfriendSophia.
A senior housekeeper named Lovely Mercado(Eugene Domingo) finds out that it is never too late to find true love.
ADVERTISEMENT - CONTINUE READING BELOW
A young waiter called NathanReyes (Mark Herras) finds the woman of his dreams, but she is beyond hisreach.
A young brat (Rhian Ramos) finds out thatlove does not have to be as complicated as her love-hate relationship with hermother. Phoebe Villaroso is celebrating her graduation by joining this cruise.
And a sexy lounge singer (Rufa Mae Quinto) searches for the perfectman who will keep his promises and who will never leave her. Stella Sembrano isknown on the cruise ship Costa Magica as the materialistic diva of torch songs.
This comedy-romance-drama-musical willmake you swoon, cry, laugh, and fall in love all over again. While it takes you to three continentsaround the world (Asia, Africa, and Europe), it is nevertheless an intimatefilm about searching for love, following your dreams, and making your owndestiny.

I.T.A.L.Y. (I Trust and Love You) is scheduled to open in cinemasnationwide on September 17.
Click HERE to view behind-the-scenesphotos of I.T.A.L.Y.
ADVERTISEMENT - CONTINUE READING BELOW
Trailer courtesy of GMA Films