It's been a year since surfing drama Apocalypse Child took home the top prize at the 2015 QCinema Film Festival.

This year, the film directed by Mario Cornejo and produced by Monster Jimenez of Arkeo Films is gearing up for its commercial release this coming October 26.
Apocalypse Child explores a fictional remnant of American director Francis Ford Coppola after filming Apocalypse Now in Baler, Aurora back in the late '70s.
Sid Lucero was cast as the lead character named Ford, a surfing instructor who is believed to be an illegitimate son of the Hollywood director.
Sid's reel-turned-real life partner Annicka Dolonius is his character's love interest named Fiona.

Other cast members include Gwen Zamora, RK Bagatsing, Ana Abad Santos, and Archie Alemania.
Having Baler as the setting, it's definitely hard to resist the call of the beach while filming the movie. At the October 4 press conference held at the Meranti Hotel in Quezon City, Sid admitted that it was the beach that really attracted him to this project.
The GMA-7 actor described, "The place was amazing, the people were amazing! I mean, it's not like Boracay na ang ganda ng sand and ang ganda ng mga hotels. It's very laidback, Filipino beach but the people are amazing.
"They don't give a shit kung artista ka. Wala silang pakielam, magha-'hi' lang 'yan. Hindi sila mangugulo and in fact, the only people that made gulo weren't from Baler. They're closer to the city."


Read: Sid Lucero recounts experience at New York Asian Film Fest with gf Annicka Dolonius


SID AND ANNICKA. Aside from the film itself, what Sid treasures the most is the connection he made with his co-stars and the film's crew members.

The 35-year-old actor said, "I think this is the closest I've been to anyone I've ever worked with. Annicka and I ended up together. We continuously contact sina Mario and Monster, we visit them. Si RK, he's too busy now and si Ana. Iba yung feeling grabe."
PEP took the opportunity to ask Sid how his relationship with Annicka developed.

The actor, who was a little hesitant at first, still opened up and said it was their similarities that drew him closer to Annicka.
Sid recalled, "It was during the course of the movie [but] I just don't like talking about it because that's how Alex [Alessandra de Rossi] and I got together and parang ang pangit pakinggan na, 'Sid falls in love with his co-actors,' ganyan.

It will be recalled that Sid worked with ex-girlfriend Alessandra for the indie film Mauban: Ang Resiko (2014).

The Kapuso star added, "So I don't like talking about it but how can I not? She [Annicka] thinks like I do on screen, we share the same theories, we share the same philosophy when it comes to doing a job as an actor. And yeah, it worked out. Nagulat na nga lang ako, e."
When asked if he's willing to be paired once again with Annicka in another project, Sid answered, "I don't mind working with her again. We worked again on a short film right after but I don't think we'll ever work again as a pair because tapos na yun, e. Maybe if it's a totally different concept, maybe if she spoke Tagalog, I don't know. But if in a big production, maybe not because our career paths are very different, e."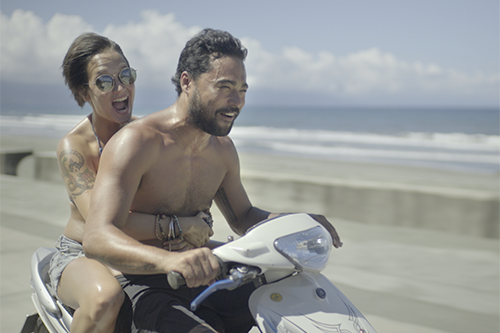 PREPARATIONS. To prepare for his role, Sid had to train how to surf for a couple of days.

He narrated, "They already told me na wala masyadong surfing pero pinag-train nila kami and we trained for a couple of days. Ako, I already had some surfing experience as in nakakatayo ako. I skate so the standing and turning is easy it's just that the board is different. When we got to the set, it was no surfing. So nagsu-surf lang kami pag-pack up. E, pagdating ng 4 o'clock, pack-up na kami, e."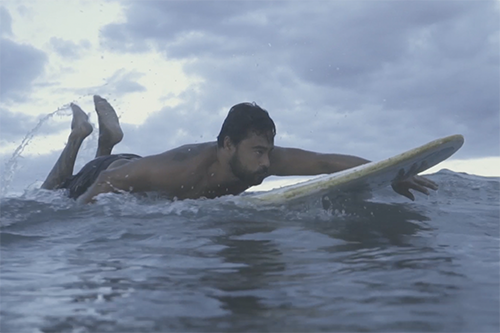 The biggest challenge Sid had to face while working on the film is to get into his character Ford.

He explained, "I was trying to figure out how to play him but because of how the set was oriented and how they laid out everything for us."
He continued, "It's the first time in my life or in my experience na in Filipino film, you have serious dialogue but you know, you say it in such a way na… You see, it's weird because sa dialogue are things you don't talk about in real life but that's because, in real life, that's how you deal with it. But you have to talk about it in the movie and you deal with it, you talk about it as if you're dealing with it in real life.
"So I think, the easiest way for me to go into Ford was to forget everything, not to think about it too much. Play it as me first and then see how it's gonna change. I use a lot of myself and then let go. I think it became a lot more organic that way."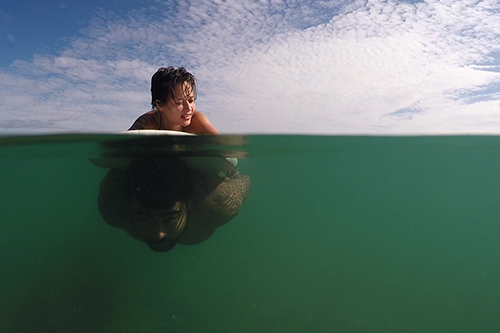 ON LOVE SCENE. One of the most notable scenes in Apocalypse Child is the love scene of Sid and Annicka's characters.

When asked if he felt hesitant to bare skin for the big screen, he said, "No, my first movie nagpakita na ako ng puwet! Wala na 'yan!"
With his years in the film industry, the actor said he has become more selective when it comes to baring his body.

He explained, "I think I was braver when I was younger and as I grew older, I became more conscious about the reasons why. So here, the only reason why I did it is because the way the director presented the scene. He basically said, 'I just want to see how comfortable you are with each other. As in, like you guys are having sex but you don't have to show it but I want to see the comfort.'"
"I, 100% believe that that's one thing we do not do in Philippine cinema. Sa TV, come on man... I have never seen the way a husband and wife jokes behind closed doors on screen in Filipino cinema and that was the whole point. That's why there are some antics there. And I agreed with the director and I noticed that Annicka agreed also and we were in the same frame of mind, e."
He finished, "Hindi siya nakakahiya kasi what if you're working with an actress who's not used to that? Pa'no kung sanay siya sa TV? You know what I mean? It's a picture of a love scene, it's not daring, it's truth. That's what we're looking for."