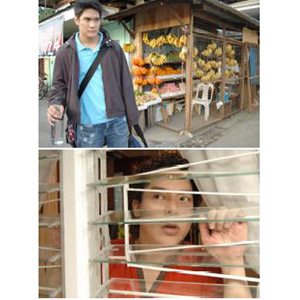 ---

An enchanted bottle of lambanog sparks friction among agroup of friends during a drinking session. This is the premise of PaoloHerras' film that will be screened at Robinsons Galleria IndieSine fromSeptember 10-16, 2008.

Lambanog is the Filipino term for fermented coconut flowersap. This alcoholic drink is distilled from the sap of the unopened coconutflower and is known for having a typical alcohol content of 80 to 90 proof.
The indie film Lambanog (international title: CoconutWhiskey) stars Danica Sotto, Luis Alandy, John Lapus, Lauren Novero, and CJMercado. The film competed in the 8th Asiaticafilmmediale in Rome in November2007.


SYNOPSIS. Maria (Danica Sotto), a lovelorn lambanogvendor, casts love spells on her coconut wine, making the drinker remember hisgreat love. College boy Mark (Luis Alandy) revisits his provincial hometown andbumps into Maria; captivated by her beauty and the mystery of her magic, Markbuys a bottle. That night, Mark serves the lambanog to his playboy best friendEric (Lauren Novero), and Eric's girlfriend, Hasmin (CJ Mercado), a karaokesinger in a local restaurant.


Mark doesn't warn them that what they're drinking isenchanted. In every shot of lambanog, a love story is remembered. Later, theyare joined by the demure gay landlord Rico (John Lapus) who brings anotherbottle of lambanog, also from Maria. As the alcohol level gets high, Maria'scall for love becomes a curse as secrets are exposed and the truth of theirsordid interwoven lives are revealed.


When one drinks from the bottle of love, the truth it bringscould end as a bad hangover.
Lambanog (2006)
Cast:
Danica Sotto as Maria
Luis Alandy as Mark
John "Sweet" Lapus as Rico
Lauren Novero as Eric
CJ Mercado as Hasmin
Writer & Director: Paolo Herras
Director of Photography: Tamara Benitez & Katrina Holigores
Editor: Dempster Samarista
Assistant Director: Caloy Santos
Production Manager: Ickay Eusebio
Production Design: Kristine Balmes
Music: Isha
Executive Producer: Joseph David Santos
ADVERTISEMENT - CONTINUE READING BELOW
Paolo Herras, 26, is currently taking his masters inPhilippine Studies, Major in Film at the University of the Philippines. Agraduate of BA Comparative Literature, Paolo's first full-length script, P1.00/MIN(One Peso Per Minute) won the 3rd Prize of Star Cinema's 1st Scriptwriting Contest.


He has written and directed two films: Lambanog (CoconutWhiskey); and Rekados (Special Ingredients), an officialentry to the 2nd Annual Cinema One Originals. Paolo is currently developing histhird film, The Fortuneteller, supported by the National Commission forCulture and the Arts.


Tickets of Lambanog are priced at P120.