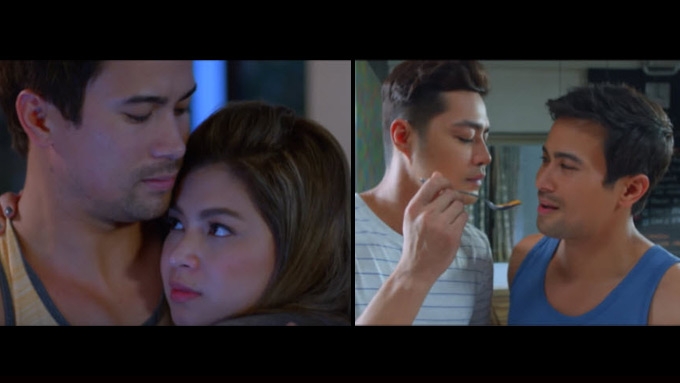 ---

Angel Locsin, Sam Milby, and Zanjoe Marudo dish out laughter and tears while caught in a complicated situation in the gay rom-com The Third Party.

The first hour of John Paul Laxamana's The Third Party moves in a confusingly uneven pace.

It opens in 2009 with Andi (played by Angel Locsin) waking up to a Yeng Constantino song that may be hinting the actress' possible next big screen outing, and progresses to clippings of events that are usually several years apart.

This choice is seemingly carried out to quickly get the proceedings into the film's main agenda, and while that eventually serves its purpose, it renders the rest of the film struggling to give itself a potent resolution.

It becomes a film where you find yourself praying 'please be better' in the first half, only to be got blown with a rollercoaster of emotions in the next.

That doesn't free the last half of the film from unappealing narrative choices, but it nonetheless delivers a satisfying outpouring of emotions as it aims to bring resolution to the complicated lives of the protagonists.

Andi (Angel Locsin) and Max (Sam Milby) are college sweethearts who parted ways when the latter decided to finish studying medicine in the U.S.

They meet again after four years, with Andi still hoping she could win back the first love she once let go. But to her surprise, Max isn't the same person she dated several years ago. In a very awkward setup, she meets Christian (Zanjoe Marudo), Max's boyfriend.

A streak of funny and endearing proceedings rolls from here, and develops into hefty accounts of personal and familial struggles that allow the characters to get across relatable messages to the audience.

Zanjoe Marudo is remarkable with his Christian whose grace is preserved by the actor's commendable restraint.

Sam Milby struggles to satisfy the emotional requirements of Max, but he establishes a beautiful rapport with both of his partners. His inherent verve makes it easy for him to connect with Angel to form an affectionate chemistry that matches the equally endearing charm he shares with Zanjoe.

When his character Max discusses gender fluidity in the film, he can be commended for delivering it so naturally.

Even when Sam and Zanjoe get naughty in between the sheets, the mood is lighthearted and the scene is tastefully shot.

The real stand-out is Angel Locsin who makes a singular moment in the film, one she shared with Cherry Pie Picache, validate her as a versatile actress.

Such is a truly epic scene effortlessly delivered by Angel as she articulates the hurt and pain of being left behind by her mother (played by Cherry Pie).

The film also allows Angel to once again showcase her comic timing just as she did in her very recent film, Everything About Her, and comes out natural in carrying out the film's charming comedic appeal.

Angel shares the effort with Beauty Gonzales who plays her supportive best friend, and Matet de Leon as Max's loving sister.

The script isn't as impeccable as it seems to aspire, and there are portions in the film that inevitably reveals Laxamana's deficiency in handling mainstream production, but the outcome is surprisingly satisfying.

The Third Party offers a refreshing take on relationships and acceptance. The film, despite its shortcomings, delivers a compelling account of family, parenthood, and relationships, and of love that knows no gender.


Star Cinema's The Third Party is graded A by the Cinema Evaluation Board.

Ed's Note: The "PEP Review" section carries the views of individual reviewers, and does not necessarily reflect the views of the PEP editorial staff.


ADVERTISEMENT - CONTINUE READING BELOW