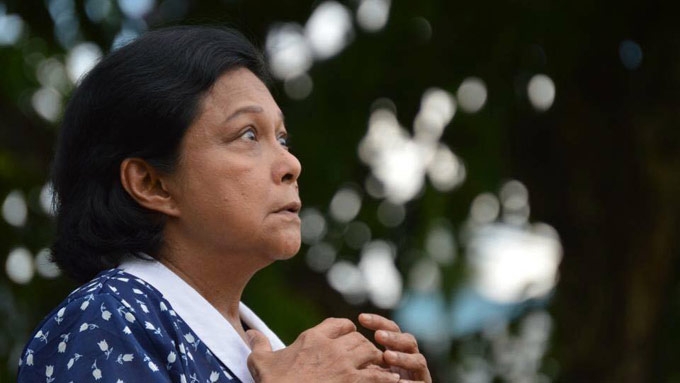 ---

To watch Hinulid is to enter a mystical otherworld, or so it seems. The film by Bicolano director Kristian Sendon Cordero is based on the short story "The Night Express Doesn't Stop Here Anymore" from "Nagueos" by fellow Bicolano Carlos Ojeda Aureus. Both of them are Palanca literary awardees as well.

To watch Hinulid is to experience a visual poem--and experience you do. This writer is a self-confessed admirer of Nora Aunor's acting talent. But, and without diminishing the Superstar's role, this film is more than a movie that stars Aunor. It is a work of art in visuals and in screenplay.


BICOLANO PRIDE. That it is completely immersed and steeped in the Bicolano sphere is not only obvious in the language--using Bicol Rinconada, but also in its steadfast Roman Catholic religiosity. To say that the story is about Sita (Aunor), an OFW and single mother who comes home to Bicol to find her son Lukas (Jess Mendoza) and lay his ashes to rest, is to chip only at one layer of the narrative.
It must be said that the film employs non-linear storytelling. It goes inside the mind of Sita as she sits in a train from Metro Manila to Bicol, the night express, to access her memories and thoughts. Cordero himself has pointed out that one of the themes is the more enduring power of memory over justice, in this case, the musings of Sita skip from one point in Lukas' life to another--mimicking how people remember.
ADVERTISEMENT - CONTINUE READING BELOW
STEEPED IN FOLKLORE. The film starts out with a folk tale, a local one, of the Tandayag, which is a primordial and celestial element that is given the characteristics of a mother, who has a child.
On earth, there are the "Tolong Hinulid", three statues of the dead Christ who, according to ancient belief, were discovered floating in a river in Bicol, and have been charged under the care of the people there.
"La Muerte" is a folk figure almost synonymous to death. But unlike the more popular personification of "Kamatayan", she is not sinister.
The film tackles the day to day, side by side existence of religious fervor with folk beliefs--yet not subjugating one with the other. The blind village shaman and seer is as much a respected and revered figure as the learned parish priest.
MULTIPLE LAYERS, THEMES. As it is set in 1999, it tackles the impending doom and dread over the coming new millennium. Yet, the film is not constrained by timeframe, as it also tackles stories and histories that happened before Sita's life.
It lays logical thinking and the law alongside folk religiosity and faith.
It also touches on lofty convictions that drive militant groups and excuses of brotherhood that fuel violence in fraternities.
The film even delves into issues of religious orders among each other.
It is in its philosophizing and poetry that the film excels. When it delves into day to day chatter, it becomes weighed down by the mundane. Then, it becomes a chore to pay attention. There is a popular quote that says: "Shoot for the moon. Even if you miss, you'll land among stars." There is a lofty aspiration here and the film certainly packs in many themes and meanings. But the film's strengths lie in the visuals and in the wordless acting that is heavy with emotion and meaning.
ADVERTISEMENT - CONTINUE READING BELOW
STRENGTH IN VISUALS. Even beyond being played out in another language from the mainstream used in film and popular media, Cordero tells the story in visual clues and blocks of anecdotes, with the audience depending on Sita's memories, while also calling into question what is real and what is imagined.
The visuals are dramatic, may shots are visual poetry created with Director of Photography Boyet Abrenica, aside from capturing the natural environment.
This writer found three among several scenes noteworthy. One is part of the early montage, from above, the audience looks down to see three floating bodies on the water and a banca coming in to meet them. Another is the most powerful scene between a man and three bamboo tree trunks, weighed down by politics and power. Third, is Nora Aunor's only scene where she lets out the combination of fear, anger, and desperation (among others) in a long but silent scream.
The animation in the film increases its mystical quality. It also binds together the folk element of the shooting star to the science in astrology.
Cordero's opus recalls Spanish surrealist Luis Buuel's That Obscure Object of Desire and several works by American David Lynch, as well as Filipino indie film maverick Kidlat Tahimik's Turumba. Yet, it inhabits its own space, like a mystical forest that we stumble upon Bicol or in the memories of those who know it.
Visually satisfying and sometimes uncomfortable, Hinulid (The Sorrows of Sita) is in the Circle Competition of QCinema 2016.
ADVERTISEMENT - CONTINUE READING BELOW
Hinulid is one of the official entries of the 2016 QCinema International Film Festival running until October 22 in Gateway, Robinsons Galleria, Trinoma, and UP Town Center.

(To learn more about the QCinema 2016 entries, read: Nora Aunor, Jaclyn Jose among stars featured in 2016 QCinema Film Festival)




Ed's Note: The 'PEP Review' section carries the views of individual reviewers, and does not necessarily reflect the views of the PEP editorial team.