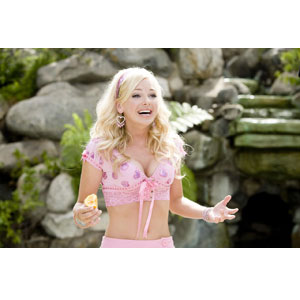 ---
"What happens to the people who have lived in the surrealPlayboy Mansion world, where it's parties and fun all the time? And why do they leave that world—do they gettoo old, or are they simply ready to move on to a different phase in theirlives?" asks Anna Faris, the star of Columbia Pictures' new comedy The HouseBunny, which focuses on Shelley, a Bunny who is facing that exact crisis.
Produced by Adam Sandler's Happy Madison Productions andwritten by the same team that brought audiences the feel-good comedy LegallyBlonde, The House Bunny tells the story of Shelley Darlington(Faris), a Playboy Bunny who teaches an awkward group of college girls aboutthe opposite sex—only to learn that what boys ultimately want is what's on theinside.
"Shelley has spent her whole adult life living in theMansion, but when she gets booted out, she's completely adrift," saysco-screenwriter Kirsten Smith. "We tookthat idea and spent a few months ruminating over where she would land, and wefinally came up with the idea that she should enter the world of a sorority—amisfit sorority that desperately needs her help," adds co-writer McCullah Lutz.
ADVERTISEMENT - CONTINUE READING BELOW
When Shelley first meets the girls, they are in danger oflosing their house, due to a dearth of pledges. "Shelley has this idea that if she changes the Zetas into superhot girls, then they will be able to get guys and if they can get guys, theycan get pledges and keep their house," Faris explains.
"She teaches the girls how to be cool and cute and popular,that's definitely true, but for Shelley, it's all about self-confidence," Lutzcontinues.
But the Zetas are not the only ones who maketransformations. At the beginning ofthe film, most people—including Shelley herself—see the Bunny as "just aBunny." According to Lutz, "Shelleydefined herself as a Bunny and thought that was all she was capable of. She only defined herself in terms of hervalue as an object for male eyes. Butthen she learns she has more inherent talents and a bigger purpose in life thanjust being a Bunny."
ADVERTISEMENT - CONTINUE READING BELOW
"It's not just a message for girls, but everyone learning toaccept themselves and love themselves for who they are," says Faris. "When we first meet Shelley she may thinkshe's the hottest girl, but she learns to realize that how you look is notimportant—it's about how you look at yourself."
Producer Heather Parry says that although The House Bunnyis Happy Madison's first female-driven comedy, it shares the same underlyingcomedy goal. "It's funny and it hasheart," Parry says. "Every girl goes through a time in her life in which shetries on new looks and new attitudes and The House Bunny looks at thattime in a really funny and charming way."
Opening soon across the Philippines, The House Bunnyis distributed by Columbia Pictures, local office of Sony Pictures ReleasingInternational.