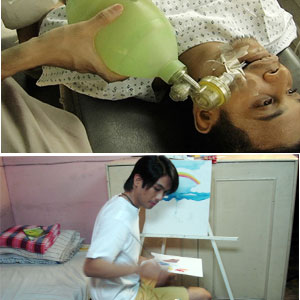 ---
Richard Legaspi's Ambulancia and Seymour BarrosSanchez's Shorts were selected for screening in the Bite the Mango FilmFestival, which will run from September 19 to 25 at the National Media Museumin Bradford, West Yorkshire, United Kingdom.
As part of the official selection, both short films are eligiblefor the Golden Mango Award, which will be awarded to "the film that isconsidered the best contribution to the promotion of cross cultural awareness,educating the audience about different cultures."
Festival director Addy Rutter relayed the good news viaemail to both directors, who are both part of the Katorse Writers Group, acollective of filmmaker-writers from Ricky Lee's 14th scriptwritingworkshop. Incidentally, Ambulanciaand Shorts got the first and third prizes, respectively, in the secondViva-Pinoy Box Office Digitales.
Since its inauguration in 1995, Bite the Mango has beengrowing and defining its identity in the world. Conceived as a festival thatwould profile the work of black and Asian filmmakers in Britain, it has quicklyevolved into a celebration, through film, of cultures around the world. Atpresent, the film festival is at the forefront of working with other countriesand people to find the latest and best of world cinema.
Bite the Mango will be showcasing an eclectic mix offeatures, shorts and documentaries and a selection of master classes, seminarsand workshops delivered by industry professionals providing an exciting andculturally vibrant atmosphere. Thefestival will again be bringing audiences an impressive collection of the verybest cinema from around the world drawing influences from Africa, South Asia,Central America and the Far East.
Starring Alan Paule and Nor Domingo, Ambulancia is ashort film that tells of a painful twist in an ambulance driver's belief that adying patient can be saved by running over stray animals on the streets. Asidefrom the Digitales grand prize, it also won best short narrative at the firstQuisumbing-Escandor Film Festival for Health. It is also in competition at the32nd Open Air Filmfest Weiterstadt in Germany, Pyongyang International FilmFestival in North Korea, International Panorama of Independent Films andNaoussa International Film Festival in Greece, and was screened at the AsianFilm Academy Fellows' Night in South Korea, Young Cinema Night of the 2007Cinemanila International Film Festival, and the CineVita film fest at theUniversity of Sto. Tomas.
ADVERTISEMENT - CONTINUE READING BELOW
Shorts, a comedy shot in the form of a"mockumentary," tells the story of Richard Marquez, a young, hotshotcopywriter/production designer of one of the country's top advertisingagencies, who suddenly "snaps" or seems to have snapped as relayed bypeople close to him. He seems to be doing anything to make his new shorts dirtyto the fear of everyone. It stars PJ Lanot, Nora Ruth Aquino, Jhovannie Santos,John Emmanuel Bautista, and Andy Del Rosario, with cameo appearances byaward-winning actress Gina Pareño as well as directors Jeffrey Jeturian andSockie Fernandez.