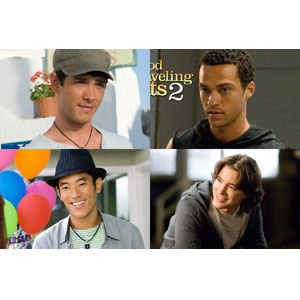 ---

Joining the four young actresses playing the lead roles inWarner Bros.' new heart-felt drama, The Sisterhood of the Traveling Pants 2 arefour exciting teen actors. Michael Rady, Leonardo Nam, Jesse Williams, and TomWisdom will the girls' "significant others."
Audiences will recognize two familiar handsome faces: Radyas Lena's (Alexis Bledel) love Kostos, and Nam as Tibby's (Amber Tamblyn)longtime boyfriend Brian McBrian. Theseyoung men have also progressed in the ensuing three years on their owntrajectories toward adulthood, and Rady and Nam convey that deeper maturity intheir roles.
Three years ago, budding artist and shy soul Lena had anear-storybook romance with the charismatic Kostos, a young Greek student shemet while visiting her grandparents in Santorini. Though their brief connection was heartfelt, it proved difficultto sustain miles away from the Mediterranean.
Rady believes that anyone who has attempted a long-distancerelationship will relate. "It's noteasy being an ocean apart from your love. To make things worse, following Lena's decision, Kostos had a romantictryst with someone from the village and did the honorable thing—as befits hischaracter—by marrying her. It's atragic blow to Lena when she finds out."
Lena pretends everything is fine and immerses herself in herart classes. Beginning the summer witha figure-drawing class, she gets the chance to prove that she has, in fact,moved on when she makes an impression on her striking model and fellow artstudent, Leo, a free spirit unlike anyone she has ever met.
Jesse Williams makes his feature film debut as Leo, whom hedescribes as "confident without arrogance, happy, a guy who is fully at ease inhis own skin. Unlike Lena, hisuninhibited approach to life also makes him comfortable flowing in and out ofrelationships in a way that is foreign to her."
Tibby has also been falling in love—though she'd never admitit—with her formerly platonic friend and fellow videophile Brian McBrian, whomwe met in the first film. Leonardo Nam,returning as the straightforward and sensitive Brian, points out, "Just as thegirls have matured, left high school and are navigating their way in the world,so Brian has grown up. He's not theawkward video-game playing geek we first met. Although they're both freaked out by what's happening, their reactionsare different: Brian is focused on working things out, but Tibby's impulse isto shut him out."
ADVERTISEMENT - CONTINUE READING BELOW
Meanwhile, Carmen(America Ferrera) accepts an invitation to work backstage at a theater over thesummer because she really has nothing else to do. "But she's surprised at how much she grows there," Ferrera says.
To her amazement, Carmen is cast as the lead in WilliamShakespeare's A Winter's Tale and discovers a dormant passion foracting. At the same time, she shylycaptures the attention of her charming leading man, Ian, played by Britishactor Tom Wisdom. Ian's genuineaffection encourages Carmen to shine on stage.
Opening soon across the Philippines, The Sisterhood ofthe Traveling Pants 2 will be released worldwide by Warner Bros. Pictures,a Warner Bros. Entertainment Company.