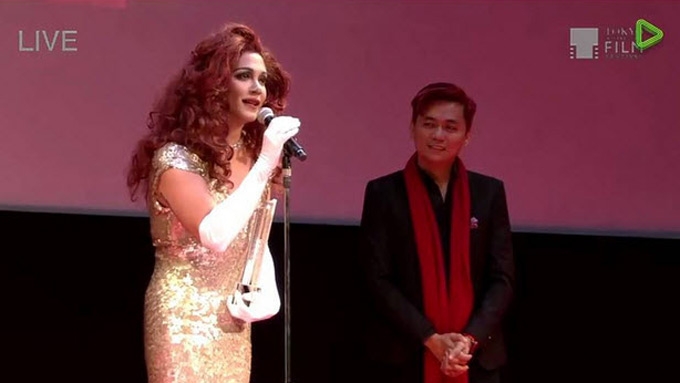 IMAGE From Instagram account of liza_valdez_obana_
---


Paolo Ballesteros was named as Best Actor in the 29th Tokyo International Film Festival.

The Eat Bulaga host was recognized for his portrayal of a transgender woman in the film Die Beautiful directed by Jun Robles Lana.

It will be recalled that when Paolo walked the red carpet at the Tokyo Film Fest, he transformed into Angelina Jolie.

(View: Why did Paolo Ballesteros cry at Tokyo Film Fest?)

The speech of Paolo was shared through Facebook Live by Film Development Council of the Philippines chairperson Liza Dino.

Here is Paolo's speech at the 2016 Tokyo IFF:

"I thought today was just going to be a red-carpet day which is why I wore a dress.

"First, I would like to thank the Tokyo International Film Festival and the members of the jury for embracing our film."

Paolo paused as he put his hand to his face.

"I thought I was up for Best Actress," he said with a smile.

"To the organizers, to the programmers, to the volunteers, you hve been very helpful and gracious to us during our stay here in Japan.

"To the man behind the film, Direk Jun, thank you very much for entrusting to me Trisha's character.

"To our producer Sir Perci, our staff, and the whole production, thank you very much for your professionalism and the gift of new friendship.

"To Ms. Liza Dino-Seguerra, thank you for your support.

"To my family, my daughter Keira, my cats and my dogs, this is all for you."

"To my manager, to all my Dabarkads, and to my fans in Manila and all around the world...Best Actor.

"Especially to all of you who came and watched our film, I will never forget you. Thank you very much."

Paolo then ended his speech with a bow.

This comes at the heels of an earlier announcement that Die Beautiful won the Audience Award at the Tokyo Film Fest.

(Read: Paolo Ballesteros-starrer Die Beautiful wins Audience Award in Tokyo Film Fest)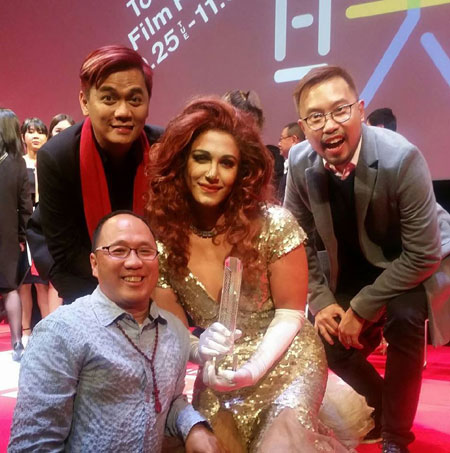 IMAGE Ferdy Lapuz


(L-R) Die Beautiful lead star Paolo Ballesteros (middle) is joined by director Jun Lana, and producers Perci Intalan and Ferdy Lapuz



Here is the video of the awarding ceremony posted by producer Ferdy Lapuz:






BEST ASIAN FUTURE FILM. Another Filipino movie also earned recognition at the 29th Tokyo International Film Festival.

Mikhail Red, the son of acclaimed filmmaker Raymond Red, won the Best Asian Future Film Award for his film Birdshot.

This film stars Mary Joy Apostol, Arnold Reyes and John Arcilla.


ADVERTISEMENT - CONTINUE READING BELOW

In his speech, Mikhail thanked everyone who took part in his passion project and the jury for choosing his film.
He said, "First of all, I would like to thank my producer and partner who is there from the start, Pam Reyes.
"And the cast who's here with me, Arnold [Reyes] and Joy [Apostol]. And my dedicated cast and crew back home in the Philippines.
"I wouldn't be here if it weren't for you. Thank you so much. And of course, to the Tokyo Film Fest jury."
The 24-year-old director dedicates his win to young filmmakers like him and to his motherland.
Mikhail continued, "I share this award with all the other struggling young filmmakers out there.
"This is for everyone who wanted to fly but shot down, and for everyone who wanted to speak out but was silenced.
"This is for the eagles and this is for my country, the Philippines. Thank you."




ADVERTISEMENT - CONTINUE READING BELOW