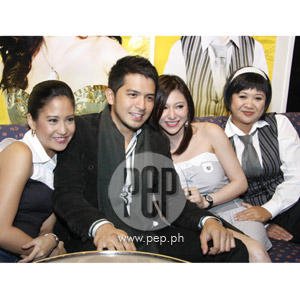 ---

Each one of uswill tread on different paths in the course of our lifetime. Cliché as it is,the choices we make conspicuously shape our destiny. As we embark on theserealities, let GMA Films' highly anticipated movie of the year, I.T.A.L.Y.(I Trust and Love You), take you through a romantic odyssey touching theintricacies of life, love and destiny.
Showing onSeptember 17, I.T.A.L.Y. takes pride for having aheartrending storyline, seductively enchanting locations, and talented cast members.This motion picture painstakingly crossed three different continents—Asia,Europe and Africa—making it a visual treat for Filipino moviegoers.
Filmed on boardCosta Magica, a luxury cruise that travels to the world's most enthrallingdestinations, I.T.A.L.Y. exposes the adversities and personal sacrificesand the lighter side of the lives of OFWs. It revolves around six people withsix different personalities, stories, ambitions and struggles. In a span oftheir magical voyage for seven days, their lives will crisscross amidunexpected possibilities.
Having apowerhouse cast that battled seasickness in the course of their Roman cruisemakes it truly a film worth watching. Leading the pack of Kapuso stars cast inthe film is Jolina Magdangal who portrays the role of Des Pinlac, a hopelessromantic who works as a chambermaid at the ship. Finding the right man is herfervent wish but things didn't end up too well for her. Rufa Mae Quinto isStella Sembrano who practically surrendered her fate at sea. She is thecruise's lounge singer who patiently waits for the perfect man, not unlike herfather and past boyfriends who abandoned her. Dennis Trillo plays the role ofPaolo Guzman. He joined the cruise to fill up the missing pieces of a woman inhis past that keeps haunting him.
Eugene Domingois Lovely Mercado, a senior housekeeper who believes it is never too late tofind true and everlasting love. With two failed attempts to tie the knot,Lovely holds the key in connecting Paolo with the woman in his past. RhianRamos portrays Phoebe Villaroso, a brat who lavishly does whatever she wants.Contrary to her rebellious character, she falls for the plain-looking cabincrew while on board the cruise. And lastly, Mark Herras is Nathan Reyes.Orphaned at a young age, he has to work for his family and ends up as a memberof the cruise's cabin crew. Coincidentally, he stumbles upon Phoebe andunexpectedly falls in love with her. The bitter pill of their love affair isthat they are separated by two different worlds.
ADVERTISEMENT - CONTINUE READING BELOW
Exemplarysupporting cast members include Aljur Abrenica (Budoy Pinlac), Ida Henares(Elena Villaroso), Italian actress Andrea de Lugo (Sophia) and Frank, CostaMagica's captain.
I.T.A.L.Y. is another venture of GMA Films, the same movie outfit responsiblefor Ouija and My Bestfriend's Girlfriend. It is under thedirection of Mark Reyes, who has been collaborating with GMA Network Inc. foryears now in producing chart-topping telefantasya shows, blockbuster moviehits, and youth-oriented programs.
Moviegoerswill certainly enjoy and be enchanted with I.T.A.L.Y. The movie isinjected with the perfect emotional tone of romance, drama and humor andencapsulates the essence of life in accordance to one's destiny. Finding lovein a world full of uncertainties and second chances, the kind of love everybodywants and needs but rarely finds.
GMA Filmsproudly brings an awe-inspiring, sentimental yet funny film set in picturesqueand scenic locations in three different continents. On September 17, set sailand search for love, laughter and destiny with I.T.A.L.Y.
Trailer courtesy of GMA Films