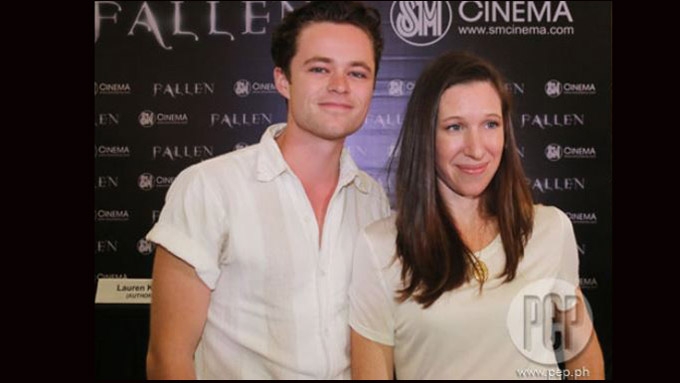 IMAGE Mark Atienza
---

Hollywood actor Harrison Gilbertson visited the Philippines for the Manila premiere of Fallen, an epic movie about fallen angels that is currently being screened in cinemas nationwide.

Lauren Kate, the author of Fallen, arrived in Manila with Harrison for a meet-and-greet session and to grace the red-carpet premiere.

During the November 5 event at the S' Maison Conrad Hotel, Lauren candidly talked about her strong Pinoy fanbase and why she loves the Philippines very much.

"I have a great fondness for the Filipino people. Thank you for having me," said the American author.

Fallen is topbilled by Hollywood actress Addison Timlin who also arrived in the Philippines last November 9 for the Manila premiere.

Jeremy Irvine plays Daniel while Harrison Gilbertson is cast as Cam, the two fallen angels fighting for the love of a mortal.

Based on the worldwide bestselling book series, Fallen is seen through the eyes of Lucinda "Luce" Price, a strong-willed seventeen-year-old girl living a seemingly ordinary life until she is accused of a crime she didn't commit.

Sent off to the Sword & Cross reform school, Luce finds herself being courted by two young men to whom she feels oddly connected. Isolated and haunted by strange visions, Luce begins to unravel the secrets of her past and discovers the two men are fallen angels, competing for her love for centuries. Luce must choose where her feelings lie, pitting Heaven against Hell in an epic battle over true love.

When asked how it was like portraying Cameron "Cam" Briel in the movie Fallen, Harrison replied, "It was very fun. I just try to imagine what it would be like portraying an eternal bad boy and imagine what would Cam have done during the French Revolution and during the '60s."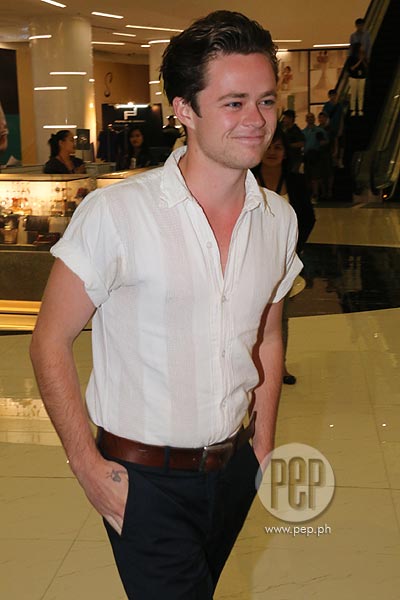 ADVERTISEMENT - CONTINUE READING BELOW

What is the best part of playing a fallen angel?

"I think playing an eternal character. Unless you play a vampire, there's not many characters that have been around for that long," Harrison pointed out.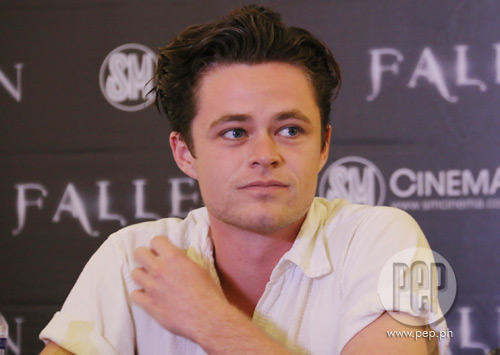 Published in 2009, Fallen featured a compelling romance that spanned the eras.

The series--Fallen, Torment, Passion, Rapture and the Fallen in Love collection of novellas set in the Middle Ages--has become a smash hit with over 10 million copies sold. Lauren Kate's stories, featuring star-crossed lovers and fallen angels, has sold in over 30 countries around the world.

When PEP (Philippine Entertainment Portal) asked if all these books will be turned into movies, she responded by saying, "Let's hope so. We're already thinking about the second book, which is Torment."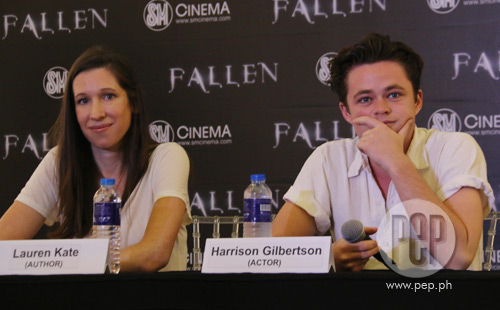 Fallen the movie is helmed by the Oscar-nominated director Scott Hicks and produced by the pioneers behind the Twilight saga.

Lauren says he got the idea for Fallen when she was studying the Bible.
ADVERTISEMENT - CONTINUE READING BELOW
"The story for me started when I was in graduate school. I was talking a class and looking closely at the Bible and the language and the history and the settings of the Bible.

"At the first day of the class, my professor was reading Genesis aloud and she got to the line, 'The sons of God looked down from heaven and they saw the daughters of man and thought that they were beautiful.'

"That's a very simple line but this professor and she said...she believed and a lot of people believe that this may have been the reason why God kicks Lucifer and the angels who fell from heaven because for one moment, they placed something above their adoration for God."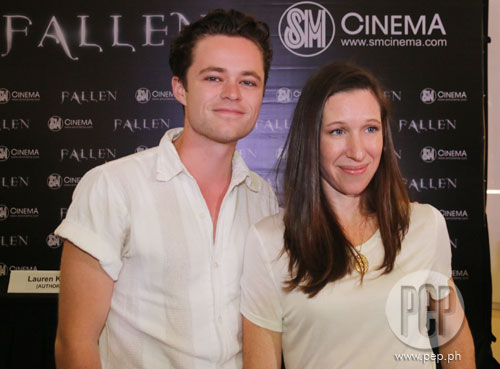 Lauren continued, "The idea that an angel might fall from heaven and lose his identity and his grace and his immortality and all of that for an untested love is very romantic and exciting for me.

"For someone to make a great sacrifice for someone you don't know whether or not it's going to be worth it.

"I guess I wanted to write the story of the girl who would make that sacrifice worthwhile."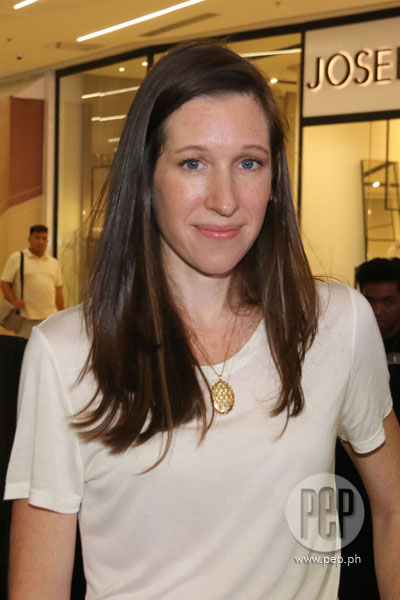 Harrison recalled shooting the film in Budapest.

"We were all living together in Hungary for three months. We all became very close.

"We're sad Jeremy couldn't make it to this trip [to Manila]."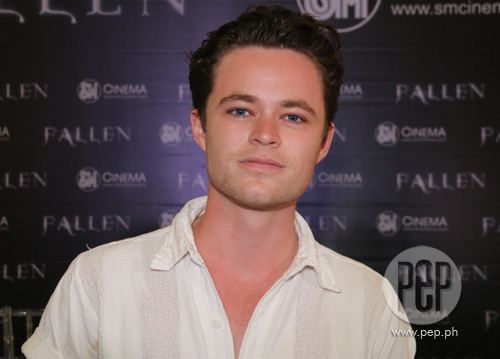 How would he feel if Fallen is compared to other young adult movies, especially those that tackle supernatural beings?

"I believe that we stand alone and we've always been different from others."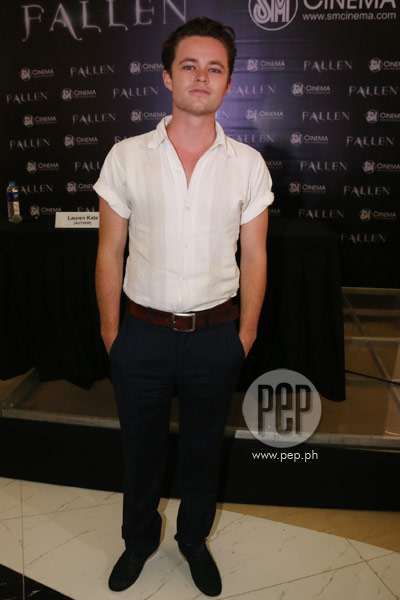 Lauren is very vocal in saying that she loves her Filipino fans.

The California-based writer admitted, "For me, the Philippines is an important place because it was one of my first book signings and I was just bowled over by the massive crowd and the massive enthusiasm.

"I still keep in touch with some of the readers I met six, seven years ago and I've been really grateful for the voraciousness of your readers. I'll keep writing if you'll keep reading."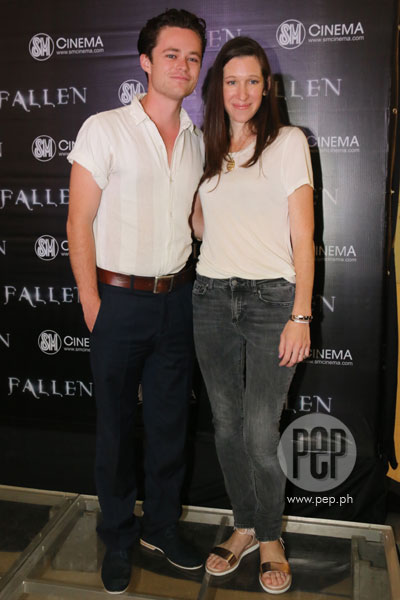 ADVERTISEMENT - CONTINUE READING BELOW