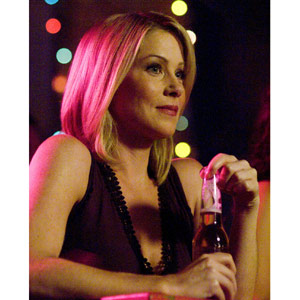 ---

ChristinaApplegate stars opposite Rainn Wilson in The Rocker, a hilarious movie about a young mother of ateenage musician.

In this new comedy, there is great music, fascinating characters, anentertaining story, but there is also romance. At first Christina Applegate'scharacter Kim cannot stand the aging rocker who appears to be leading her sonand his pals astray. Her 17 year-oldson Curtis (Teddy Geiger) has a high school band, A.D.D. After they lost theirdrummer, they "hired" someone named "Fish" Fishman (Rainn Wilson) as a replacement.Fish was once nearly famous. He was a member of the '80s band Vesuvius thatbecame massive global superstars—just after Fish was thrown out.
NowFish is getting another opportunity to live out his wild rock n' rollfantasies. The problem is, while the other band members are still in theirteens, Fish is 40 and as far Kim is concerned, a very bad influence on her sonand his band. When A.D.D. becomes sopopular they get the chance to go on tour, she insists on joining them. Kim may be a young and very hip mother, butshe is also protective. While spendingtime together, Fish and Kim find that sparks fly.
Christina Applegate startedacting when she still a young child, appearing in TV shows and commercials. Shemade her name in the popular TV series Married with Children when shewas just 15. Versatile and talented,she has proven her skills on stage and on the big screen too. She won an Emmyfor her role on Friends as well as a Tony nomination for the Broadwayshow Sweet Charity. Her films include The Sweetest Thing, SurvivingChristmas, Anchorman: The Legend of Ron Burgundy, Wonderland,View From the Top, and Don't Tell Mom the Babysitter's Dead. She was nominated for a Golden Globe for hercurrent TV show, Samantha Who.
Q: What kind of woman do you play?
ADVERTISEMENT - CONTINUE READING BELOW
A: I play a single mother, a young mother who has a lot ofstrength and had to raise her son on her own. At the same time I think there's a sadness to a woman like this who hashad her youth taken away from her. She's charming; she's witty. Her style and her taste have remained thesame since she was 16. She's a grown up but has a youthful quality to her. Sheis very close to her son. They are goodfriends.
Q: Did you relate at all to the character? Your own mother was a young single momwasn't she?
A: Yes, Idefinitely related a lot in terms of what my mom went through. I understoodwhat a young single mother experiences. My upbringing was great. It wasvery creative and I am still close to my mom.

Q: What kind of music are you into—do youlike the '80s head banging rock music that Vesuvius play in the film?
A: No, that was never anything that I was into at all—contraryto popular belief—because of course as viewers will remember, I played a girlwho was into rock music on the TV show Married with Children. Growingup, I was into classic rock. I loved Led Zeppelin. I was a huge Doors fan whenI was younger. I also loved Free. Iguess I grew up in a household where that's the music I heard, that was what mymom was listening to. I grew uplistening to old '70s music and then I got into alternative music like The RedHot Chili Peppers and Jane's Addiction. And I love The Beatles.

Q: What was it like working withRainn Wilson?
A: Working with him was such a joy; I am really lucky. That's one of the reasons I wanted to do themovie. He is so talented; he didn't stick to the script. I think Rainn and Ihave very similar senses of humor. We are both a little dark and we come fromthe same place comedically. He is great with improv. He is so good that he was always keeping me on my toes.
ADVERTISEMENT - CONTINUE READING BELOW

Q: Can you talk about the overallappeal of The Rocker?
A:We always root for the underdog;this is a great underdog story about second chances. It is really funny, withgreat characters. We get to make fun of this ridiculous guy and yet at the sametime it is about wonderful relationships between Rainn and Kim and Rainn andthe band. All the characters have growth and development. Other than Rainn,Teddy Geiger is so talented and he will have a huge appeal for a lot ofteenagers. Josh Gad is also very talented. So is Emma.
The Rocker opens very soonin theaters from 20th Century Fox to be distributed by Warner Bros.