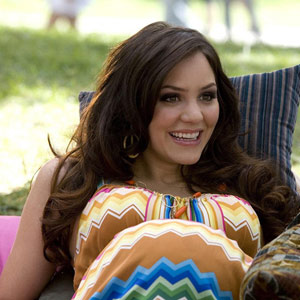 ---

Making her motion picture debut in Columbia Pictures' comedy The House Bunny is Katharine McPhee, best known for being the2006 runner-up in the smash reality singing competition American Idol.
In the film, former Playboy Bunny Shelley (Anna Faris) getstossed out of the Playboy Mansion, and with nowhere to go, fate delivers herinto the lives of a group of socially challenged university girls, who willlose their campus house if they can't attract new members. In order to accomplish their goal, Shelleyneeds to pull out all her playmate tricks and give them a crash course in theways of makeup and men.
McPhee plays Harmony, a very pregnant, and very flowerchild, sorority sister. She is alwaysseeing the best in people and always being shocked by how cruel others can besometimes. As she prepares to givebirth, Harmony is the classic beautiful-on-the-inside type who flowers whenShelley begins her lessons.
For her part, McPhee sees the character a littledifferently. "She's supposed to be thishippie chick, but I think she's just free spirited, which is definitely a sideto my personality," she says.
"Katharine McPhee is obviously a great singer," enthuseswriter screenwriter McCullah Lutz, "but she's a good actress, too."
McPhee couldn't resist the chance to show off her pipesduring a karaoke scene in the film. "Iknew that the scene couldn't be like it was me singing," she laughs, "butHarmony is a free spirit, willing to try anything, and excited about life, andI think she'd definitely belt out the song to the best of her ability."
McPhee was also thrilled by the chance to sing for thefilm—a new version of the '80s pop anthem "I Know What Boys Like," which playsover the end credits. "I had a greattime recording the song," she says, "but to be honest—shooting the movie waseven better."
She will soon begin production on Robert AngeloMasciantonio's The Storyteller opposite Wes Bentley.
ADVERTISEMENT - CONTINUE READING BELOW
McPhee is currently working on her second solo album with15-time Grammy-winning producer/writer David Foster.
Her debut album Katharine McPhee on RCA/19 Recordingsreached number 2 on the Billboard 200. Her first single "Somewhere Over the Rainbow"/"My Destiny" debuted atNo. 2 on Billboard's Hot Singles Sales chart. In 2007, McPhee garnered a Young Hollywood Award for "Best Break-OutFemale Vocalist."
Opening soon across the Philippines, The House Bunnyis distributed by Columbia Pictures, local office of Sony Pictures ReleasingInternational.