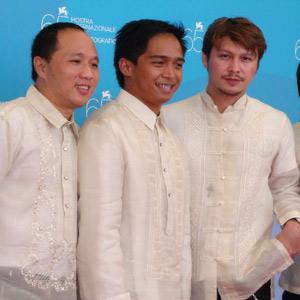 ---

Francis Xavier Pasion's indie film Jay opened the(Horizons) sidebar section of the 65th Venice International Film Festival in Italy. StarringBaron Geisler, Coco Martin, and theater actress Flor Salanga, Jay heldits international screenings last August 28 at PalaLido and August 29 at theSala Grande in Palazzo de Cinema.


The movie hailed as the Best Film of Cinemalaya 2008 isabout a homosexual TV producer named Jay (Baron) who investigates the death ofa teacher in Bacolor, Pampanga. The controversial star won as Best Actor duringthis year's Cinemalaya.
The delegates of Jay included director Francis XavierPasion, cinematographer Carlo Mendoza, distributor Ferdinand Lapuz, and leadactor Baron Geisler. Venice IFF director Marco Mueller welcomed theFilipino representatives, who all wore their Barong Tagalog proudly on the redcarpet. The star-studded event that was attended by Hollywood stars such asGeorge Clooney, Brad Pitt, Tilda Swinton, and the Coen Brothers along withGerman supermodel Claudia Schiffer.
According to Ferdy Lapuz of Ignatius Films Canada, Jay ranfor 96 minutes and was given "a roar of approval and applause by the audience."After the screening, the film delegates were led to a room wherein PaoloBertolin headed the press conference. Mr. Bertolin is crucial in allowing Filipino films to penetrate theVenice IFF starting with Lav Diaz's Death in the Land of the Encantos (2007),which won the Golden Lion Special Mention award in the Horizons (Orizzonti)Documentary section last year.


The 30-minute press conference was followed by a photo callfor the international press then followed by a TV and a radio interview forDirek Francis and Baron.
Since Jay is Direk Francis's debut film, this makeshim eligible to win the Luigi de Laurentiis award for Best First Feature—whichcomes with a cash prize of $100,000 and 40,000 Euros voucher to be spent onfilm stock granted by Kodak, and a Golden Lion of the Future trophy.
Another Filipino entry, Lav Diaz's Melancholia willbe the closing film of the Orizzonti on September 6. Direk Lav Diaz, actorsPerry Dizon and Angeli Bayani, as well as production supervisor KristineKintana presented the film during the 65th edition of the Venice IFF.
ADVERTISEMENT - CONTINUE READING BELOW
Jay will be competing at the Bangkok InternationalFilm Festival next month. It is also anofficial selection at Vancouver, Pusan and London film festivals. IgnatiusFilms Canada is representing Jay.