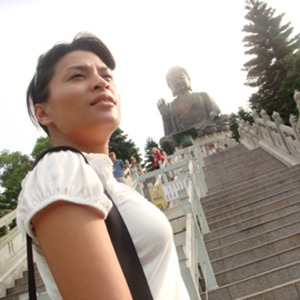 ---

In this year's Cinemalaya Philippine Independent Film Fest,Mylene Dizon was cited for her "moving portrayal of a woman raging against thedying of the light..."
It comes as no surprise then that her indie film 100will represent the Philippines in the New Currents section of the 2008 PusanInternational Film Festival.
The title of the movie refers to the number of things thatMylene's character has to do before she kicks the bucket. As the cancer victimfaces her final days, she fulfills all her dreams and wishes along with herbest friend played by Eugene Domingo and her mother portrayed by Tessie Tomas.
Direk Chris Martinez recently informed PEP (PhilippineEntertainment Portal) about this development. "During Cinemalaya pa lang,inimbitahan na kami ng Pusan. Gusto nila sa kanila ang international premiereng 100. Nagpadala na sila ng invitation letter. We are leaving onOctober 3 and we will have two screenings on October 4 and October 8."
According to Direk Chris, the Film Development Council ofthe Philippines will be sponsoring the trip to South Korea. The Pusan IFF willrun from October 2-10, 2008. Eugene Domingo is expected to attend the 13th edition of the said filmfest but Mylene will be unable to go because she is already six weeks pregnantwith her second child.
He also pointed out that 100 is the only Pinoy filmin competition but there are other entries that will be exhibited in the saidfilm fest.