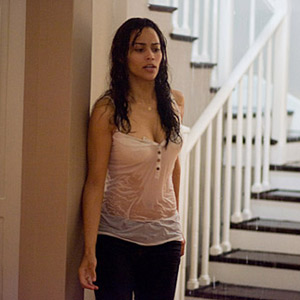 ---

Emerging talent Paula Patton stars opposite KieferSutherland in the disturbing thriller Mirrors based on the Korean horrorfilm Into The Mirrors. Directedby today's horror expert Alexandre Aja (Hills Have Eyes), the moviereflects the troubled and terrifying life of an ex-cop who must save his familyfrom an unspeakable evil that is using mirrors as a gateway into their home.

Ben Carson (Sutherland) has seen better days. It's been nearly a year since the volatile detective was suspended fromthe NYPD for fatally shooting another undercover officer, an accident that notonly cost him his job, but fueled the alcoholism and anger that has alienatedhis wife Amy (Patton) and kids and left him crashing on his sister's couch inQueens.
But a much deadlier threat looms, trapped within the mirrorsand reflective surfaces that pervade their everyday life. As Carson investigates the mysteriousdisappearance of a Mayflower security guard and its possible connection to hisghastly visions, he realizes that a malevolent, otherworldly force is usingreflections as a gateway to terrorize him and his family.
If he has any hope of saving his wife and children from ahorrifying death, Carson must somehow uncover the truth behind the mirrors-andconvince Amy to help him battle the greatest evil he has ever faced.

"She thinks he's gone off his rocker," says Patton, who started reading themovie's script one evening...and had to wait until morning to finish it. ("That was a good sign," she adds.) "Amy is very logical, very left-brained andscientific-minded, so the idea of ghosts or otherworldly forces is notsomething she believes in. She has alsoseen a lot of gruesome and horrible things in her line of work, so she doesn'tscare easily. Their family is crumbling," Patton says, "and Ben feels more alone than ever becauseno one believes him."

"There is a great balance between their two storylines," notes Aja. "At the beginning of the film, Amy is thestrong one, keeping what's left of their family together while Ben is at rockbottom. As Ben finds the strength toconfront himself, he and Amy must fight on separate fronts for the samepurpose-saving the kids, themselves, and most important, their family."
ADVERTISEMENT - CONTINUE READING BELOW

Patton has shared the screen with Will Smith in Hitch, Jason Statham in Londonand Outkast's Andre Benjamin in Idlewild. She also co-starred with Denzel Washington in Déjà Vu. She attended the Hamilton School for thePerforming Arts and is a Magna Cum Laude graduate of the prestigious USC FilmSchool. She was also featured as apromising young filmmaker in the PBS documentary The Ride and served asa producer for The Discovery Channel series Medical Diaries. Patton willnext be seen in Swing Vote with Kevin Costner.


Mirrors opens October 1 in theaters nationwide from20th Century Fox to be distributed by Warner Bros.