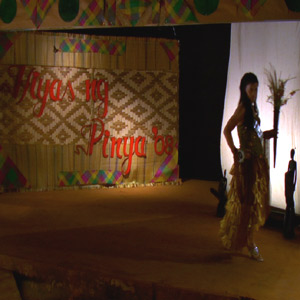 ---

A Filipino film about homosexual beauty pageant contestantshas been nominated for the Dragons & Tigers Award for Young Cinema in theVancouver International Film Festival. Charliebebs Gohetia's The Thank YouGirls will compete for the $10,000 cash prize in the 27th annual VIFF,which will be held from September 25 to October 10, 2008. The award will behanded out in a ceremony on October 2.
The Thank You Girls will compete against seven otherfilms namely: German + Rain (Yokohama Satoko) - Japan InternationalPremiere; Kaza-Aana (Uchida Nobutero) - Japan International Premiere; Lucky7 (Sun Koh, K Rajagopal, Boo Junfeng, Brian Gothong Tan, Chew Tze Chuan, HoTzu Nyen, Tania Sng) - Singapore; mime-mime (Sode Yukiko) - JapanInternational Premiere; Perfect Life (Emily Tang) - China North AmericanPremiere; Sweet Food City (Gao Wengdong) - China North American Premiere; and SynchingBlue (Seo Won-Tae) - South Korea Canadian Premiere.
Aside from that, the Vancouver IFF will feature otherFilipino films in the Dragons & Tigers series. These are the Cinema One2007 entry Altar, Ronaldo Bertubin's Blink, the Cinemalaya 2008entry Jay, Brillante Mendoza's Serbis, and Years When I Was aChild Outside.


Altar istopbilled by Zanjoe Marudo while Jay is topbilled by Baron Geisler.Starring Jojit Lorenzo and Sherwin Ordoñez, Kurap is about greed andcorruption among small-time criminals in the streets of Manila. Serbishas a powerhouse cast composed of Coco Martin, Gina Pareño, Jaclyn Jose, andJulio Diaz. Years When I Was a Child Outside has the alternative title Taonnoong ako'y anak sa labas.
The VIFF is expected to bring together films from 60countries worldwide. It is one of the five largest film festivals in NorthAmerica. The 27th edition will feature a total of 47 features, 5 mid-length filmsand 23 shorts in the section called The Dragons & Tigers: The Cinemas ofEast Asia program. The series, which started in 1985, will feature 27International premieres, 18 North American premieres, and one Canadianpremiere.
Here is the list of Filipino films included in the Dragons& Tigers series (with descriptions provided by the VIFF '08):
ADVERTISEMENT - CONTINUE READING BELOW
Altar (Rico Maria Ilarde) - InternationalPremiere
Rico Ilarde's prizewinning horror movie offers adistinctively Filipino take on the haunted house with a portal to hell in thebasement as two jobless men find work renovating a strange house in thecountryside. Strong genre thrills and very fine visuals.
Blink (Ronaldo Bertubin) - North AmericanPremiere
Ronaldo Bertubin's feisty indie feature looks and soundslike a thriller, but it's actually a fresh (and, uh, homo-erotic) take on theQuiapo slum melodrama as developed by the likes of Lino Brocka. Small-timecrook Ambet wants to pay for an operation to cure his sister's glaucoma; shouldhe trust photojournalist Marlon, who wants to use him to expose the localcriminal rackets?
Jay (Francis Pasion) - North AmericanPremiere
Today, on Dearly Departed Ones, a mother in Pampangawhose house was half-buried by the eruption of Mount Pinatubo turns on the TVnews and discovers that her elder son, a schoolteacher in Manila, has beenstabbed to death in a gay sex-crime. Francis Pasion's prizewinning debutfeature is both a lacerating satire of the ethics of "reality TV" anda wry commentary on the west's predilection for certain images of the"Third World."
Serbis (Brillante Mendoza) -Philippines/France
Brillante Mendoza follows last year's Foster Child andSlingshot with the story of an epically dysfunctional family. Theyoperate a decrepit cinema (called "Family"), which attracts few butmen looking for male and transvestite hookers, but conjure up enough melodramain their own relationships to fill a dozen of the movies they screen.
The Thank You Girls (Charliebebs Gohetia) -International Premiere
Charliebebs Gohetia, the editor of Brillante Mendoza'sfilms, turns director with this deeply Filipino variation on Priscilla,Queen of the Desert. A gaggle of drag queens and their domestic entouragetravel around the sticks, joining "beauty pageants" in which theyimpersonate the likes of Miss Ecuador. There's laughter and tears on stage, buthow do their off-stage realities match up?
ADVERTISEMENT - CONTINUE READING BELOW
Years When I Was a Child Outside (John Torres)- Philippines
The new feature by D&T Award-winner John Torres representsa very personal coming-to-terms with his father, a publisher of self-helptextbooks, who left the family and started another without telling anyone. It'sas essayistic and discursive as Todo, Todo, Teros, but anchored in veryprecise feelings of love, loss and resentment.