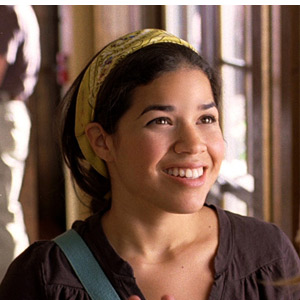 ---

Her portrayal of the title character in TV's Ugly Bettyhas earned her numerous honors, including an Emmy Award, a Golden Globe Award,and a Screen Actors Guild Award. Now,America Ferrera returns to the film that started it all as she reprises hercharacter, Carmen, in Warner Bros.' touching drama, The Sisterhood of theTraveling Pants 2.
Based on Ann Brashares' best-selling series of novels aboutfour young women who share an unbreakable bond through the unpredictable eventsof their lives, the sequel catches up with Tibby (Amber Tamblyn), Carmen,Bridget (Blake Lively) and Lena (Alexis Bledel) in the months following theirfirst year of college.
Feeling displaced at home with her mother expecting a newbaby, and disappointed that her friends opted to spend the summer away, Carmenaccepts a chance invitation to work backstage at a theater festival inVermont. There, she surprisingly findsherself thrust into the spotlight for the very first time and simultaneouslybecomes the focus of the play's handsome young leading man.
"Sometimes you need to see what you're capable ofaccomplishing on your own," says Ferrera. "It's time for them to step away from the safety net and find out whothey are individually before they can truly appreciate what they have together.It's scary, but a tremendously exciting prospect."
After a year at Yale, Carmen has kept pace with her classesbut finds her personal life less manageable. Still not sure what she wants to do with her future, she returns toBethesda with high hopes of reuniting with the sisterhood and is crushed tolearn they've all made other plans for the summer. Her mother, played again by Rachel Ticotin, has recentlyremarried and is now simultaneously preparing for the birth of a baby andmoving to a new house, her happiness adding poignantly to Carmen's sense ofdisplacement and disconnection.
"Carmen accepts an invitation to work backstage at a theaterin Vermont over the summer because she really has nothing else to do," saysFerrera. "But she's surprised at howmuch she grows there."
ADVERTISEMENT - CONTINUE READING BELOW
To her amazement, and with some trepidation, Carmen is castas the lead in Shakespeare's A Winter's Tale and discovers a dormantpassion for acting. At the same time,she shyly captures the attention of her charming leading man, Ian, played byBritish actor Tom Wisdom.
Ian's genuine affection encourages Carmen to shine onstage. But it's the demanding nature ofher mercurial director that will test her confidence and conviction like neverbefore and, consequently, lead Carmen to consider whether this accidental turnof events is just a pleasant diversion or possibly a bold new direction for herlife.
Opening across the Philippines on September 24, TheSisterhood of the Traveling Pants 2 will be released worldwide by WarnerBros. Pictures, a Warner Bros. Entertainment Company.