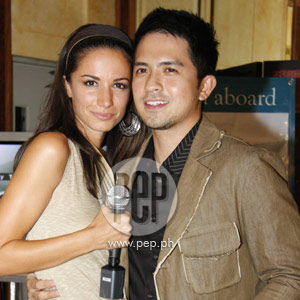 ---

Italian TV host-singer Andrea de Lugo was introduced to thePhilippine media during the press conference given by GMA Films held at the17th floor of GMA-7 in Quezon City. The female singer is the love interest ofDennis Trillo in the upcoming movie I.T.A.L.Y. (I Trust And Love You),which will be shown in theaters nationwide starting September 17, 2008.
The two stars shared a passionate kiss that was witnessed bythe press people. Later on, Mark Herras also gave an equally dramatic kiss toBarbara Clara, a former beauty queen from Venezuela who is now a TV host-singerin Italy. Andrea and Barbara are part of the female duo called Cinema 2, whichrecently released the 14-track album from Viva Records called Chicas deContrabando.
Andrea admitted that she has kissed the matinee idol threetimes already. "This is a special thing for me. For me, Dennis is a teacher.Because in two weeks, he [was able to] teach me how [to be] an actress. Allmoments are unforgettable."
For his part, Dennis admitted that it was his first time tokiss a foreigner. "Sobrang masaya ako, dahil heto yung first time niya nagumawa ng pelikula. Bukod sa magaling siyang artista para sa isang first-timer,sobrang talented din siya. Magaling siyang singer—and nakita ko rin siyangsumayaw!"

In the movie I.T.A.L.Y., Dennis is cast as Paolo Guzman, a businessmanin search for his former love Sophia (played by Andrea). Paolo is one of thepassengers of the cruise ship Costa Magica where Jolina Magdangal, EugeneDomingo, Mark Herras, and Rufa Mae Quinto work as crew members. Rhian Ramos isalso another passenger who will become attracted to the character of Mark.
Andrea had this to say about working with an all-Filipinocast for I.T.A.L.Y.: "I really loved working with the Filipinos andI wish I could stay longer. But I will always remember all of this. Especiallymy first movie titled I.T.A.L.Y. I cannot forget this because everyonewas so nice to me. Hope I can work with everyone again soon."


GMA Films' newest movie will have its premiere this Sunday, September 14, at SMMegamall. A primer about the movie will air before Eat Bulaga onSeptember 13 on GMA-7.
ADVERTISEMENT - CONTINUE READING BELOW
I.T.A.L.Y. (I Trust And Love You) will open intheaters nationwide starting September 17, 2008.





Trailer courtesy of GMA Films