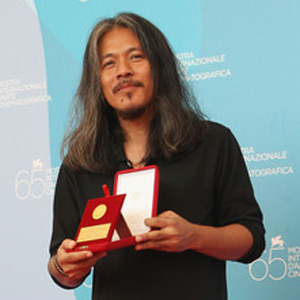 ---

Lav Diaz's eight-hour film Melancholia was theunanimous choice of a five-man jury of the 65th Venice International Film Fest.Last September 6, the Orizzonti prize for Best Feature Film was given to theFilipino filmmaker-making this his second prize from the VIFF.
In 2007, Lav Diaz won a Special Mention award for KagadananSa Banwaan Ning Mga Engkanto (Death in the Land of Enkantos), anine-hour film that documented the death and desolation of the Bicol regionafter a killer typhoon.


This year, Lav Diaz was accompanied in Venice by the leadactors of Melancholia Angeli Bayani and Perry Dizon as well as KristineKintana (production supervisor). Other actors included in the film are RoederCamanag, Raul Arellano, Dante Perez, Malaya, and Soliman Cruz.

Melancholia was chosen as the closing film of the Orizzonti (NewHorizons) section of the Venice IFF. The Orizzonti Doc prize went to BelowSea Level by Gianfranco Rosi (Italy/USA) while special mention citationswere given to Un Lac by Philippe Grandrieux (France) and Wo Men (We)by Huang Wenhai (China/Switzerland).

Another Filipino film, Francis Xavier Pasion's film Jay starring BaronGeisler, was supposed to compete for the Luigi de Laurentiis Award for DebutFilm but it was later moved to the Orizzonti.