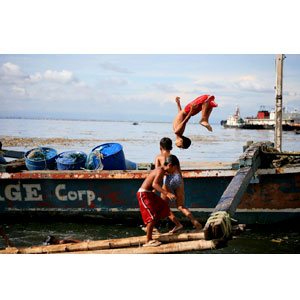 ---

First-time actors will star in an indie film documenting thelives of Tondo boys scavenging iron and metal scraps in Baseco compound. Thiswill be the focus of the upcoming film Bakal Boys (international title: ChildrenMetal Divers) produced by Apogee Productions.
Follow the story of children in Baseco, Tondo who scavengefor iron and metal scraps in the murky waters of Manila Bay. Bakal Boysis the directorial debut of writer Ralston Jover, based on the screenplay heco-wrote with Henry Burgos. Mr. Jover is the award-winning scriptwriter ofinternationally acclaimed films Kubrador, Tirador, and Foster Child.
Gina Pareño leads the cast of Bakal Boys as a Muslimwoman in search of her missing 10-year-old grandson. The cast also includesSimon Ibarra, Jess Evardone, Cherry Malvar and Joe Gruta.

Auditions were held at the Baseco compound where real-life children metaldivers aged 6 to 16 were chosen to play key roles in the film.
Director of photography is Ruben dela Cruz, line producer isCelso de Guzman, and creative consultant is Bing Lao.
Bakal Boys is the first full-length venture of ApogeeProductions under Albert Almendralejo, in cooperation with the NationalCommission on Culture and Arts.
Almendralejo's graduate thesis for his AIM Masters inManagement degree is on Strategic Directions for the Philippine movie industry.He believes that a new business model that combines the best of mainstream andindependent filmmaking is needed for the Filipino industry to survive.
"The discipline and business orientation of mainstreammovies make a good synergy," asserts Almendralejo.
Bakal Boys (Children Metal Divers) isscheduled to premiere at the Main Theater of the Cultural Center of thePhilippines this November.