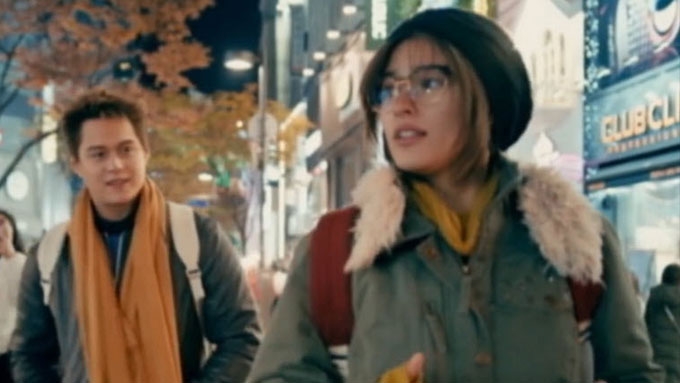 ---
Will you give the guy who broke your heart a second chance?
This is the question that drives the Liza Soberano-Enrique Gil starrer My Ex and Whys. Directed by Cathy Garcia-Molina, it is a masterclass in the romantic comedy genre.

Direk Cathy shows how well she can orchestrate a winning formula by combining all the elements that tug at the Pinoy heartstrings and funny bone.
KILIG COUPLE.
Cali and Gio are played by the popular love team collectively known as LizQuen. Both are young and goodlooking, of the mestizo persuasion, so they not only register well onscreen, but also elicit the necessary emotions—whether smiles or frowns—at the appointed time.

Enrique has mastered cocking his head to one side and smiling crookedly, a recipe that has spelled success for many screen heartthrobs before him.

Liza is comfortable in her own skin to move and speak so naturally, yet still endear herself to audiences. She manages, through it all, not to lose her poise and composure. She cried many liters of tears but never looked ugly—a talent we can all only aspire to.

The two have undeniable chemistry and play off each other well, whether it is in intense scenes or very casual time-wasters.

Liza has impeccable comedic timing, so it is no surprise that she also knows how and when to turn on the waterworks. She is defining herself as a talented actress, there is no doubt that beyond her looks is real talent.
ADVERTISEMENT - CONTINUE READING BELOW
SASSY SCRIPT.
The story has a common premise, making it relatable but also at the same time, possibly tired. How many times can Pinoy movies tackle the same topic anyway?

Again, with Direk Cathy among the writers, the script takes a nuanced turn. It is down-to-earth in that both leads are middle class and need to work to get by, are surrounded with an extended family that is often a good support system (ably led by Joey Marquez and Arlene Muhlach), and struggle with the pressures of living in the present world that is online all the time.
The dialogues come naturally—though some go too fast, maybe they looked good on the page, but they are barely audible in the movie. The situations are not contrived, the few that are are clear parodies of romantic meetings.
There are cliches—including quoting from other Pinoy romcoms—that seem to be there to get easy oohs and awws from the audience. Near the start when, upon their first meeting, three tried and tested elements come together: slow motion, cheesy music, and split screen come together (add to that their being wet from the rain), it is easy to write it off as another formula romcom.

However, the motivations of the characters become clearer and after a series of many situations that take you on a laugh trip, that one scene where Cali bears her heart and cries a river has you sniffling and wiping away tears with the back of your hand.
ADVERTISEMENT - CONTINUE READING BELOW
The ending asks you to suspend disbelief considering the realities of the traffic situation in Metro Manila. But you excuse that. The final shot though is too pa-cute, considering the more provocative situation the two found themselves in on the night that they meet.
SHOWCASING THE BEAUTY OF KOREA.

Part of My Ex And Whys was filmed in South Korea. Many Filipinos are crazy about K-pop and K-dramas, so this is a winning move. In addition, Pinoys also love to travel and to get a sneek peek of those sights. The highlight of these is the scene among the trees in Nami island in autumn. Cali's dream, a dream of many Pinoy K-drama fans, is to stand under a shower of the golden leaves. She comes close to fulfilling it here.
ENERGETIC ENSEMBLE.

The strong supporting cast of the movie should be commended as well. Joey Marquez, Joross Gamboa, and Hyubs Azarcon lead the testosterone charge on the side of Gio—and in their natural comedic banter, they recall that Pinoy TV classic Palibhasa Lalake.

Arlene Muhlach, Ara Mina, and Cai Cortez lead the family behind Cali. Special mention must be made of Ryan Bang's exceptional effort at delivering dramatic and comedic lines in Tagalog.
ADVERTISEMENT - CONTINUE READING BELOW
All in all, the supporting talents buoyed the movie and played off well each other onscreen.
Dapat ba may pinagdadaanan ka in order to appreciate the movie? There are so many elements masterfully combined by Direk Cathy that, despite cliches, make this movie fresh and truly entertaining—as well as, in some parts, a good reflection of contemporary Philippine society.
My Ex and Whys, produced by Star Cinema, is now showing in cinemas nationwide.



Ed's Note: The "PEP Review" section carries the views of individual reviewers, and does not necessarily reflect the views of the PEP editorial staff.