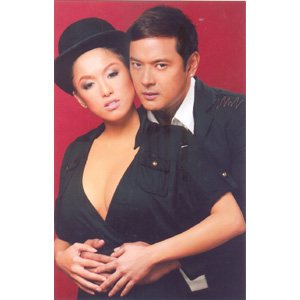 ---

Room 213 follows the shaky relationship between anarchitect (Allen Dizon) and his wifewho is a photographer (Gwen Garci). Max (Allen) and Lex (Gwen) have been married for ten years and havelost any emotional connection with each other. Since both want to save the marriage they start to take extreme measuresin the hopes to rekindle their passion. In Room 213 of an abandoned building,they will push their limits--both physically and sexually.
This film, which also stars Tyron Perez and Maricardela Fuente will be screened at Robinsons Movie World starting September 24.
Room 213 (2008)
Producer: Viva Films
Screenplay, Direction & Editing: Keith Sicat
Director of Photography: Lyle Sacris
Production Design: Sari Lluch Dalena
Music: Teresa Barrozo & Ria Munoz
Cast: Allen Dizon, Tyron Perez, Maricar dela Fuente, andGwen Garci
Here are excerpts from an interview with Room 213 directorKeith Sicat:
What is the genre of the film? How would youdescribe your style in terms of storytelling and lighting in particular?
"The film is a drama with a palpable erotic core. Stylistically and narratively, it's a bitexperimental in the sense that it's not told in a linear fashion. There are a lot of flashbacks, fantasies,and associative ideas, so it's much more of a visual tone poem.
"Since dialogue is sparse, the film is also purposelyrelying on the sound and visuals to tell the story. To that end, we were very particular with the lighting, colorpalette, and textures seen in the frame."
What's your intention in this film?
"It was always of interest to me to construct a narrativefilm out of erotic elements. This was a good opportunity to do that.
"Thematically, I was curious to explore a scenario where acouple has grown so distant that their relationship's imploding. In that situation how does one keep thesparks alive?
"I think that's a question that's universal for anyone in arelationship of any length! It justturns out our characters are on the extreme end of the spectrum than most. Or maybe they're not."
ADVERTISEMENT - CONTINUE READING BELOW
What message would you want to give to theaudience?
"Relationships are built on trust and trust is fragile. Secrets never remain hidden, the past isthere to haunt, and playing with emotions is dangerous. The film poses the question: in the finalanalysis, are we really all alone?
How would you describe the lead stars, AllenDizon and Gwen Garci, in particular?
"Allen and Gwen are amazing. They gave such understated, nuanced, and emotionally intenseperformances that are pitch perfect to the material.
"Allen knows that 'less is more.' He relied mostly on hiseyes and body language to convey what was going on internally with hischaracter. Quite simply, his work isbeautiful.
"Gwen was constantly surprising us in the way she wouldimprovise during a scene. She would letthe moment dictate her emotional state resulting in a remarkable, honestperformance. This is a very differentGwen Garci that people are used to!
After the regular showing on September 24, whatare your plans for this film? Any plans to submit it in international filmfestival?
"We definitely plan to share the film with as many peoplewho may want to see it."


Watch the sexually charged film Room 213 at RobinsonsMovie World starting September 24, 2008.