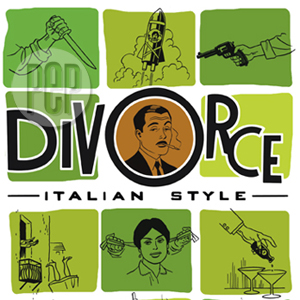 ---
Pelikula@TitusBrandsmais a free monthly film screening that features fine samples of world cinema. After every screening, film enthusiasts can discuss the aesthetic and technical merits of each film. This monthly screening is an offering of the Titus Brandsma Center-Media Program under the auspices of the Carmelites in the Philippines. It is aimed at giving a meaningful experience for film enthusiasts.
The core group of Pelikula@TitusBrandsma selects three films that correspond to a specific theme for each month. For the month of February, the chosen theme is "Kung Ayaw Mo Na Sa Akin."
This month's screening will be held on February 10, 2007 from 1 p.m. onwards at the Titus Brandsma Center in New Manila, Quezon City.
Pelikula@TitusBrandsma: Kung Ayaw Mo Na Sa Akin

Sequence:
Divorce, Italian Style (Divorzio all'Italiana) (1961-Italy)
Cast: Marcello Mastroianni, Daniela Rocca, Stefania Sandrelli, Leopoldo Trieste, Odoardo Spadaro
Director: Pietro Germi
105 mins. In Italian with English subtitles.
Divorce, Italian Style tells the story of a Sicilian nobleman Ferdinando Cefalú (Marcello Mastroianni) who wants to remarry. However, divorce was illegal in Italy at the time, so resorts to making his current wife Rosalia (Daniela Rocca) fall in love with another man so that he can catch them together, murder her, and get a light sentence for committing an honour killing.
The Sunflower (2006-Philippines)
Cast: Julia Clarete, Bor Ocampo
Director: Bor G. Ocampo
5 mins.
The Sunflower is about a man who has an eternal yearning to grow old with the woman of his dream or that manna from heaven to whom he will unleash his reservoir of affection. The film says that there is glory after pain. Or is there really?
Two for the Road (1967- UK)
Cast: Audrey Hepburn, Albert Finney, Eleanor Bron, William Daniels, Gabrielle Middleton

Director: Stanley Donen

111 mins.
On their third identical voyage from London to the Riviera, Joanna Wallace (Audrey Hepburn) and husband Mark (Albert Finney) explore their 12-year marriage in a series of wry and illuminating flashbacks. They reminisce about the glorious beginning of their love affair, the early years of marriage and the events that led to their subsequent infidelities. As they
ADVERTISEMENT - CONTINUE READING BELOW
try to understand their relationship, they must accept how they have changed if they are to rekindle their original love.
The Classic (Keulraesik) (2003-South Korea)
Cast: Son Ye-Jin, Cho Seung-Woo, Cho In-Sung
Director: Jae-young Kwak
127 mins. In Korean with English subtitles
Ji-hyae (Son Ye-jin of Chihwaseon) is a shy college student who has a crush on theater student Sang-min (Jo In-seong). Unfortunately, her friend Soo-gyung (Lee Sang-in) has already begun dating the guy. Ji-hyae helps her friend compose romantic e-mails to Sang-min and sometimes socializes with them, but feels like a third wheel. Sang-min seems to like her, but Soo-gyung insists that it's only because Ji-hyae is her friend.
Meanwhile, Ji-hyae finds a box of love letters and an old journal and begins reading about her mother, Sung Joon-hee (also played by Son), the granddaughter of a wealthy politician, and her forbidden alliance with Oh Joon-ha (Cho Seung-woo of Chunhyang), a poor boy from the same hometown. The two developed a romantic infatuation, but Joon-hee's
father had already planned for her to marry Tae-soo (Lee Gi-woo), the son of a business associate. The situation grows more complicated when Tae-soo befriends Joon-ha at school, and asks his help in winning over Joon-hee.
This tale is intercut with Ji-hyae's story, set in the present day.
FREE ADMISSION.
Screening: February 10, 2007 (1 p.m. onwards)
Venue: Titus Brandsma Center, 24 Acacia St., Brgy. Mariana, New Manila, Quezon City.
For inquiries, please call Bituin (726-6054) or Maxie (751-1169).
For a map of the location, please visit
http://www.pelikula-titusbrandsma.ph/