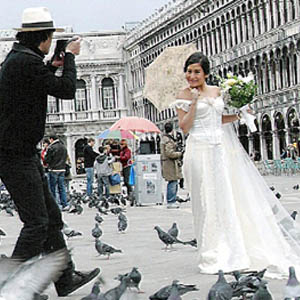 ---
"Love is a journey." So goes the tagline of GMA Films' I.T.A.L.Y.(I Trust And Love You), which deals with finding true love across threecontinents, five countries, and 13 cities.
The story begins with Destiny (Jolina Magdangal), a family breadwinner whodecides to try her luck as a cabin girl in the luxury liner Costa Magica. She has three brothers (AljurAbrenica, Edgar Allan Guzman, and Joaquin Valdez), and her father (Pen Medina) isconfined to a wheelchair. Her mother has already passed away.
A hopeless romantic, Destiny consults a fake fortune-teller,Charing (Chariz Solomon), who tells her that the man of her dreams possesses thefollowing signs: he always wears white, has the initials P.I.G., and his buttocks bear his birth mark.
Aboard Costa Magica, Destiny meets other characters that make her stay there more colorful for they all have their ownstories to tell: Lovely (Eugene Domingo), an unmarried woman who seems to have losther chance in love after missing her own wedding; Paolo (Dennis Trillo), amysterious guest who lives in the past; Nathan (Mark Herras), a young cabinboy who wants to find direction in his life; Phoebe (Rhian Ramos), a guest onthe ship who feels neglected by her mother (Ida Henares); and Stella (Rufa MaeQuinto), the lounge singer who is unlucky in love.
Destiny thinks that she has found the man of her dreams inPaolo since he possesses the signs—except for one. But it turns out that Stella also has her eyes set on Paolo. So, a tug-of-war ensues between Destinyand Stella for the attention and love of Paolo.
Paolo, on the other hand, ignores the twomost of the time since he's madly in love with his Italian girlfriend, Sofia(Andrea de Lugo).
Nathan and Phoebe also have a rich girl-poor boy love storyaboard the ship. Lovely develops a romance with no lessthan the captain of the ship.
ADVERTISEMENT - CONTINUE READING BELOW
Some of them find true love aboard the ship while othersdiscover it elsewhere.
We also fell in love but in a different way. The tourist spots shown in the movie are breathtaking! The movie tags us along as the characters visitthe most romantic places in the world—Venice, Rome, Napoli, Genoa, Barcelona, Tunisia,Palma de Mallorca, and other spots.
But more than the love stories and postcard locations,the movie's strength lie in its comedy scenes. All the characters have theircomedic moments, but Eugene Domingo and Rufa Mae Quinto delivered the best punch lines.
Unlike other movies about Overseas Filipino Workers (OFWs),which focus more on the hardships and trials they experience in their jobs, I.T.A.L.Y. takes a different route by showing the lighterside of working abroad.
This is not to say that the movie lacks touchingmoments. But these are presented in a manner that makes viewers will still feelokay afterwards, since director Mark Reyes injected humor into these scenes. Weparticularly liked Destiny's phone conversation with her father, wherein they're both crying but still manage to crack jokes in the end. The scene ismade even funnier when Lovely silently listens to their conversation and ends upcrying herself.
Entertainment is really the movie's main purpose—and it certainly delivered.
Yet if there's one complaint we have about the movie, it's thatthere could have been more scenes showing the characters actually doing theirjobs and interacting with other crew members, so that we couldget a better feel of how it is to work in a luxury liner. But since the movie's focusis the love story of each character, that aspect might have beensacrificed.
Also, some shots are so dark that you cannotsee the facial reactions of the characters. The camera also tends to overdo close-up shots of the stars, which we find a little bit distracting.
ADVERTISEMENT - CONTINUE READING BELOW
Not much is required of the cast since their roles have nomajor conflict, except for Dennis's character. But all of them delivered andcontributed to make the movie worth watching.
Jolina is very comfortable with her role and she goesthrough it with utmost ease. Rufa Mae shows her usual flair for comedy, quotingverses from songs as her dialogue and her one-of-a-kind-song number. Dennis hadhis dramatic highlights that showcased his sensibility as an actor. Mark andRhian proved that they are competent young actors as well; their team-up issurprisingly cute.
But Eugene almost stole the movie with her effortless comictiming. It's hard to mention one particular scene where she stands out. Herpresence is greatly felt in every scene where she appears—with or withoutdialogue—and all of them are hilarious. Her facial expressions alone can makeanyone laugh out loud. This comedienne is simply a genius, as proven again by her performance in I.T.A.L.Y.
I.T.A.L.Y. is a simple movie without any pretensionand that's what makes it entertaining. It is not intended to win awards but itwill surely win the hearts of moviegoers.


This romantic comedy from GMA Films opens this Wednesday, September 17, nationwide.



Trailer courtesy of GMA Films