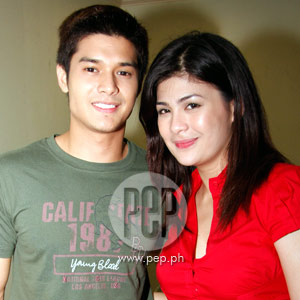 ---

2008 marks the 10th anniversaryof Regal Entertainment's horror film and perennial Metro Manila Film Festivalentry, Shake, Rattle and Roll.
Director Mike Tuviera, son of TAPE Inc. head honcho Tony Tuviera, revealed that Regal is cooking up something big to celebrate themovie's decade-long run.
The director spoke with PEP (PhilippineEntertainment Portal) during a shoot break last September 9 at the old Regaloffice in Valencia St., San Juan, andexcitedly shared how the giant film outfit is pulling all the stops to makethis latest trilogy project different from the previous ones.

"Regal really wanted to come upwith something special this year. Basically me and direk Topel Lee are comingback; we started in 2006 so ito naman 'yong third namin in a row. Ito rin 'yongparang grand slam rin naman namin, so it means a lot to be included in thisproject," said Direk Mike, who is in charge of episodes one and three, whileTopel will direct the second episode, titled "Class Picture."
REINVENTING THE ASWANG. Direk Mike generously gave us a backgroundof the last episode, "Emergency."
"'Emergency' deals with the peopleinside a hospital in the province. Medyo sa liblib na lugar, surrounded siya byforest, tapos may doctor dun played by Roxanne Guinoo, tapos meron siyang rockyrelationship, medyo tumultuous 'yong relationship niya with her ex-boyfriendwho is played by JC de Vera.
"Then one quiet night biglang maypumasok sa emergency room na mysterious na babae na puro sugat sa mukha andthey didn't know kung ano 'yong cause nung mga sugat, kung sino 'yong babae na 'yon.But because of that event, ang nangyari is because of the chain of eventsmerong mga aswang na sumalakay dun sa ospital."
ADVERTISEMENT - CONTINUE READING BELOW
The situation makes the charactersof Roxanne and JC face the situation and save the lives of the patients andother innocent people inside the hospital. Playing the lead roles ofaswang are Mylene Dizon and Wendell Ramos.
The aswang has beenplayed out many times before on local television, in moviesand in literature. This time, Direk Mike wants to present the character withoutthe usual stereotypes to show a different facet of the feared creature.
"I wanted to create an aswang namodernized," said the amiable director excitedly. "Yong iba 'yong dating. Ito talagatribal sila and they co-exist, they live in the forest, they hunt and gather tapos'pag galit sila 'tsaka lang talaga makikita 'yong true colors nila 'tsaka lalabaslahat.
"It's almost a modernist approachsa mga aswang. They're not just the plain monsters who can't speak. They havetheir own language, they have their own culture, tapos may relationships dinsila. May family rin sila, parang in the way na iniba na 'yong approach ng mgavampires, for example, sa mga modern Hollywood movies. We wanted to do that kindof approach, parang modern twist sa aswang naman dito."
MIXED BAG OF TALENTS. Being an independent company,Regal Entertainment is in that enviable position by which they can invite and gather talents coming from the two rival stations—ABS-CBN and GMA-7. Direk Mike is obviously pleased with his rare privilege of directing avariety of talents without having to think of any network alliances. But it stilltakes real effort, particularly in the beginning, to make everyone feel at easein each other's company.
ADVERTISEMENT - CONTINUE READING BELOW

Whenasked if it's easy to mix Kapamilya and Kapuso talents under one project, the director admitted casually, "Not really. Sometimes'pag may project and 'yong mga artista mo galing sa dalawang network, it becomesa little complicated because they don't know each other, so merong mga gettingto know you portion pa 'yan.
"Pero in this particular project kahitna magkaibang network sila they basically know each other from past projects. Youknow, they've met already before or they worked together before, so hindi nagingmahirap this time around. It was very, very smooth, nung nagsimula kami, storycon pa lang, parang barkada na," describes Direk Mike.