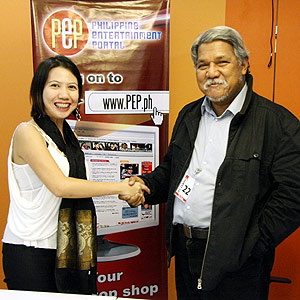 ---

It has been a decade since the Bulol was first associatedwith excellence in filmmaking, ten years since the deity whose presence ensuresgood harvest became the icon for the dream of presenting the best of Filipinofilms to world cinema audiences and of world cinema to Filipino audiences. ThisOctober, as the Cinemanila International Film Festival marks its tenthanniversary, the time has come for that decade-old dream to give way toanother.
Dekada Cinemanila will run from October 16-29, 2008 atGateway Cineplex 10, 4th floor of Gateway Mall, Araneta Center, Quezon City. P1 million in prizes will be awarded to the best in local and international cinema.The 10th Cinemanila International Film Festival is presented by the IndependentCinema Association of the Philippines (ICAP), in cooperation with the AranetaCenter, National Commission for Culture and the Arts (NCCA) and the FilmDevelopment Council of the Philippines (FDCP).
Last September 10, PEP (Philippine Entertainment Portal)sealed a partnership with Cinemanila for its tenth anniversary. This makes PEPone of the media partners of Dekada Cinemanila.
ADVERTISEMENT - CONTINUE READING BELOW
Just last year, maverick filmmaker Quentin Tarantino came tothe Philippines to receive the Lifetime Achievement Award and to screen hisfilm Death Proof (2007). In an interview with PEP last year, theHollywood director expressed his appreciation for Filipino filmmakers,particularly Eddie Romero, Gerry De Leon, Cirio H. Santiago, and Pablo Suarez. (Click HERE for related article)


Since its inception in 1999, Cinemanila has become thelaunching pad for the new breed of Filipino filmmakers. Past winners like JohnTorres, Lav Diaz, and Raya Martin went on to create waves in both the local andinternational arenas. Cinemanila has also been at the forefront in recentdevelopments in local cinema. Most notable of which is the 1st BoracayCo-Production Meeting. Together withthe Hubert Bals Fund of Rotterdam IFF, Cinemanila has initiated the firstinternational platform in the Philippines dedicated to awarding partial grantsto the most promising filmmakers from all over Southeast Asia.
Many prominent figures have also graced the festival'sannual celebration, infusing Cinemanila with a dose of prominence andcredibility. Famed cinematographer Chris Doyle, Hollywood stars Tia Carrere andLou Diamond Phillips, director Fernando Meirelles, Pusan IFF founder Kim DongHo, and internationally acclaimed Iranian filmmaker Jafar Panahi are some ofthe luminaries who have contributed their shine to the festival. Esteemedrepresentatives from foreign film festivals were likewise present such asOlivier Pere from Cannes's Director's Fortnight and Wieland Speck of the BerlinIFF.
ADVERTISEMENT - CONTINUE READING BELOW
Today, Cinemanila can firmly stake claim to being thecountry's premiere international film festival. No more wishing for Cinemanilato bridge the gap between the Philippines and what world cinema has to offer.This dream may have taken almost a decade to be realized but it was a journeywell worth it. Now as another edition approaches, Cinemanila welcomes anotherset of challenges. It has also set its sight on another dream, to put thePhilippines back on the world cinema map. And just like it has done for thepast ten years, the Bulol looks on, expectant of another decade filledbountifully with excellent Filipino films.