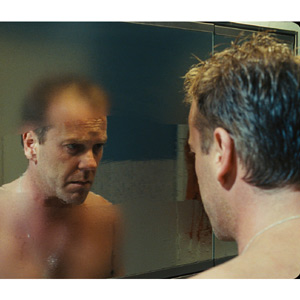 ---

Emmy and Golden Globe award winner Kiefer Sutherland (24'sJack Bauer) brings his trademark intensity in the upcoming horror film Mirrorsas an NYPD police officer suspended from his job due to the accidental shootingof his partner.


Directed by The Hills Have Eyes director AlexandreAja, Mirrors reflects the terrifying story of troubled ex-cop, BenCarson (Sutherland) who must save his family from an unspeakable evil that isusing mirrors as a gateway into their home. Desperate to pull his life togetherand reconnect with his family, Carson takes a job as a night watchman at theburned-out ruins of the Mayflower department store. As Carson patrols the eerie, charred remains of the store, hebegins to notice something sinister about the ornate mirrors that adorn theMayflower walls. Reflected in thegigantic shimmering glass are horrific images that stun him.


Kiefer Sutherland, despite his starring role in the movie,admits in the following Q&A that he is not fond of mirrors in real life.


Q: Why didyou agree to do this film?
A: "It was thefilm's hybrid of well-crafted horror and genuine family drama that spoke tome. Horror is a genre that has alwaysintrigued me, but what attracted me to this story is that it deals with afamily that is desperately trying to figure out how to come back together. It's about second chances. When things are at their worst, he becomeshis best. And that really appealed tome."


Q: What wasyour initial impression of [director]Aja?
A: "Based onthat brief meeting with Alex, I had a real strong sense in that meeting that wewere going to do something special together. I'm a gambler. I like to play cards, I'll bet on which dog will hit thecorner first, and I had faith. I feel very lucky that I was right."


Q: As anactor, are you fond of looking at mirrors?
ADVERTISEMENT - CONTINUE READING BELOW
A: "I have onein my bathroom and I think I have one in my closet just to make sure I've gotthe right socks on, but outside of that, I don't like looking at myself verymuch. It's very odd to be looking at yourself all the time while you'reworking. That was a very interestingaspect of making this film."

Q: Are you into watching horrormovies?
A: "Scary filmsare very hard for me to watch. When I took my daughter to see Finding Nemo andwhen the shark comes in the boat, my popcorn went in the air. My daughter was ten at the time and shelaughed at me for it."
Q: Will yoube able to watch the movie without being frightened?
A: "Hopefully,I'll be smart enough not to take popcorn with me, but if I do, it's gonna go inthe air. (laughs) We've createdsomething truly frightening that will stay with you, that will touch a fearinside you that is real, and we've blended it with this family drama that is soimportant to me--the story of a man who is looking for a second chance. By bringing these two genres together, Ithink we've given this film a depth that not many horror films have."

Sutherland who stars and serves as executive producer of Mirrors has wonan Emmy, a Golden Globe and a SAG Award for his searing performance as AgentJack Bauer on the hit FOX TV drama 24. He has also received an Emmy for Outstanding Drama Series asco-executive producer of the show.

In his prolific film career, Sutherland most recently appeared opposite MichaelDouglas and Kim Basinger in The Sentinel in 2006 and, in 2004, heco-starred with Angelina Jolie and Ethan Hawke in the thriller Taking Lives. That same year he also narrated NASCAR -The IMAX Experience.

Sutherland's extensive film credits also include Phone Booth, To End AllWars, Dark City, Truth or Consequences, N.M. (which he also directed), Eyefor an Eye, A Time to Kill, The Three Musketeers, A Few Good Men, TheVanishing, The Lost Boys, Young Guns, Young Guns 2, At Close Range, BrightLights, Big City, Promised Land, Flashback, Chicago Joe and the Showgirl,Flatliners, 1969 and Stand By Me.
ADVERTISEMENT - CONTINUE READING BELOW

Mirrors opens October 1 in Metro Manila, Cebu and Iloilo theaters from20th Century Fox to be distributed by Warner Bros.