Twenty-four producers have expressed their intent to join the 2017 Metro Manila Film Festival.
This was revealed by the MMFF 2017 Executive Committee during the press launch of MMFF 2017 held on May 9.
MMFF Execom member Noel Ferrer announced, "Earlier, we had 24 producers na ka-meeting namin kanina for consultation and they aired their side doon sa mga concerns sa rules and regulations and they signified their intent of joining."
Noel disclosed some of the titles that were mentioned during the dialogue.
He shared, "Offhand, I think yung nagbigay ng mga titles kanina ay yung Maruming Hangin ni Joel Lamangan...Ang Larawan na nandito si Rachel Alejandro.
"Panday of Coco Martin, which is not from Star Cinema, but with Coco Martin's production...Mike de Leon's Citizen Jake.
"Then some other productions like Idea First, Artikulo Uno, Regal Films. Viva Films was here also, and from Direk Gil [Portes] na Mindanao."
No cast members were announced yet for Maruming Hangin and Mindanao.
Meanwhile, Coco Martin will topbill and direct his version of Panday, which was popularized by the late Fernando Poe Jr.
Mike de Leon's comeback film Citizen Jake will be topbilled by Atom Araullo and Cherie Gil.
The musical movie Ang Larawan features singer Rachel Alejandro and actor Paulo Avelino.
Noel later on showed the list of film outfits that were able to attend the May 9 dialogue.
However, in his list, there were only 23 movie outfits represented at the meeting since VIVA was mentioned twice.
Artikulo Uno Productions
Octo Arts Films
Viva Films
Premier Accounts
Cineko Productions
BG Productions
IDOLtap Productions
Actorsprime, Inc.
T-Rex Productions
Quantum Films
Hollywood Ninja
Coco Martin Creative Productions
The Idea First Company
Teamwork Film Productions
Cinema Artist
APT Entertainment
Regal Entertainment, Inc.
Culturtain Musicat Productions, Inc.
Blackbest, Inc.
Viva Films
HPI
K6 Productions
Star Cinema
Reality Entertainment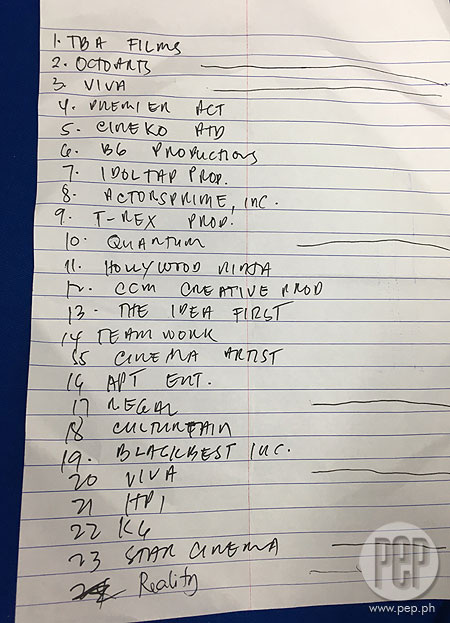 Aside from the dialogue that happened between producers and the MMFF Execom members, filmmakers are expected to submit a letter of intent this Wednesday, May 10.
He explained further, "So whether finished film or script, malalaman natin sa submission na lang. But tomorrow is the deadline for letter of intent sa pagsali."
There is now a new process in submitting possible entries for MMFF 2017.
Those who want to join the annual film festival can submit via two ways: through script submission and finished film submission.
The deadline of script submissions will be on June 15, 2017. The first four entries will be selected from the submitted scripts. The Magic 4 will be announced on June 30, 2017.
The four remaining slots will be selected from among finished films. The deadline for their submission is on October 30, 2017 while the announcement of the other Magic 4 will happen on November 17, 2017.



DIALOGUE OUTCOME. According to Noel, the spokesperson of MMFF 2016, they are happy with the outcome of the Execom's dialogue with Pinoy producers.
"Masaya kami na parang tinanggap nila at in-embrace ang rules na sinet ng Metro Manila Film Fest ngayong taon. Some of them had already signified their intention of joining.
"First day pa lang ng paglabas namin ng rules, may nagsulat na agad at naglabas ng letter of intent."
During the presscon, other MMFF Execom members were present, namely director Mel Chionglo and chairman Rolando Tolentino.

Mr. Tolentino explained that a production company is only allowed to submit two entries.
In case of a co-production, the film will be counted as one official entry for each of the production houses.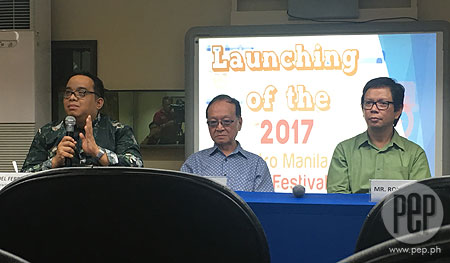 MMFF Execom members Noel Ferrer, director Mel Chionglo, and Chairman Rolando Tolentino

Regal Films and Idea First Company's film, My Fairy Tail Love Story, is one of the first projects to be announced that it would be submitted to MMFF 2017.
PEP.ph (Philippine Entertainment Portal) asked why it was not mentioned during the dialogue.
Noel clarified, "Yung My Fairy Tail, sa Idea First, kasi gusto natin i-check kung kanino i-a-attribute or kung co-production yung gagawin.
"So I asked Idea First kung My Fairy Tail, pag-uusapan pa raw nila ng Regal kasi we're only allowed, di ba, na two. Ayaw naman natin na maging Regal Film fest, or Star Cinema film fest."