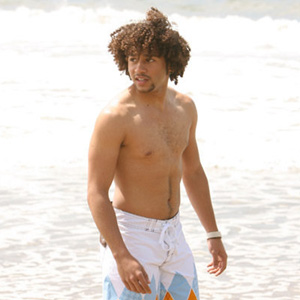 ---

Last July, teen actor Corbin Bleu wrapped his final scenefor Walt Disney Pictures' High School Musical 3: Senior Year. It was aduet with his buddy Zac Efron for the big musical number "The Boys AreBack."


"We finally get to do aduet together," says Bleu, 19. "It's in this junkyard where ourcharacters spent so much of our childhood pretending to be pirates and ninjas.It's a whole fantasy of us being kids again."
The scene is a fitting farewell for Bleu and Efron, who grewup together on screen as Wildcats teammates Chad Danforth and Troy Bolton,respectively, in the first two High School Musical movies. "Thishas been such a huge part of my life," Bleu says. "For this to be thelast installment for us is pretty surreal."
For the flashback scenes, child actors were cast to playyoung Chad and Troy—with the junior Chad donning a wig resembling Bleu'strademark locks. Bleu realizes how strongly identified he is with that killer'do and says he would consider cutting it off only for a strong movie role."I don't want to cut it just to create shock," he says.
The junkyard shoot left Bleu with a few unintentionalsouvenirs. "I was a mess afterward," he says, lifting his sleeve toshow his scars. "Plenty of little bumps and bruises. But, hey, now I havemy war marks."
Bleu grew up in Brooklyn, N.Y., and has three kid sisters:Hunter, 15, who sings; Phoenix, 6, a dancer; and Jag, 4, who Bleu says is alittle comedian. Their parents, David and Martha, met as extras on the New Yorkset of a low-budget Japanese film.
Bleu's father makes his High School Musical debut in"Senior Year" as Chad's dad. He has played his son's on-screen father twicebefore, including in a film they produced called Free Style. Set in themotocross world, it's due to hit theaters in January next year.
ADVERTISEMENT - CONTINUE READING BELOW
Now back home in Los Angeles, Bleu is spending his days inthe studio preparing for his album, tentatively scheduled for February. Two ofthe album's songs, Moments That Matter and Champion, premiered on Bleu's summerconcert tour recently.
Touring, Bleu says, makes dating difficult. Gossip siteshave paired him with HSM co-stars Monique Coleman (Taylor) and AshleyTisdale (Sharpay), as well as Hannah Montana's Miley Cyrus, Brenda Song(The Suite Life of Zack and Cody) and Disney Channel sisters Alyson andAmanda Michalka (Aly and AJ) "at the same time," Bleu sayswith a laugh. He insists none of those pairings is true. Having a relationshipnow would be too time-consuming, he says. "Giving my attention and energyto a girlfriend is not something I can fully give right now because of mycareer."
Bleu is hoping to take on Johnny Depp-type dramatic roles.He has been in several other projects, including appearing on Hannah Montanaand starring in 2004 kiddie heist film Catch That Kid and 2005-07 seriesFlight 29 Down. But it was the HSM franchise, Bleu says, that "mademe who I am today, made me grow up. And shooting the final scene was a prettysomber moment."
Opening soon across the Philippines, High SchoolMusical 3: Senior Year is distributed by Walt Disney Studios MotionPictures International.